Automotive Interiors Expo Novi 2019 succeeded in attracting a record audience of over 2,000 attendees – with visitors from OEMs and leading Tier 1 and Tier 2 suppliers enjoying the latest product launches and manufacturing innovations from over 110 exhibitors.
Headline exhibitors included BASF, Dupont, Grupo Antolin, Juki America, MacDermid Enthone, Recticel and Velcro, to name just a few. Attendees were able to see, touch and feel a wide range of fabrics, acoustical materials, shape-forming materials and foams, fasteners and adhesive systems, lighting and more.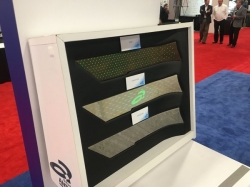 A number of innovative interior materials were displayed on the stand of Grupo Antolin, which included trim components manufactured from novel materials such as cork and stone to lend a wholly different atmosphere to a car's interior. A trim made from stone would seem somewhat at odds with the current drive for lightweight materials, but as innovation director Nora Beevers explained, "the trim pieces actually weigh very little, as they use a very thin sheet of stone. Traditional wood or metal can be very heavy".
The display items also showed how trim pieces can become functional items – even those made of stone – thanks to capacitive touch and haptic feedback. Cork pieces can be perforated to display shapes and information, while the stone trim was naturally translucent.
"We are going through a lot of discussions with OEMs, specifically on the testing parameters, because there is a lot of concern around things like cleanability, durability and UV resistance," admitted Beevers. "The main concern is probably UV resistance, but you also get that with wood. In terms of cleanability, cork has very good natural properties, but we do coat it to protect it from some of the very harsh chemicals like air fresheners and sunscreen."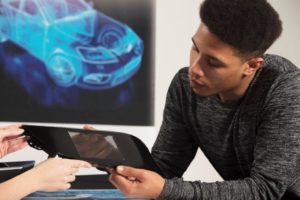 MacDermid Enthone Industrial Solutions presented its new surface finishing solutions for high-quality car interiors. The company's XtraForm Antiglare was a key highlight: A formable and textured film designed for deep draw 3D Film Insert Molding applications, it allows images to be seen without the distraction of surface glare from bright lights or the reflection of moving objects. With this solution, applicators can develop antiglare surfaces of 15 to 75 gloss units.
A new OEM-approved DecoKlad Paint-on-Chrome technology was also displayed, along with an array of decorative fashion finishes, all with the ability to provide a distinctive dark, lustrous bright or satin appearance. The finishes are ideally suited for automotive applications where an aesthetic 'fashion' finish is critical to product differentiation.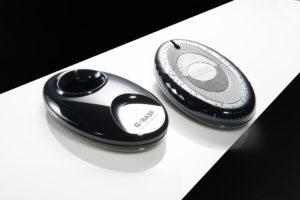 Chemicals giant BASF announced that its new product, Ultramid Vision, has been used for the first time in the electric window switches of a German OEM. Compared to the materials normally used in such an application, Ultramid – a hardy semi-transparent material – displays high light transmission with low light scattering.
The new product competes with polycarbonate, but as As Jeff Hagar, market segment manager at BASF, noted: "It offers the advantages of greater mechanical properties and also chemical resistance – you can color it, you can make it clear, or you can laser-etch it for light transmission."
The Ultramid technology can also be applied to produce molding-color high-gloss piano-black plastic components. It eliminates paint from the production process and integrates the color into the part. The upshot of removing a step from the production process is cost savings. Furthermore, the chemical resistance of the material ensures a high gloss look that is very resistant to UV light, chemicals and abrasion. In other words, the component continues to look good, even following years of hard use.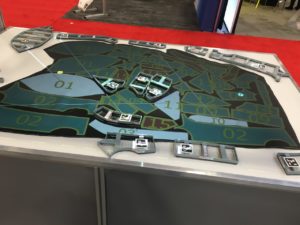 One of the most impressive booths at the 2019 show belonged to leather CAD specialist, Gemini. It featured two of the company's latest Thagora leather machines: a third-generation leather scanning machine, used to analyze and mark the hides; and a cutting machine, featuring augmented reality.
"Our software controls the whole leather cutting room in a factory, including importing the digital models, creating the production orders, inspecting the hides and nesting them," explained Gemini's project manager, Bogdan Nacu.
"We are the only company in the world to use a nesting algorithm running on a GPU, which makes it more efficient because we can run more computational strategies in the same amount of time. Traditionally, clients do the inspection, nesting and cutting hide by hide. We do that separately, so we are able to nest multiple hides. Thanks to multiple models, we can combine them and get an increase in efficiency."
Once the hide is scanned and nested, it is transferred to the die-cutting table, where the hide is identified by its barcode and the cutting pattern is projected onto the hide, so the operator knows exactly which die to place where. "This allows the operator to place the dies faster."
Feel the difference
In general, many of the components on display in Novi are ones that consumers tend not to think about in themselves, but still have a very important role to play in contributing to a real feeling of quality in the interior. For example, Reell used the 2019 Novi show to debut a range of hinges and rotary dampers, for use with a range of storage lids.
"People like that when they open an armrest lid, it stays up even when opened only just past halfway – but they also want to be able to release it, for it to then soft-close," explained Reell's senior global product manager, Horace Beale. "What we have done is we've combined our torque insert – which has lower torque so it will start to fall from halfway – with a viscous device from Cultraro to provide the soft-close functionality."
Reell also displayed an input engaging clutch, which has an independent input and output. It is ideal for use on motorized tailgates and doors to avoid damage from the user going against the motion of the motor. The device is already used on the Tesla Model X's falcon doors and will soon feature on an upcoming Cadillac model's set of soft-close doors.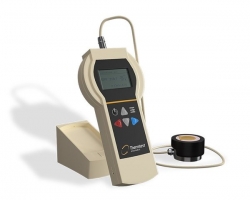 Synthetic materials have come a long way from 1970s leatherette and wood-grain, but to finally close the gap with real wood, leather, metal and other traditional materials, Thermtest was in Novi to showcase its transient plane source effusivity meter, which quantifies how 'real' synthetic materials feel.
The TPS-EFF is a portable meter for direct determination of thermal effusivity of textiles, fabrics and solids, in accordance with ASTM D7984-16.
"Fake wood trim tends to be a polymer with a sticker," noted company president, Dale Hume. "If you want that fake wood to feel more like real wood, you can select a different polymer that feels more like wood to go underneath. We can replace the subjective sense of 'realness' – that feeling of coldness – with a number."
Thermtest was at the Expo to expand its profile within the automotive industry: "It's a bit of an experiment to learn more about the industry, talk to other vendors. We want to educate the industry that this technology exists – and that it can be a competitive advantage."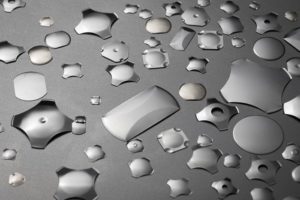 Despite a recent trend for touchscreens replacing conventional switches, expensive-feeling, tactile buttons throughout the cabin remain an important part of a luxury car interior. Hence Snaptron was in Novi to present its range of dome switches, which help define the 'click' behind plastic interior buttons.
"We have some new products we're working on that are set to launch next year," said the company's director of global sales, Brian Winbourn, at the show. "One of the requirements in automotive that we've seen is the need for redundancy – they want to close two circuits at the same time for safety. To fill that need for redundancy, we're developing a 'ring dome'."
Other benefits include a reduced risk of contamination, as there is a larger area of contact.
"We're really good at customization – we have an extensive standard product range, but we can also customize the tactile response. For example, both Audi and BMW want to engineer feel into their buttons, but Audi likes a loud, audible click, while BMW like a softer click. We know the characteristics that make the click, so we can tailor the specifications to the customer's needs."
Brand-new conference
The 2019 show also saw the launch of a brand new conference:  The Future of Automotive Interiors, which featured speakers from organizations such as Renault-Nissan, Continental and Tech Mahindra, who identified and discussed the trends and technologies shaping current and near-future automotive interiors.
Noteworthy speakers included: Joseph Simpson, senior design strategist, Volvo Cars; Bruce Mehler, research scientist, MIT; Dr Vyacheslav Birman, an expert from Continental; Dr Wolfgang Stolzmann, lead engineer and consultant ADAS, CMORE Automotive GmbH; and Dr Rose Ryntz, president/Carbon Advisory Board member, Ryntz & Associates LLC.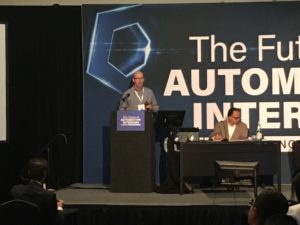 Carsten Astheimer, CEO of Astheimer Design, presented a case study of a recent project for which his company designed a concept for an executive autonomous vehicle: "We spoke to a number of different executives and asked them what they needed from an autonomous vehicle. As with the beginning of the automobile, one of the first commercial applications for AVs will likely be executive travel. Executive will be an area where there's a premium that allows for a return on investment."
Astheimer even outlined his vision for such a vehicle: "It should be like a 'first-class pod'. We're taking a lot of references from other areas, so it would be like a first-class seating environment in an aircraft, so when you go from one to the other, you get that seamless driving experience."
In total, delegates enjoyed presentations from over 40 speakers at the conference, which featured papers dedicated to the study of future interior design, innovative seating, lighting, ergonomics, instrumentation, control systems, new HMI approaches, in-car entertainment and connectivity, onboard wellness and safety challenges, as well as the opportunities and challenges offered by increased vehicle autonomy and ever more sophisticated consumers.
Automotive Interiors Expo will return to the Suburban Collection Showplace in Novi, Michigan, USA on October 27, 28, 29, 2020. Keep an eye on the website for updates!