Automotive Interiors Expo closes today (Thursday) but is keeping up the pace with some fascinating exhibits. Here are some of Day 2's highlights from Novi, Michigan…
Huntsman showcases Rubiflex Gradient Hardness polyurethane system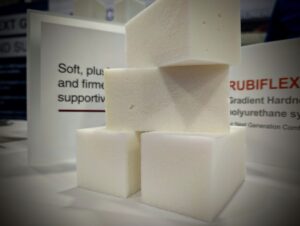 On show at the expo, Huntsman's Rubiflex Gradient Hardness polyurethane system is the company's proprietary foam formulation, engineered to be poured in a single shot to provide a soft, cushioned top layer and a bottom layer that is up to 175% firmer than the surface. The next-generation seating foam gives drivers and passengers a plush, comfortable ride.
The technology achieves the effect of a topper pad with a softness of 3.5-4kPa and a lower layer of foam as firm as 6-7.5kPa. This is all achieved in one pour of foam, so OEMs benefit from reduced time and costs compared with using multi-step processes or legacy formulations.
As a leader in MDI-based foams for acoustic insulation, seat comfort and interior trim, Huntsman enables reductions of up to 25% in CO2  footprint by using recycled and natural by-product materials to offset fossil-fuel-based materials. According to Josh Wimble, marketing manager of transportation at Huntsman, this isn't 'mass balance': "Huntsman actually uses renewable and recovered materials at 20% of the mass of each kilogram of foam while still meeting OEM specifications," he said.
"Huntsman's Rubiflex HR Bio and Acoustiflex VEF Bio polyurethane systems use proprietary formulations containing a mix of recycled PET (post-industrial and post-consumer) combined with natural oil by-products," he continued. "The technology is adaptable to bio products widely available in each region: soybean oil in North America, cashew nut oil in Asia and rapeseed oil in Europe. The recycled PET is supplied by our Terol polyol manufacturing facilities around the world; at our US Terol facility, over one billion plastic bottles are recycled each year into polyester polyols used in Huntsman foam systems."
Wimble revealed that Huntsman values opportunities such as Automotive Interiors Expo to connect with engineers in functions from product development to operations at Tier 1 and 2 foam molders and part manufacturers.
"We also like to collaborate with engineers and designers at auto makers so we can work together early on to address their innovation opportunities with polyurethane chemistry while also meeting their sustainability targets. By attending the show, we're able to see emerging technologies being showcased, and we are happy to share our emerging technologies too. Our aim is to be ahead of market needs, with technology that addresses tomorrow's problems with today's solutions."
Booth A324
AGC Glass introduces new decorative sample collection for high personalization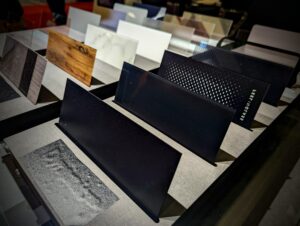 Day 2 of Automotive Interiors Expo saw the release of AGC Glass's new Feelinspiration collection.
Cécile Musialski, chief commercial officer at AGC, disclosed more about the company's differentiating approach to addressing market needs regarding the integration of glass in automotive interiors: "With all these treatment combinations, you can personalize the material to give a unique look and feel," she said. "High personalization is a consistent trend for OEMs, and glass is ideal for personalization as OEMs want to differentiate themselves from others. Glass is an unseen element and not used so much before. Some OEMs are keen to embrace this new material and stand out from the rest.
"We are exhibiting at Automotive Interiors Expo in Novi to help engineers and CMF designers to integrate the material in the cockpit; our new collection is primarily addressed to all OEM CMF designers.
"2022 is the milestone for co-creation projects with design customers. The interior is a sensory experience, featuring touch, colors and finish."
The collection features a new in-vehicle glass interface that the company calls a breakthrough move away from plastic component integration. Musialski explained the ethos of the new collection, which combines "versatility, ergonomics and aesthetics".
She explained, "The collection is tremendously connected and highly customized with state-of-the-art design: automotive cockpits provide a tailored user experience combined with a significant level of detail. To accommodate flawless functionality and premium design, glass acts as a mediator between technology integration and aesthetics."
Thomas Lambricht, CEO of FeelInGlass, added, "Feelinspiration is a breakthrough in decorative glass for interiors and is driving a whole new set of possibilities for CMF designers."
According to Musialski, as a smart surface glass evolves from being a decorative trim to seamless integration with displays or immersive backlighting effects. "The Feelinspiration glass range represents a versatile element of interiors in addition to being a durable and long-lasting one."
César Colombo, marketing and communications at AGC, added, "We use a thin layer of real wood, laminated with glass. It is a lightweight alternative to reduce vehicle weight. CMFs need to find alternatives to fit within the cockpit and to use sustainable solutions."
The full collection and samples are currently on show at Automotive Interiors Expo Novi.
Booth A416
VTI displays PVD coating solutions and systems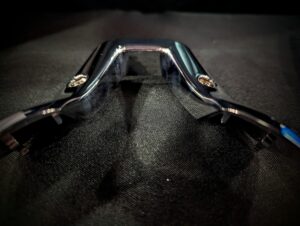 Vergason Technology (VTI) is in Novi to display its physical vapor deposition (PVD) coating solutions and systems. According to Joseph Howe, business development manager at Vergason, the company's coating center operates several PVD chambers utilizing sputtering, thermal evaporation and cathodic arc deposition technologies. It coats plastic components with reflective films for lighting, decorative coatings that mimic the look of chrome or stainless steel, and specialty coatings for electronic devices requiring EMI shielding. Demand for PVD shielding is not limited to automotive: other markets include medical electronics, military hardware, avionics, mobile devices and more.
"VTI's patented SuperChrome PVD Coating is the world's leading chrome plating alternative for the appliance, automotive and sanitary plumbing industries," enthused Howe. "It is one step ahead of forthcoming industry regulatory trends that will push toward the removal of dangerous hexavalent chromium [CR-6] chemicals. SuperChrome is an ecologically safe PVD coating alternative to traditional chrome plating on plastic components and has met and gone beyond what is required for OEMs when it comes to traditional chrome-plated plastic components."
"Until experiencing VTI SuperChrome PVD, we had not seen this level of success in replacing decorative electro-plated chrome on polymer substrates."
Edward Ward, Vergason's business development manager for coating services and systems, added, "We have done this show for several years as well as in Europe; we get a lot of good leads and automotive people who are looking for alternatives to plating. There is a lot of automotive R&D based here plus up-and-coming EV manufacturers, which has always been a plus. No other show in North America that I have seen has generated the same quality of attendees. Additionally, it's really good to be out and seeing people after the pandemic."
Booth A406