As part of its Advanced Manufacturing 4.0 strategy, Grupo Antolin is integrating digital technology at its Aragusa factory in Burgos, Spain, to reduce and optimize the movement of components in the facility.
This has been achieved through the deployment of an intelligent intralogistics system at the factory which uses autonomous mobile robots (AMRs) and collaborative robots (Cobots), manufactured and supplied by Omron. Through the project, Grupo Antolin aims to achieve "a modernized and more sustainable factory where people and machines work in harmony".
Previously, the loading and transportation of car interior components from the injection area to the assembly area were carried out manually. To improve the efficiency of this process, the company sought to automate the procedures which would also aid in developing a more sustainable business model. By automating these processes, employees will be free to work in other areas of the facility, enhancing workplace safety and removing the need for forklifts.
The new autonomous automatic transportation solution replaces these manual processes, improving overall equipment efficiency in addition to contributing positively to the roll of the injection and assembly systems. For the project, Omron was selected as the system integrator, with technology consultancy Keyland supplying the hardware and software solutions.
"Until now, loading and transporting components from the injection area to the assembly area was an inefficient process that took up a lot of our teams time," explained Jaime Ruiz Alonso, plant engineering manager at Aragusa. "We wanted to improve this logistics process for the manufacturing. Because of this project, we have enriched our ecosystem to develop the manufacturing 4.0 strategy, reducing low value activities and increasing safety at workplace level."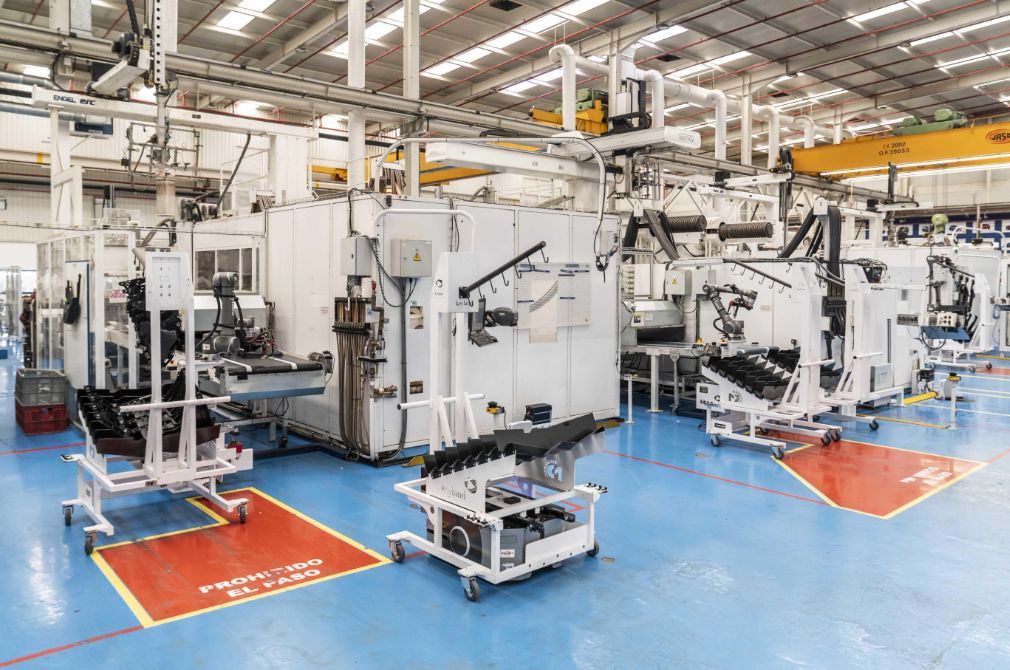 "This flexible robotics solution is a fantastic example of how we bring innovation through automation to solve issues in the production environment to meet customer needs," said Jose Antonio Baquedano, automotive key account manager, Omron.
"When we were looking for a solution, it was vital to select the right automation solution with integrated robotics; something that would be scalable and flexible, and robots that could work safely in closer proximity with people in harmony," commented Jesús Arce, director of technology and products, Keyland.
Grupo Antolin's new solution is based around the Omron LD-250 AMRs and Omron TM12 Cobots. The LD-250 is fully autonomous and has been designed to dramatically increase productivity in manufacturing and logistics operations. This is achieved by increased throughput, the elimination of errors, and enhanced material traceability.
The AMRs benefit from a maximum payload of 250kg and are capable of navigating the facility using the natural features of the site, unlike traditional autonomous guided vehicles.
The OMRON TM12 is a collaborative robot developed for assembly, packaging, inspection and logistics applications. It has an integrated vision system that provides additional functionality and flexibility through color, object and pattern recognition. Integrated safety lasers enable the Cobot to work efficiently at high speeds without physical fences, further improving safety and productivity.