Mini has premiered a one-off model called the Mini Strip, co-created with designer Paul Smith. The vehicle was built using sustainable automotive design and manufacturing, living up to the OEM's motto of 'Simplicity, Transparency, Sustainability'.
"For me, the Mini Strip shows in an impressive way that Mini and Paul Smith share the same bold way of thinking about the future in terms of innovation and design – and together we create more," explained Oliver Heilmer, head of Mini Design.
To begin with, the entire vehicle was stripped down to leave only the components that Paul Smith deemed necessary. Opening the doors reveals a truly stripped-back interior. Many normal components have been left out, with just the dashboard, topper pad and parcel shelf remaining, all made from recycled cork that doesn't contain synthetic binding agents, making it fully recyclable.
The dashboard is now made from a singular semi-transparent section with a smoked-glass finish; with no classic circular instrument in the center, the driver's smartphone can now be placed there to automatically connect to the car as a media control center. The only physical controls that remain are toggle switches in the center stack for electric windows and the Mini's start/stop function.
Much like the rest of the car, the steering wheel has been reduced to its most essential functions, with a rim wrapped in handlebar tape like a road bicycle, and a mesh covering to replace the traditional plastic airbag cover. Door panels feature the same mesh material that covers the airbag and purposely add a further dimension to the interior space. Conventional pull handles have been replaced by wound, orange climbing rope that matches the Mini's seatbelts. Milled-aluminum door openers sit in the cork door cards, and exposed airbags and associated wiring are on the roof pillars.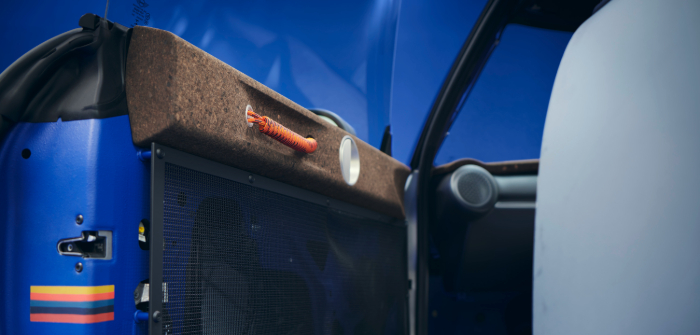 With no leather, the Strip's seats have been upholstered in a knitted, mono-material fabric that is fully recyclable. In addition, the floor mats are produced using recycled rubber. The knitted fabric and cork are open-pore materials and therefore improve interior acoustics.
As per Paul Smith's request, the exposed panels and bodyshell are blue to make them a dominant feature. Recycled Perspex takes the place of the normal roof and enables passengers to view the bare inside structure of the vehicle's shell. A multitude of visible screws and fittings show occupants how easily the interior could be dismantled and subsequently recycled or repurposed when the car reaches the end of its service life.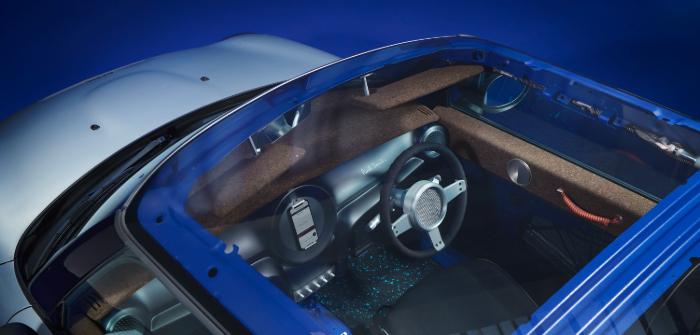 "I'm incredibly grateful for the opportunity to rethink the iconic Mini," commented Paul Smith. "I know and love the existing car, but by respecting the past and looking to the future we have created something very special. I feel very privileged that the Mini team have given me the confidence and freedom to think laterally about the approach to the design of the car. Together, I think we have created something truly unique by going back to basics, reducing things down and stripping the car."