Toyota Connected North America (TCNA), an independent software and innovation center of excellence, has introduced its Cabin Awareness technology concept, which uses millimeter-wave, high-resolution 4D imaging radar to help detect occupants (including certain pets) in cars and has the potential to detect them if ever they're left behind.
"Toyota Connected's talented software engineers and data scientists are leveraging cutting-edge technology to bring innovation and advanced technologies to customers' vehicles," said Zack Hicks, CEO and president, TCNA and executive vice president and chief digital officer, Toyota Motor North America (TMNA). "We are extremely proud of our efforts to take this idea from the drawing board to a full-blown concept, and, hopefully, developing a technology that has the potential to save lives."
The concept uses a 4D imaging radar sensor, mounted out of sight above the vehicle's headliner, that can detect presence of a lifeform in the vehicle, even after a driver exits. Specifically, it has the ability to sense micro movements, such as a heartbeat, motion and respiration of occupants across three full seating rows, the cargo area and footwells. It also classifies all occupants according to size, posture and position – supporting advanced safety applications.
TCNA states that the platform provides robust sensing even if the occupant is covered with a blanket, a scenario in which a passerby would be unable to see the occupant. It differs from other technologies on the market such as weight sensors, that can be prone to false alerts and mis-detects, cameras limited by blind spots or other radar systems with a limited range of passenger detection.
"The key difference with this system is the improved resolution and accuracy, full-cabin detection and scope of functionality Cabin Awareness provides," said Simon Roberts, managing engineer, TCNA, who has spearheaded the development process. "With the precision of these sensors, we're designing Cabin Awareness with the aim of reducing false positives and false negatives."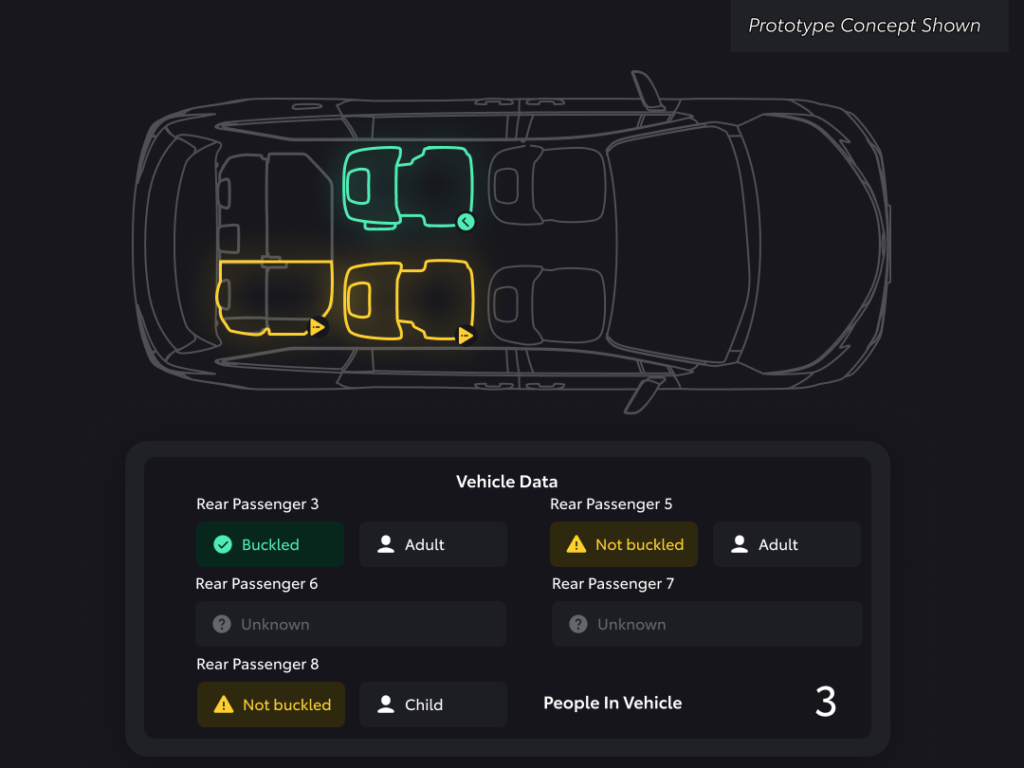 While Cabin Awareness is currently a concept, the feature is getting a real-world trial with Toyota's partner May Mobility. The autonomous-vehicle company is testing the technology in its fleet of Toyota Sienna AutonoMaaS (Autonomous Mobility as a Service) minivans at its headquarters in Michigan and will soon begin testing in public AV deployments in Arlington, Texas, and Ann Arbor, Michigan, with additional deployments coming in late 2022. Recently, May Mobility announced that a portion of the fleet will be modified to become ADA-compliant and accommodate passengers in wheelchairs.
"May Mobility was founded with a mission of making roads safer through autonomous technology – and we've kept safety as our top priority as we've advanced our technology and worked with key strategic partners like Toyota," said Edwin Olson, CEO, May Mobility. "As we move closer to driver-out operations next year and continue to scale our global business with more public AV deployments, technology like the Cabin Awareness concept is essential for our riders."
In the future, one possible application for autonomous shuttles is alerting parents when their children complete a ride. Conversely, a shuttle may delay driving to its next stop if it senses someone is still in the vehicle upon reaching its destination.