Auto maker Peugeot has launched a range of interior accessories for its 308 model, produced solely using additive manufacturing techniques with a flexible polymer material.
The accessories are the result of a joint effort by Peugeot's Design, Product and Research and Development teams and are 3D printed using the latest HP Multi Jet Fusion (MJF) 3D printing technology.
According to Peugeot, its designers' objective at the start of the project was to create accessories that were visual, innovative and crafted from modern materials. The range of accessories was drawn up after a detailed analysis of how customers use storage in the car. As traditional materials did not meet the specifications, the Colours and Materials team within the Peugeot Design department worked with partners including HP to develop a more suitable material.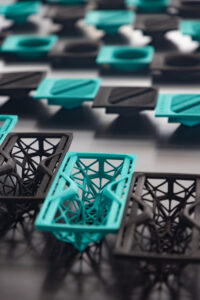 The result was a TPU called Ultrasint, a jointly developed polymer from HP and BASF that is stated to have a number of advantages over existing materials. Not only is the material flexible, but it can also be rapidly manufactured into its final form while incorporating a high level of detail.
The use of TPU in a car interior is a new approach, which has been patented by Peugeot parent company the Stellantis Group.