Automotive Interiors Expo returned to Stuttgart, Germany, with a bang, providing a very welcome opportunity for industry professionals to meet in person, and see and most importantly touch the latest offerings from some of the leading interior suppliers.
The show floor had something for everyone, from advanced electronics solutions through to new fabrics, trim materials and manufacturing equipment. For example, Conductive Transfers showed off its range of advanced, printable electronics solutions, including printed heating elements incorporating a reflective layer and measuring just 0.1mm thick.
The element is printed onto a transfer sheet, which can then be heat pressed onto the seat material before the transfer is peeled off. The use of a reflective layer makes the heating element highly efficient, with its effect felt in a matter of seconds once turned on. The company also displayed its latest printable sensor. Available with both capacitive and resistive functions, their potential use cases in interior applications are endless.
Many of the big industry players were in attendance, including Continental, which brought its latest concept vehicle, based on a classic VW T2. The interior was outfitted with the company's latest range of trim materials, combining, form, function and sustainability to offer vehicle designers the features their customers now demand.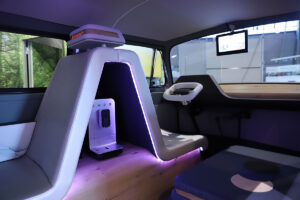 For example, with a move toward ever more light and airy interior aesthetics, the concept incorporates a seat covering material that provide a soft, tactile, pale-colored surface that is both durable and easily maintained. As Continental representative Sonja Kaspar demonstrated at the company's booth, the material can be drawn on with ink then wiped entirely clean with ease. Other innovative features include the use of a breathable headliner material through which air can be blown, replacing the need for traditional vents. Meanwhile, the armrests in the rear of the vehicle feature backlit sections with integrated functional switches embedded in the material.
Looking to the array of suppliers of manufacturing equipment, there were some cutting edge solutions on display. Particularly impressive were the systems from Italy-based Teseo, a specialist in material cutting. The company had two machines on display, a CNC perforating machine and a QC system for cut hides.
Its AQC system attracted a lot of attention, incorporating a vision-based inspection system for cut hides, which removes the need to manually check finished material sections. Intended for use on the production line, it also incorporated the ability to automatically pic and place pieces for inspection. Clearly, visitors to the show were impressed with the company's offerings and one even purchased a machine directly from its booth, shipping it directly to their factory once the expo closed.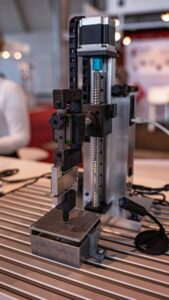 Another standout product was Grewus's haptic feedback test system. As company MD Ralf Sandomeer explained, "You have the mechanical, electronic and actuator elements of the device working together. So, for example, if you have a very stiff surface, you may not get good haptic feedback. You need to bring the three elements together and define what the user is actually perceiving when they touch something." To achieve this, Grewus has developed two systems: a test rig for haptic controls and a haptic evaluation board.
Automotive Interiors Expo is set to return to Stuttgart in November 2022.