A new digital event from the publisher of Automotive Interiors World takes place next week. The virtual conference will bring together automotive OEMs, big data tech companies, mobility service providers, consultants, data protection and privacy lawyers and other stakeholders to present and discuss the multi-billion-dollar commercial opportunities available from connected car data.
Monetizing the Digital Car Virtual 'Live' will take place online, November 23 & 24, 2021. This exclusive event will reveal routes to successful monetization, and highlight enabling applications and use cases while revealing how to create and ensure value.
Nearly 40 expert speakers from a diverse pool of leading organizations, including Amazon Web Services, Nokia, Harman, Robert Bosch, Vodafone, Here Technologies and Ford, along with top law firms, academic institutes and business consultancies, will discuss the challenges and opportunities currently offered by increasing connectivity and the huge volumes of data being produced by vehicles and their users.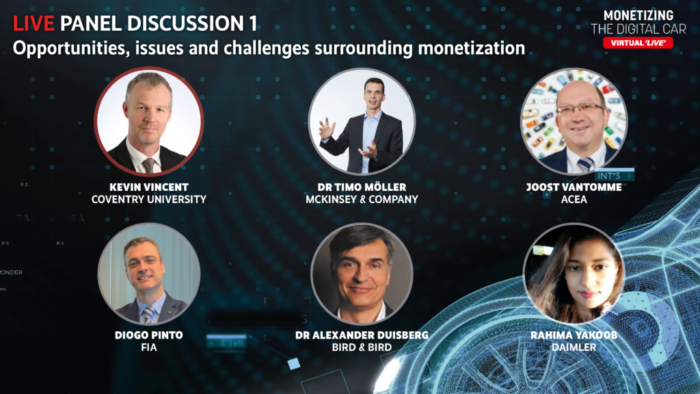 They will highlight how all this data is a highly valuable tool not only for automotive OEMs but also for dealers, insurers, tech companies, mobility service providers and many other organizations.
Speakers and sessions will analyze how best to monetize this data, via the provision of unique consumer experiences, upgradable software and service subscription models, through to advertising and usage-based insurance, to name just a few opportunities.
Discover how this data will enable automotive OEMs to harvest real-time usage scenarios and monitor car performance and reliability, delivering potentially huge savings in R&D budgets, with vehicle user data able to expedite hundreds of hours of testing.
Infrastructure players, third-party tech companies, content providers, advertising agencies, telco operators and others will also each have a stake in not only monetizing the data but also expanding their product offering and reach to consumers through a completely new platform.
Monetizing the Digital Car Virtual 'Live' will bring together all of the various stakeholders at the forefront of unlocking the full potential of monetized car data.
Click here to view the full program and speaker list, and register now!