Automotive Interiors Expo Europe (November 8, 9, 10) is maintaining momentum at Messe Stuttgart, Germany, as more than 125 exhibitors specializing in automotive interior components and technologies showcase their latest innovations and solutions to an international audience from across the automotive supply chain sector. It's not too late to attend – register here for your free exhibition entry pass.
Here are some highlights from the second morning…
Day 2: Grewus presentation | Integration of active haptic feedback in HMI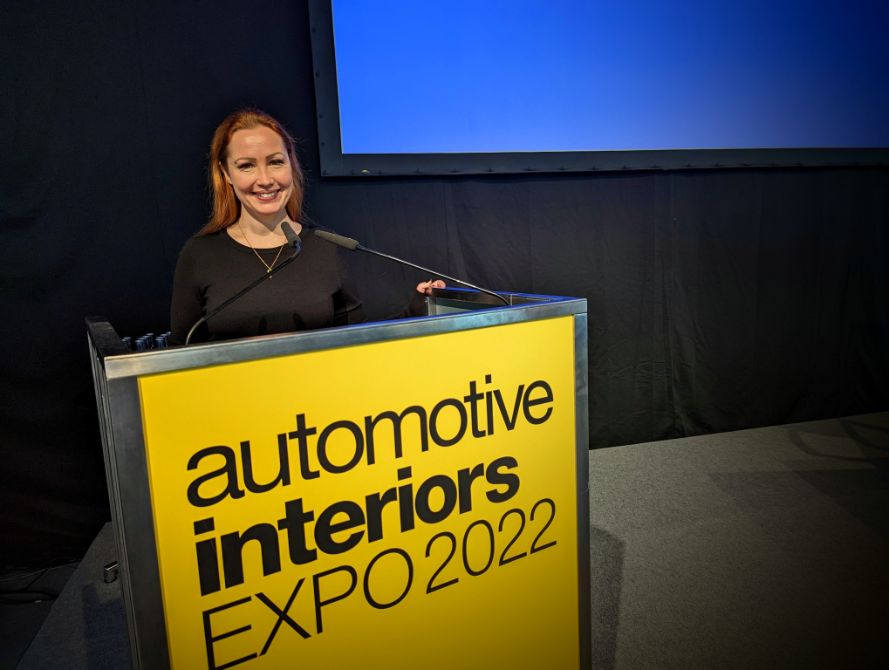 This afternoon at 2pm, Grewus managing director Elisa Santella will give a presentation titled Integration of active haptic feedback in automotive HMI systems. Santella revealed more about the topic in an interview ahead of her presentation.
"It's a pleasure to talk about this subject," she said. "Active haptics in automotive is a visible trend. The first reason is safety: anything you can do to help people not take their eyes off the road is essential! Reconciling safety with connectivity is a key challenge driving the development of next-generation vehicle HMIs. The second is improving the HMI experience for the driver and more possibilities to configure the car according to the requirements (of each driver type). But, of course, there is design freedom in the surfaces, just as in the design of the 'haptics'.
"We know how challenging it is to integrate haptics – the whole mechanics, sensing of the surface, driving of the actuators, acoustic and, of course, the haptic actuator itself," she continued. "Referencing the Haptic Interaction Cycle, we will explain these key components of a haptic system."
Asked whether ergonomics, aesthetics or function is the most important feature of automotive interiors, Santella replied, "A combination, of course! Interfaces need to be intuitive, and they have to be multimodal."
Excited to participate in the event, Santella enthused, "Automotive Interiors Expo visitors and exhibitors are experts: engineers, designers, etc! We look forward to the exchanges and the inspiration. We are a component manufacturer, and something great can be created only in cooperation with all disciplines in interiors. Together let's define the 'interior of the future'!"
Booth 3238
Day 2: TG0 showcases touch-sensing tech for HMIs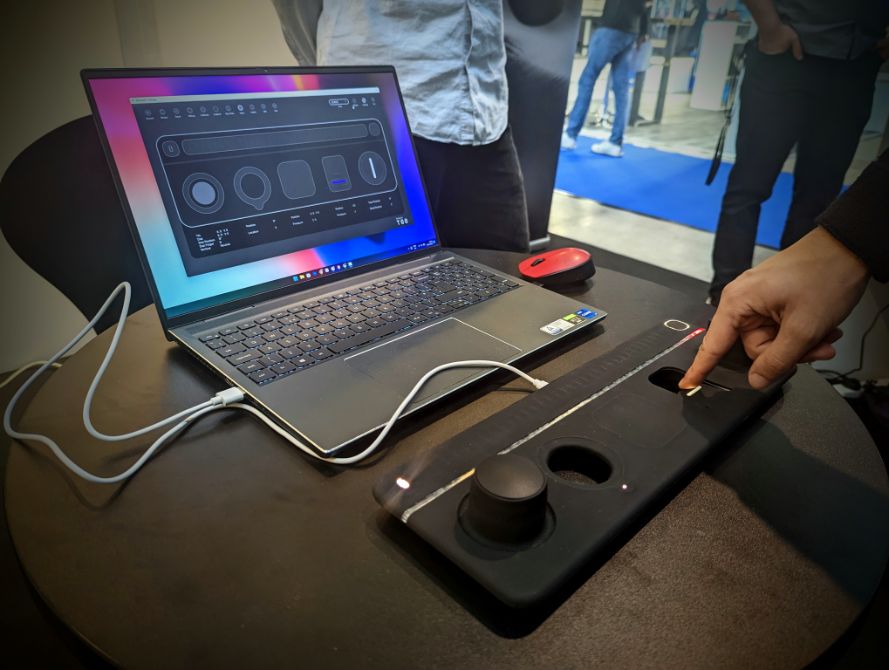 TG0 is in Stuttgart to demonstrate its patented touch-sensing technology and its benefits for automotive HMIs. The company's marketing director, Shanna Clement Wood, explained how the company has advanced HMI technology and improved user experience. "Clients are no longer constrained by traditional sensing methods," she said, "Automotive designers can reimagine the in-car experience with controls based on the best and safest control methods.
"Our technology is integrated onto the B-side of existing surfaces using injection molding," she continued. "This allows clients to use existing off-the-shelf materials to create new HMIs. This method offers key benefits, including freedom of design, streamlined manufacturing, improved sustainability, increased margins and lower BOM, and brand differentiation.
"TG0 technology can be implemented anywhere the passenger interacts with the automobile – from center consoles and door handles to armrests and seating. TG0 tech can transform the car interior into a next-generation driving experience."
On the subject of the expo, she said, "As one of the key auto interior events of the year, AIX is the ideal opportunity to debut the TG0 Demoset to drive excitement and opportunity for a new area of automotive interiors using TG0 technology. The company has developed a portable interaction library to showcase key interactions to inspire designers and engineers."
Booth 3016
Day 2: Forvia presentation | Personalized interior lighting to enhance UX and avoid cognitive overload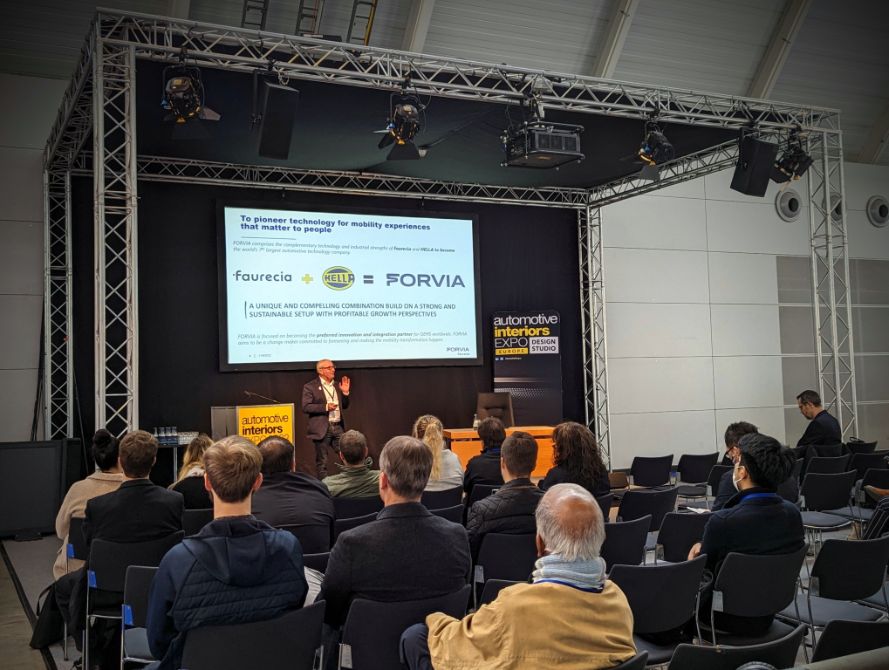 On Wednesday morning, Forvia technical director James Gourlay gave a presentation titled Personalized interior lighting to enhance user experience and avoid cognitive overload.
According to Gourlay, "Personalization is the ultimate customization in user experience [UX]. Light is increasingly used to personalize automotive interiors, for many tasks, decorative and functional use cases. Simple features like the adjustment of color for different driving modes are widespread. However, the user customization of cockpit information displays for personalization is also becoming common. We see a convergence of these technologies and capabilities, where interior lighting converges with displays, and lighting evolves into low-resolution display surface backlighting."
The company says the 'information when you need it' capability blends seamlessly, from low-resolution peripheral display to high-resolution display across interior surfaces, while minimizing cognitive overload and information clutter.
"This will be our fourth year attending Automotive Interiors Expo with an exhibition booth and a technology presentation," said Gourlay. "In that time, our small technology company, designLED, was bought by Faurecia, which has now joined with Hella to form Forvia, a world-leading Tier 1 automotive technology company. We will now be presenting the wider Forvia lighting technology for automotive interiors on our stand, from across our company, not only the designLED Light Tile technology, and we are hoping to meet new OEM partner."
Booth 3522
Day 2: FeelInGlass unveils 'touch and feel' glass developments for future cockpits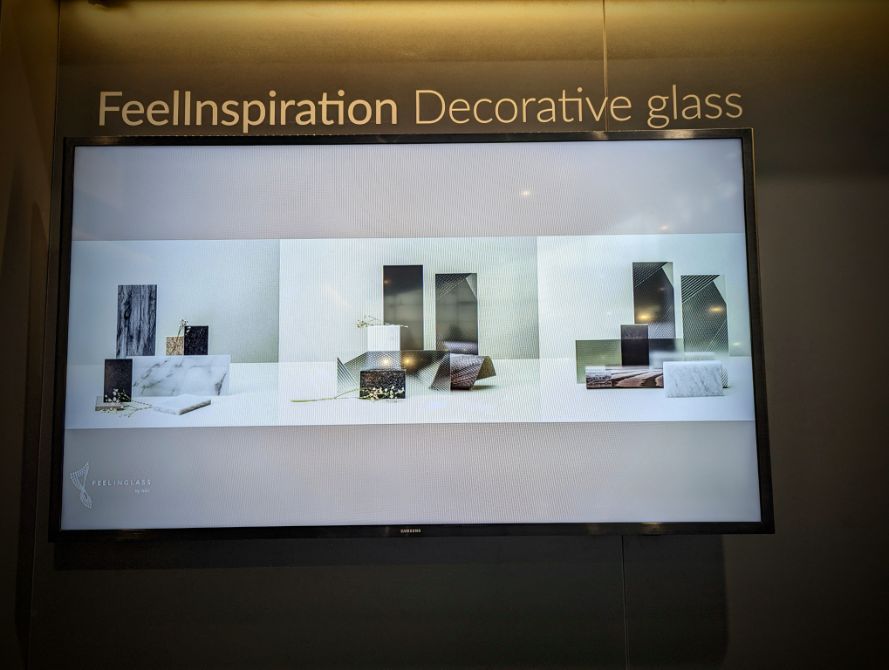 In Stuttgart, FeelInGlass by AGC is introducing a return to its roots. "Having experienced an insightful show last year, we wanted to introduce visitors to the whole characteristics of glass and demonstrate that it is an asset for interior applications," said César Colombo, from AGC's marketing and communications department. "Alongside this, FeelInGlass is introducing novelties linked to its pioneering expertise in decorative glass, including unveiling our new samples collections for incoming trends in 2023, as well as our hot bended cover glass for displays with unexpected shapes."
Commenting on the importance of sensory experience to an automotive interior's character and spirit, Colombo explained, "The need for a homogeneous atmosphere in cockpits is leading designers and engineers to rethink the way they are conceived. As screens are becoming more prominent in cockpits, glass remains a significant element, linking sight and touch for users. That's why we want to expand the overall glass surface in the interior, as well as enhance finishes with specific decoration and surface treatments, resulting in a high-added-value final assembly."
Colombo continued, "FeelInGlass orients development toward a 'touch and feel' guideline. We provide more than glass-based products, to cope with evolving user experience features. With the need for more connectivity, we are developing innovative ways to integrate more functions through glass, turning it into a smart material. That's why we are constantly innovating toward more incoming uses for tomorrow's mobility.
"Consideration of materials for mobility purposes is evolving in relation to the new experiences of electric, autonomous and shared mobility. In accordance with these new practices, CMF designers are seeking new materials to push customization of automotive cockpits. We provide a plethora of possibilities encompassing decoration, patterns and surface treatments to turn it into a versatile element of interiors."
On the benefits of using glass rather than plastic, Colombo said, "Glass is a common component of our daily lives – for instance, through our connected devices. This material can handle a significant stack of surface treatments and serve multiple purposes. We believe in the development of glass surfaces that are more durable than plastic, offering greater rigidity for less material, and many other benefits.
"The year 2022 has been declared the International Year of Glass by the UN General Council, and FeelInGlass wants to use this momentum to take a step forward," Colombo concluded.
Booth 3232
Day 2: Taiyo showcases advances in electroplating for future interiors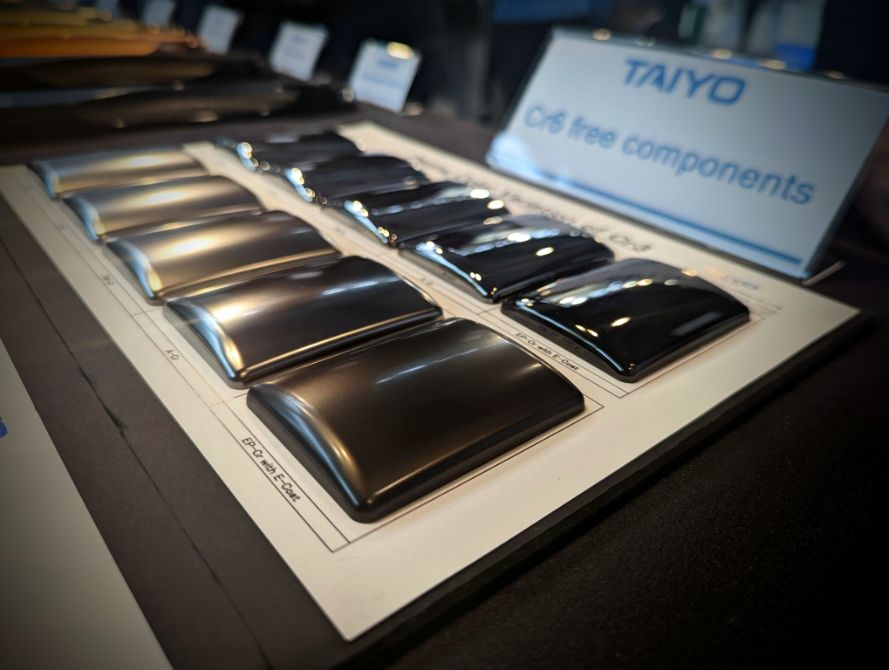 Taiyo Soft Singapore is displaying its innovative decorative plating on plastics for interior parts in Stuttgart. According to Azeem Hamaradeen, general manager at Taiyo, "Decorative chrome plating continues to be the coating of choice as there is no substitution for the real metal finishing applications. Demand for chrome's bright and lustrous finish continues to grow despite competition from other similar finishes. Chromium has withstood the competitive challenges due to its unmatched aesthetics as well as its superior technical capabilities."
Azeem continued, "Taiyo has been an expert in electroplating for years – from initial tool design to production and additional support, the company works together with its business partners to create beautiful and unique parts mostly found in switches, modules, integrated center panels and decorative trims.
"As the industry continues to enhance the passenger experience with new technologies, it is only fitting that the aesthetics also continue to evolve. Designers are constantly looking for new inspirations and techniques to manifest their ideas into reality, and Taiyo's newest textured surface and colorized chromes are our latest answers to the future of automotive interiors."
Commenting on Taiyo's innovative approach to electroplating, engineering professional Paul Uglum said, "Taiyo's textured chrome required advances in laser Q-switched frequencies, which allowed unique and reproducible textures to be applied to plastic molds, and also the development of a process to allow even plating on an uneven surface. The result is a very sophisticated chromed appearance."
In accordance with the EU REACH directive, Taiyo has developed its Chrome 6 free plating line to cater to the environmental regulations and to move toward sustainable development goals.
"At Automotive Interiors Expo, we are enjoying showing samples of our latest technology and talking about the evolving experience of the cars of tomorrow," enthused Azeem.
Booth 3502
Day 2: Ionbond highlights benefits of decorative PVD coatings for interiors and exteriors

Ionbond is showcasing its decorative PVD (physical vapor deposition) coatings in several colors – including gold, nickel, chrome and black – on automotive interior and exterior parts.
Ron Dielis, global segment manager of deco and sports at Ionbond, talked about some of the features. "Our wear-resistant PVD coatings, which are two or three times harder than chrome, are so thin that they follow the base texture of the parts. With PVD coatings, we can process finish to give parts a different look, while keeping the same base texture – the PVD coating changes the color of the part, but not the texture, so any high-gloss parts stay high gloss after the PVD coating, matt stays matt and a brushed surface stays brushed."
Ionbond's Decobond PVD coating can be applied on all electric conductive interior parts that have a galvanic chrome coating. Colors range from gold (24kt or 18kt), copper and rose color to nickel, smoky grey, anthracite, black and dark black. "Ionbond customers from several industries have been asking for a high-end deep black decorative PVD coating, with the same quality and consistency on different textures and materials," revealed Dielis.
"Emissions reduction (and therefore weight reduction) is a huge topic," added Dielis. "To achieve this, many parts are made out of plastic, but want to imitate metal. Ionbond's PVD coatings on plastic can emulate metal through the look, feel and touch. The parts must feel genuine, as though they are made from raw earth materials."
Dielis said that Ionbond Netherlands chose Automotive Interiors Expo in Stuttgart to showcase its PVD coatings because, "We are looking forward to meeting forward-thinking companies seeking an alternative for chrome replacement, and designers and developers looking for new ideas in the automotive industry and beyond."
Booth 3412
Day 2: Ash & Lacy presents its new photo-etching line capabilities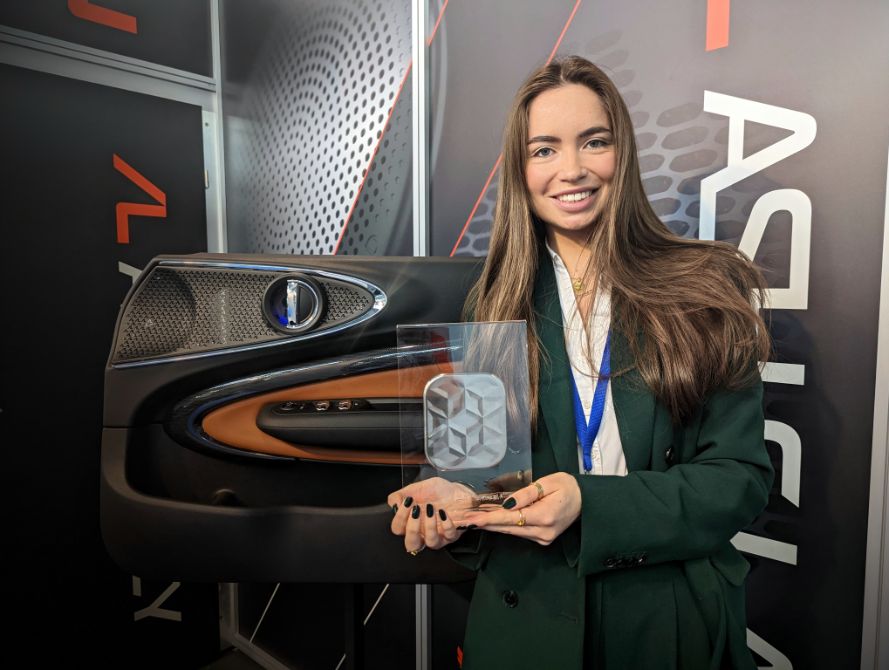 Ash & Lacy Automotive's Emily Evans, who gave a presentation on Tuesday afternoon titled Trends in vehicle audio – materials, aesthetics, finishes and supply, has been sharing what the company is displaying on the exhibition floor.
In an interview during the show, Evans, product manager of vehicle and audio at the UK-based company, said, "With emerging EV trends in design, we are discussing how suppliers like ourselves must adapt to support manufacturers through investments in specific technological processes. We are showcasing our new photo-etching line capabilities with pressings, coatings and full integration of assemblies to offer increasingly bespoke and tailored solutions.
"Our new photo-etching line allows us to be more competitive than ever in our flexible pattern and design capabilities within metal components," she continued. "From speaker grilles and treadplates to powertrain components and personalization, the opportunities are endless without tooling investment.
"Our experienced toolmakers are able to develop blank profiles, turning them into complex forms through part development, and our FDM and SLA 3D printing and soft tooling capabilities enable us to meet short lead times as we gear up for production.
"These capabilities allow us to manufacture new EV powertrain components. As a Tier 1 supplier to established car manufacturers, we can provide supplier reassurance to new EV startups. Our selection premium component capabilities also support the increasing design demands on interior design."
Bernard Briggs, quality manager at Ash & Lacy, added, "We must take traditional methods, technologies and experience, and transfer these into new processes to support new design demands, adding to our capabilities."
Ash & Lacy supports sustainability through its top sustainability initiatives, which Evans cited as: circular pathway raw material supply, locally sourced and established suppliers, recycled content in metals, reducing embodied energy of final products, investing in efficient buildings and reduced energy usage, and electric company car fleets with on-site charging facilities.
Asked why Ash & Lacy chose Automotive Interiors Expo in Stuttgart to showcase its technical, manufacturing and prototyping capabilities, Evans revealed, "We are well established in the UK market, supplying all big UK names such as JLR, BMW MINI and Aston Martin. We hope to break this perception barrier of supplying into the EU while showcasing our capabilities and competitivity to the EU market.
"It's a really exciting time to be in the industry," she added, "an unprecedented turning point in automotive engineering and architecture, where everyone is learning and developing more than ever."
Booth 3508
Day 2: Niebling showcases trends in high-pressure forming for FIM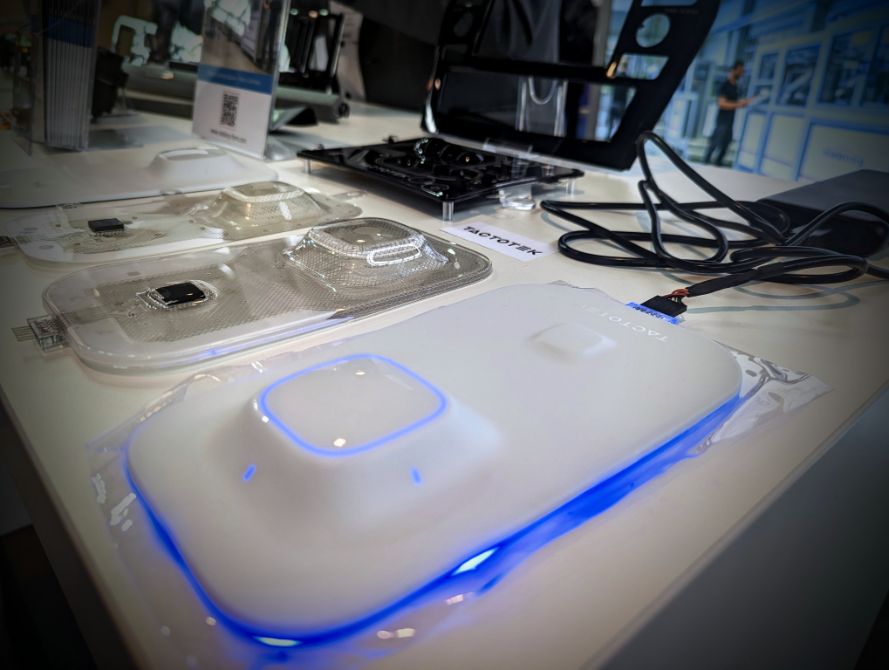 In a live interview during the show, Douglas Gray, senior sales manager APAC at Niebling, spoke about the Film Insert Molding (FIM) process that the company is showing to visitors. "It has long been the best solution for decorative and closed surfaces for automotive interiors. Current trends in the market are strengthening and widening the potential for the High Pressure Forming [HPF] process inside and outside of the vehicle.
"Demand for capacitive touch, closed surfaces, more decoration options and larger pieces is growing, so Niebling is showing the market how we can support this with HPF for the FIM process. We are sharing insights on these trends and how our excellent forming solutions and automation can help customers meet these growing challenges. We are also reminding the industry that our expertise and know-how as an innovation partner, developed at the forefront of the industry, enables us to provide support beyond equipment and tooling supply with product and process development."
Talking about the features, capabilities and advantages of the company's latest development for XXL forming of films, Gray said, "We offer the same levels of 3D precision and positional accuracy for which we are renowned, but in a bigger size. This enables customers to offer the unique benefits of the Niebling process and FIM for larger parts, opening greater opportunities to the market inside and outside of the vehicle."
HPF is also used in EVs and AD sensors: "For sensor applications the key is that the product is transparent to radar and lidar signals. Parts made using the Niebling process and FIM are plastic and so are, with careful material selection, an ideal solution for radome covers. Additionally, EVs do not require the radiator grilles that were a feature of conventional vehicle technology. This offers a large, highly visible area for the OEM to accentuate their brand and differentiation. Consequently, there is significant interest in our process for pillar-to-pillar front panels. The FIM process delivers decorative parts with exceptional positioning accuracy and high repeatability, making it the ideal solution for this emerging market need."
Gray also talked about the benefits of using high automation. "For us, automation reduces cycle times by up to 40%, bringing considerable benefits in terms of productivity and cost. Additionally, the human influence is reduced, further reducing cost, with greater process repeatability and less non-quality."
He also shared that OEMs and suppliers now want this technology for exterior parts in larger sizes as well as interior purposes: "This reflects recognition of the capability and potential of the FIM process. Niebling High Pressure Forming as part of the FIM process delivers geometric and positional accuracy with high repeatability for decorative and/or functional parts. The full process chain relies on processes that are already well established in the supply chain, including screen printing and injection molding, making is very accessible to the market. The resulting parts are durable, low cost and decorative; it is an ideal process to answer these emerging needs from a well-established and capable supply chain.
"We have contributed to Automotive Interiors Expo in Stuttgart for many years; it is a fixture in our calendar," enthused Gray. "While trends are bringing opportunities on the vehicle exterior, there remains massive potential in automotive interiors for the FIM process as a greener, higher performing and more durable alternative to paint and laser etch. The growth in capacitive touch for HMI is compatible with our technology and when combined with the drive to closed surfaces, we offer the optimum process."
Booth 3250