Automotive Interiors Expo Europe (November 8, 9, 10) has kicked off at Messe Stuttgart, Germany. More than 125 exhibitors specializing in automotive interior components and technologies are displaying their latest innovations and solutions to an international audience from across the automotive supply chain sector. It's not too late to attend – register here for your free exhibition entry pass.
Here's a selection of highlights from the first morning…
McLaren Automotive reveals how thoughtful interior design creates the ultimate driver experience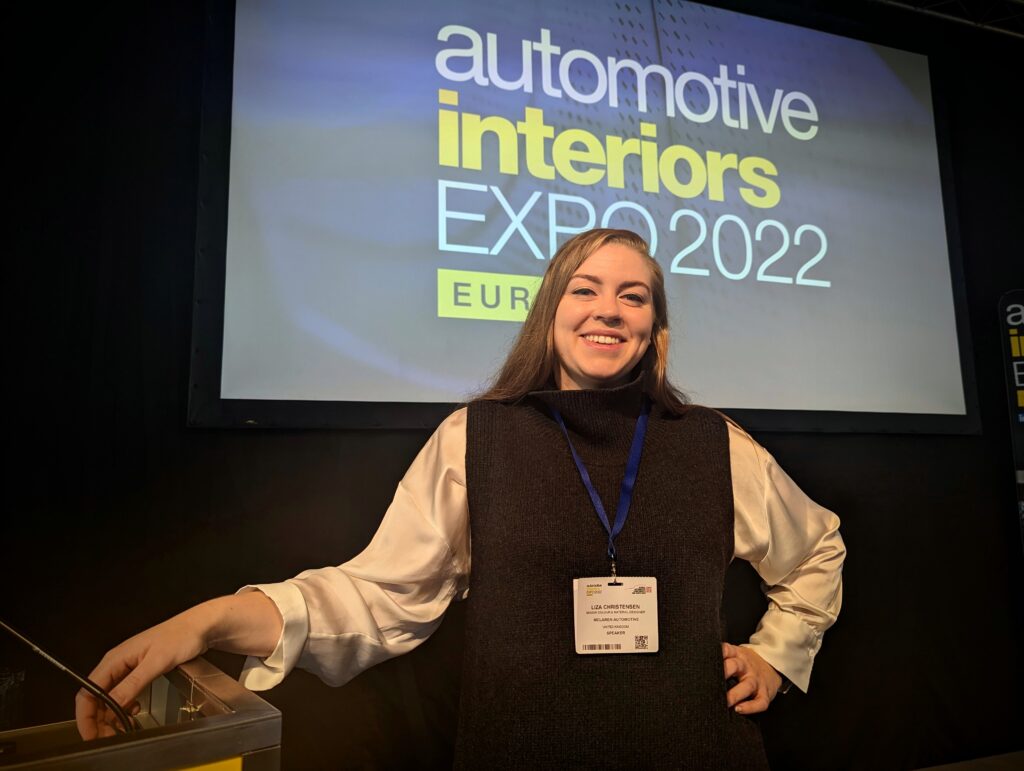 In a highly anticipated presentation on the Technology Presentation Stage on Day 1 of Automotive Interiors Expo in Stuttgart, McLaren Automotive's senior color and materials designer, Liza Christensen, shared the company's unique vision for Elva, its lightest road car to date.
In an interview at the show, Liza explained that her presentation, Ultimate driver experience – interior design, gave an insight into how Elva, launched in 2019 as part of the Ultimate Series, drove a new concept of 'blurred boundaries' – seamlessly blending the exterior and interior. "It fused the exterior with the interior, and along the journey pushed many design innovations," she said. "Value was added through color and materials design, heightening the senses and delivering the ultimate driver experience.
"Elva represents the special requirements of an interior that is open to the elements, delivering light weight and the functionalities of a track vehicle," she continued. "It emphasizes the role of color and materials design to achieve the ultimate driver experience."
Speaking about how important the vehicle interior is to create the ultimate driver experience, Christensen stated, "As well as all the functionality we build in, we think about the tactility, textures and design details that make Elva a luxury product. But this shouldn't distract from the ultimate goal of the driver's connection with the elements and the road, heightening the sense of speed."
She continued, "McLaren is famous for its customer journey, taking people through the process of creating the unique vehicle of their dreams. We offer premium enhanced leathers, lightweight performance materials, beautiful jewelry pieces machined from solid aluminum." For Christensen, "A seamless combination of aesthetics and functionality paired with futuristic luxury is the most important interior design feature."
Commenting on her participation at this year's show, she said, "McLaren is special, holding a unique position in the automotive world. It's a privilege to work on pioneering vehicles. We're proud and we want to share this experience at Automotive Interiors Expo in Stuttgart, and showcase the importance of color and materials design within the development of the car and the emotional connection it brings our customers.
"We are always looking to find innovate collaborators who can help us push the boundaries to create beautiful products that will stay in our customers' lives. This show is about us finding people who can help make true connections with our customers."
Covestro showcases the latest interior automotive trends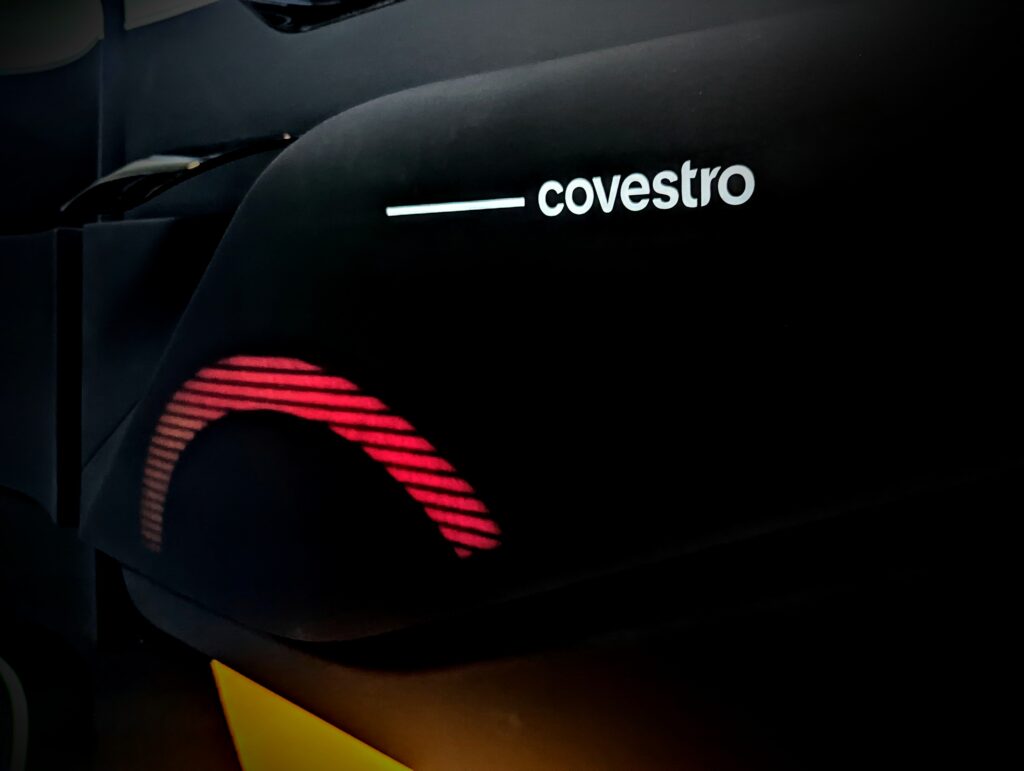 At Booth 3312 in Hall 3, Covestro is showcasing the latest interior automotive trends, including a new roll-up sunroof shade concept, the Nighthawk demonstrator, a drop-in material solution with reduced carbon footprint, and a brand-new concept door panel and dashboard.
Speaking live at the show, Munthanarat Chaisorn, who is responsible for marketing communications – specialty films EMLA at Covestro, explained that design trends have been driving material and interface innovations in mobility for generations: "With the advent of electric mobility and increasing digitalization, the interior of a car may change drastically – and with it, the need for new smart materials and functional solutions increases. Bearing this transition in mind, Covestro is bringing materials to the market that cater to the request for appealing haptics and intriguing visual appearances – beyond piano black."
Together with designer Miika Heikkinen, Covestro has created a concept door panel featuring the company's innovative Insqin water-based polyurethane (PU) coating combined with an adhesive based on a Dispercoll U dispersion – two aqueous, low-VOC solutions that create translucent optical properties, coating adhesion and deep color effects. Chaisorn explained, "The lower CO₂ emissions and the reduced energy consumption of Insqin can reduce the total CO₂ balance of synthetic material by up to 45% while offering nearly odorless indoor air quality. The application's CO₂ balance was further improved using Impranil CQ DLU, which consists of approximately 35 wt. % renewable carbon, as well as a partly bio-based waterborne soft-touch coating with up to 33% renewable carbon in the final formulation."
Speaking about the expo, Chaisorn said, "Covestro aims to engage with the automotive interior sectors, such as OEMs, customers and partners for brand awareness, thought leadership and solution provision. We highly value Automotive Interiors Expo as an outstanding venue to network with key industry establishments and experts to jointly discuss the latest vehicle market trends and share knowledge."
Dr Maximilian Hemgesberg, Covestro's segment manager for coated films and specialty films global business development, and mobility EMEA & LATAM, concurred: "We are offering a broad product range from raw materials to semi-finished goods for the automotive interiors of the future, and are very much looking forward to meeting with suppliers, customers and partners in Stuttgart."
Ciro Piermatteo, global technical marketing manager for automotive interiors at Covestro Deutschland AG, will deliver a presentation titled The interior of a car will never be the same at 11:30am tomorrow (Wednesday) on the Technology Presentation Stage. 
Armacell displays innovative PET foam solutions based on 100% recycled plastics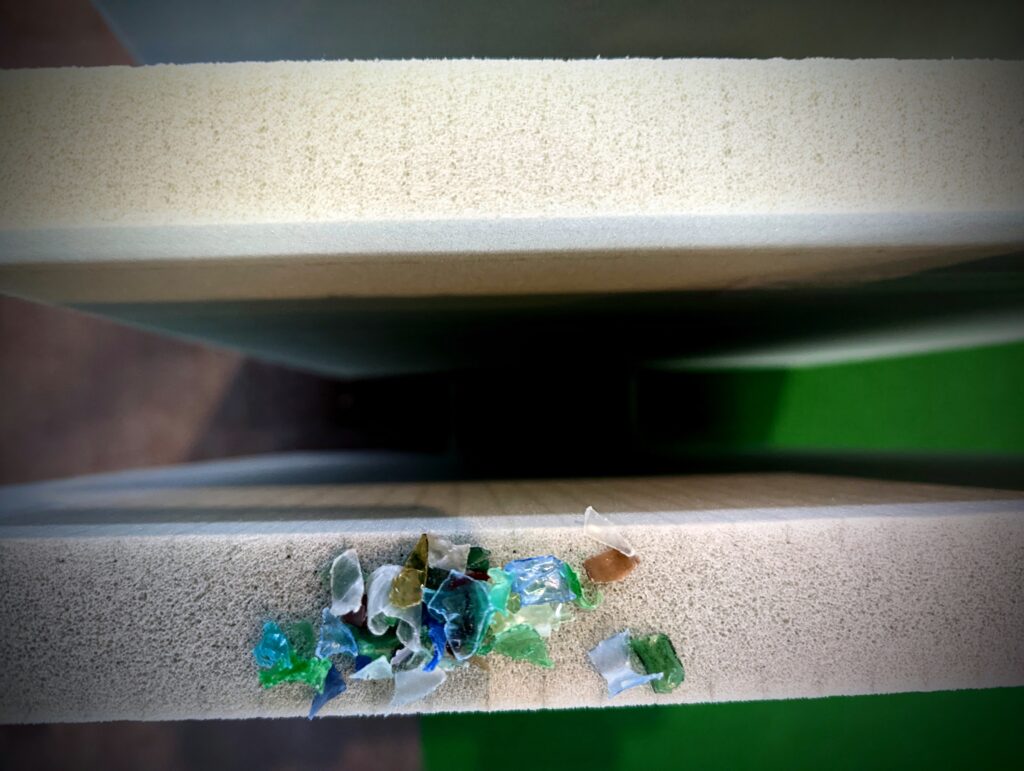 At Armacell's booth, the company is showcasing its innovative range of the world's first PET foam solutions for the automotive industry based on 100% recycled plastics.
"Our comprehensive offering of innovative eco-friendly PET foam product solutions encompasses structural and insulating foam cores, thin flexible sheets for thermoformable micro sandwich solutions and particle foams to produce 3D foam parts," said Armacell's marketing and communications manager, Belinda Birkenfeld, live at the expo.
"The company's portfolio of eco-friendly PET foam products with very low ecological footprint contains structural foam cores used in composite sandwich structures for the parcel shelf, trunk floor or EV battery undercover," she explained. "The thin flexible sheets are used for vacuum thermoformed parts such as air ducts, door water shields and roof liners. We are also displaying particle foams for the manufacturing of ready-to-use 3D-shaped foam cores for car body chassis and structural add-on parts.
"All ArmaPET products are made by Armacell's unique and patented rPET technology, enabling the production of PET foam products based on 100% recycled PET. With ArmaPET foam products, we support foam converters and part makers in the automotive industry in their endeavor to increase the use of sustainable advanced composite materials.
"Armacell is a pioneer in the field of polyethylene terephthalate (PET) technology and initiated the breakthrough of PET-based foam cores in the composite industry in 2005," she enthused. "Ever since, the company has invested significantly in the research and development of this state-of-the-art technology and developed a process technology that enables the production of PET foam products using post-consumer PET beverage bottles. In 2010, we launched the world's first structural foam core based on 100% recycled PET (rPET) plastic. Today, our entire PET foam product portfolio is based on this pioneering process technology. This patented rPET technology allows us to convert waste material into a high-quality resource and feed it back into the production cycle.
"Today, the sustainability of the individual component is becoming a relevant decision criterion in the materials selection process. The trend of designing environmentally friendly composite structures that are light, strong and recyclable has led industrial designers, specifiers and composite manufacturers to accelerate the substitution of conventional polymeric foam materials with our ArmaPET product suite," Birkenfeld concluded.
Delve deeper into Armacell's solutions at Booth 3454.
Egas Consulting shows innovative 3D leather thermoforming process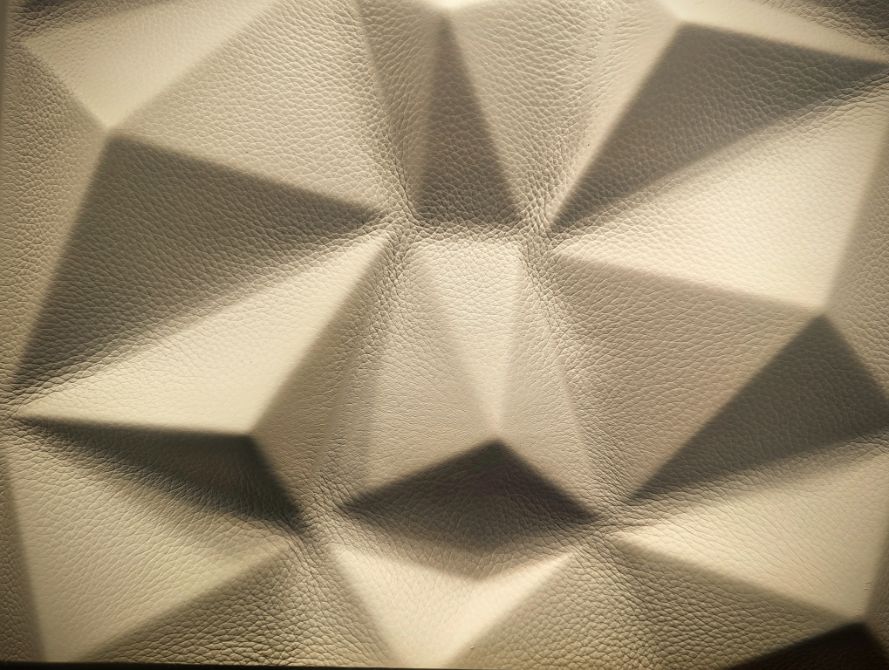 Egas Consulting is in Stuttgart to display its patented Pelle3D (3D Leather) process with several samples of leather interior parts that can be prepared using the leather thermoforming process, including door panels, front header and headrest, demonstrating the potential of this new technology.
According to Corrado Congolani, an Egas management consultant, Pelle3D is an innovative leather manufacturing process that makes it possible to impress a permanent 3D geometry, preserving all the visual and tactile qualities of the material, through a patented formula that can stabilize chemical bonds in all three dimensions. "The key features and benefits are in the repeatability of the results and performances with a strong reduction of costs in terms of time-process and materials consumption on the standard leather wrapping processes for interiors parts," explained Congolani.
He continued, "The good news is that it is not a substitution of the current technologies but a booster of their productivity and quality standards with very high efficiency, value for money and ease of use. The process can be integrated within a production line by installing a vacuum thermoforming machine to perform simple processing cycles: the pre-forming of leather hides using a mold and the subsequent application to the rigid surfaces. This process can be used to create pre-shaped leather parts to wrap the rigid parts of the interiors using different procedures: manual wrapping, membrane press, and co-molding."
Speaking about the expo in Stuttgart, Corrado said, "This exhibition is the most important event in Europe regarding automotive interiors. I can meet all the key people and decision makers from OEMs and Tier 1 suppliers in this business in one place."
Congolani is the founder of the company and the inventor of the process. He will be at Booth 3438 throughout the show and is looking forward to meeting visitors.
Sefar exhibits seating fabric that enables new methods of integration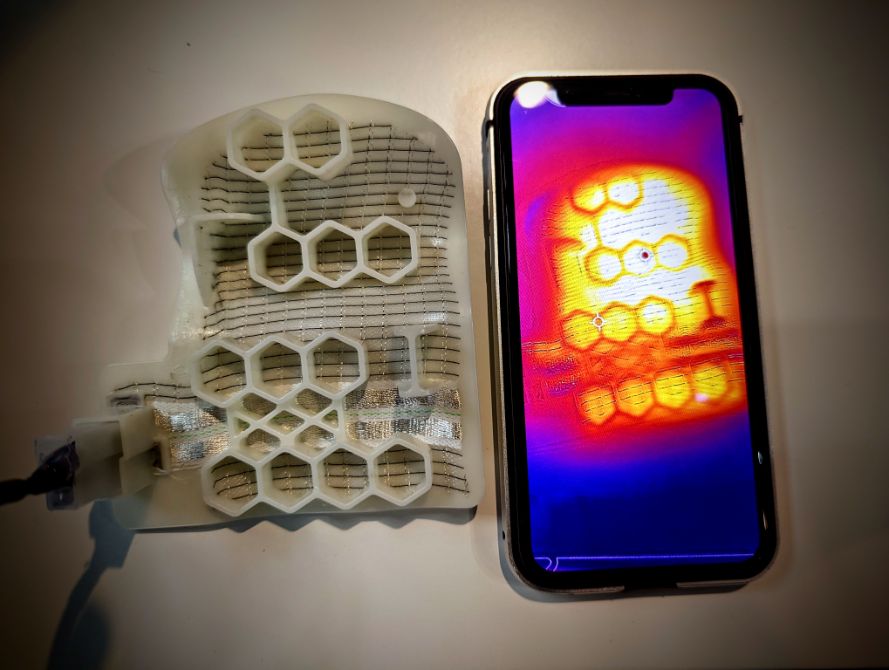 Sefar is showing samples of heating fabric that can be integrated into injection molding, foaming, NFPP or laminating for automotive interiors.
According to Stefan Lanter, corporate sales manager at Sefar, "Sefar PowerHeat is a heating fabric that enables new methods of integration. This leads to very fast heating time and cost savings in production. It is very robust, and this allows you to insert it directly in the mold. The liquid plastic flows around the yarns and completely integrates the heating fabric.
Stefan revealed that Sefar chose to exhibit at Automotive Interiors Expo in Stuttgart because "the automotive industry is looking for a heating solution for all kinds of surfaces. We would like to meet Tier 1 suppliers and OEM leaders at our Booth, 3212."
ORV Manufacturing presents its ultralight sound absorbers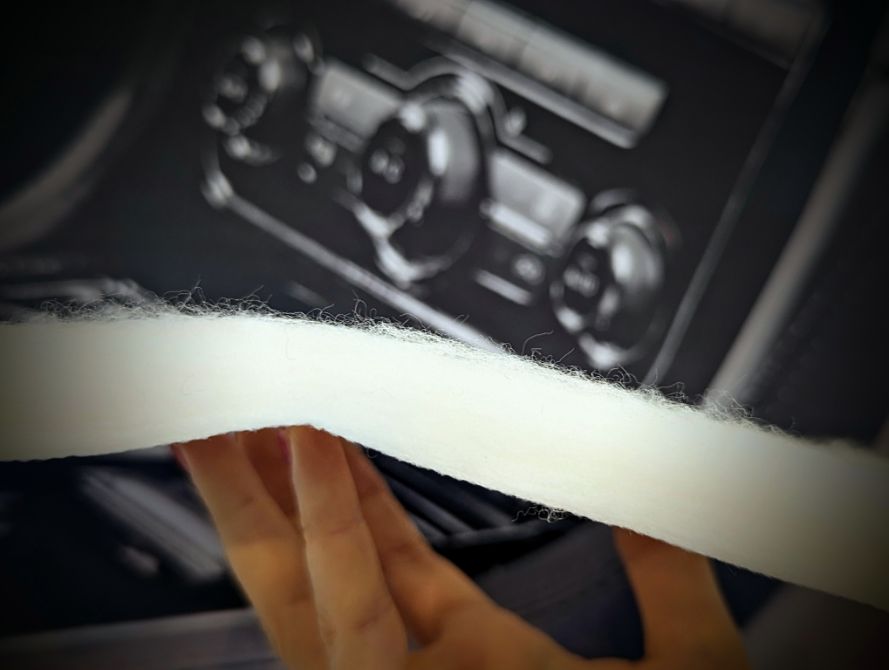 ORV is showing its innovative sound-absorbing products, suitable for trucks and cars. "Our company believes that taking part in this expo can be the best opportunity to get in touch with new prospects, in particular Tier 1 suppliers, to which ORV can supply its new products for nonwoven car components," said Alvise Bertoncello, the company's sales director.
He continued, "In particular, Valtherm Acoustic 2475 PS represents the peak of ultralight sound absorbers: it can be applied to all internal parts that could generate the 'resonance chamber effect' and that normally amplify the reverberation effect (such as the car body, trunk, ceiling, pillar and dashboard area).
"The excellent sound-absorbing insulation is perfectly suited to the e-mobility sector, allowing a significant weight reduction compared with classic foams while preserving performance, with advantages both in lightening the total car weight and in the nonwoven's longevity over time."
Speaking about the company's Sinter 17 Plus, Alvise revealed, "It is a nonwoven fabric made with FR fibers that guarantees high resistance to high temperatures, developed to cover the engine or the passenger compartment, with hydro-oil treatments applied to it. Thanks to the pre-oxidated PAN fibers (precursors of carbon fiber), it achieves excellent fire-resistance characteristics, meeting the most stringent combustion test standards."
See these solutions at Booth 3426.
Conductive Transfers demonstrates matrix pressure sensing and capacitive touch

Conductive Transfers is showcasing its new ElastaSens matrix pressure sensing technology. This screen-printed technology enables thin, lightweight and cost-effective pressure map sensing solutions for seat occupancy detection and other automotive applications.
In an interview at the show, the company's commercial director, Mark Catchpole, said, "We are also demonstrating our new ElastaTouch capacitive touch sensing solution. The printed capacitive touch circuit has been transferred to an automotive-grade MacDermid XtraForm 3D polycarbonate film and then vacuum formed into a complex 3D shape while retaining circuit functionality."
Catchpole added, "Conductive Transfers and our partners have now completed the first step to creating a new high-yielding and cost-effective in-mold electronics process."
Conductive Transfers is demonstrating these exciting new technologies alongside its highly efficient ElastaTherm printed heater technology at Booth 3228.
Arzuffi shows its value-adding sputtering coatings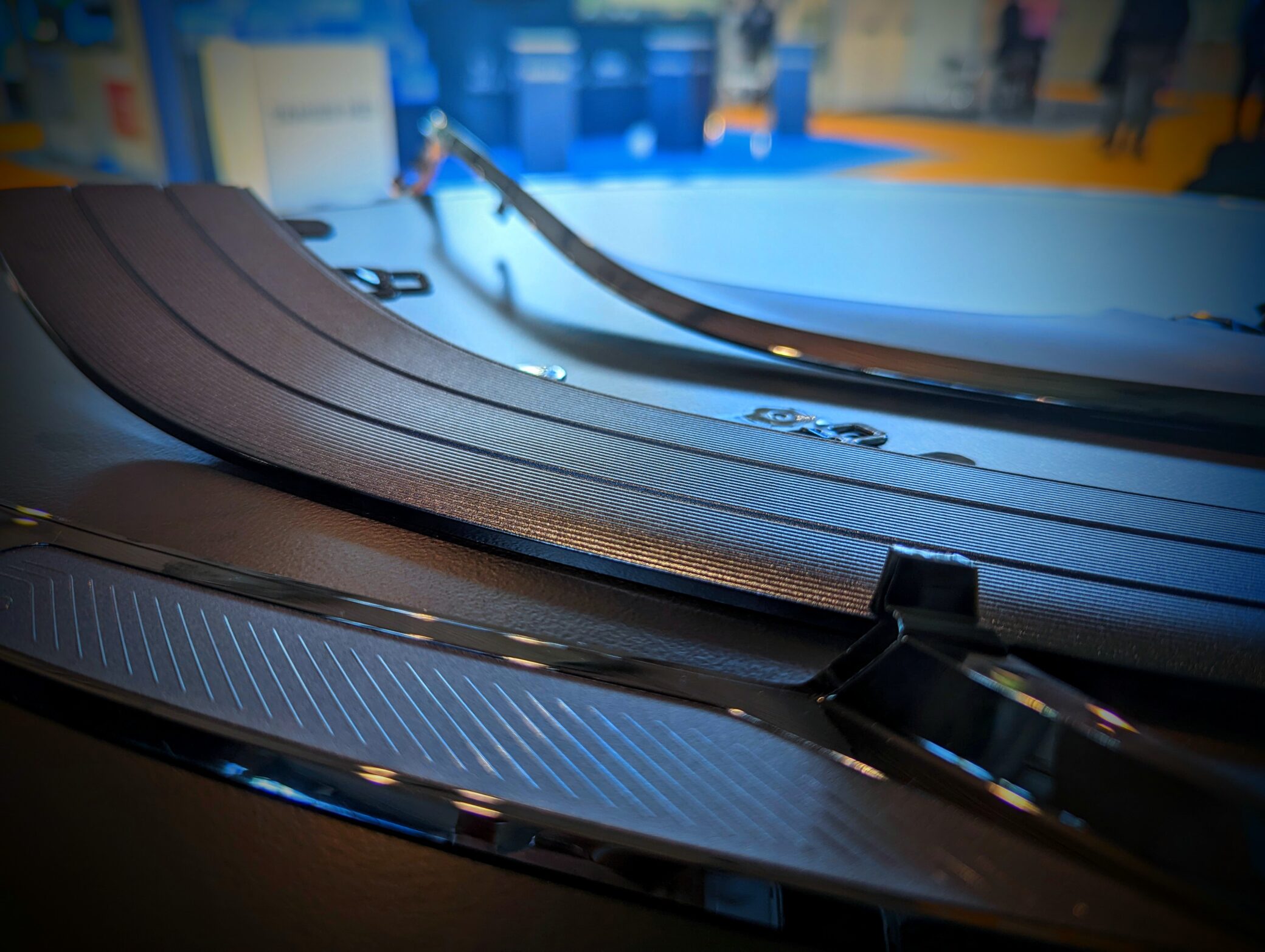 Throughout the three-day expo, Arzuffi is showcasing coated samples that reflect the latest automotive trends. "Plastic substrates (ABS, PC, PC/ABS, PP, etc) with a chrome look are giving the substrate added value, from several standpoints including the environment, aesthetics, functionality and productivity," said Mara Arzuffi, who works in business development at Arzuffi. "By controlling the thickness of the metal and running a reactive sputtering deposition, automotive designers can choose from an array of colors, finishes and backlighting possibilities."
Speaking about the new Fast-Met Roll sputtering system, Arzuffi said, "Fast-Met Roll is the evolution of our bestselling Fast-Met equipment. The new solution features one rotatable cathode in the middle of the chamber that swings according to the magnet's positions, two fixtures to load the pieces and a revolving double-faced door. The main advantage of selecting the Roll model is the competitive price due to the number of cathodes installed, leading to an important reduction in investment costs.
"The benefits of this technology are numerous. It is the green alternative to electroplating, with a clean process at room temperature and free from chemical emissions. It is economical, with a short cycle time and low energy consumption. The thickness of the deposition can be accurately controlled, ideal for series production. Also, special sputtering coatings ensure radar transparency and non-screening protection, making it suitable for radome.
"By using the sputtering and/or reactive sputtering technologies, the Arzuffi machine allows color coatings that are increasingly requested by OEMs and design departments. Gold, copper, steel, chrome and aluminum are the most popular, but alloys as well as combinations with additional gases are gaining ground. OEMs can play with the process parameters and offer specific shades of color.
"Arzuffi is looking forward to meeting companies active in the production of automotive interior components, such as trims, logos, emblems, backlighted panels, optical illumination, front grilles and lighting elements.
"We are receiving many requests from a variety of industries, including automotive interiors, to replace the electroplating treatment. Our PVD represents a great solution since it is more environmentally friendly than other finishing processes and can be applied without producing harmful chemicals or hazardous waste. Of course, it must meet the severe testing requirements of OEMs, made possible by selecting the most appropriate lacquer."
She concluded, "For Arzuffi, this topic is not the future, it is the present. Visit us at Booth 3260 – we will be glad to help you find the suitable decorative finish for your components."