Ford has announced a partnership with navigation specialist TomTom to supply the next generation of its Sync in-car navigation system. They first two models to be equipped with the new system are the F-150 and Mach-E.
"The all-new F-150 is Ford's flagship and the Mustang Mach-E is one of the industry's most exciting vehicles this year – both are leading the next automotive revolution of connected vehicles," said Stuart Taylor, executive director at Enterprise Connectivity. "The next-generation Sync technologies have twice the computing power of the previous-generation system and can do much more, including real-time, smartphone-like mapping that can help you adjust on-the-fly to quicker routes based on their network of millions of connected devices."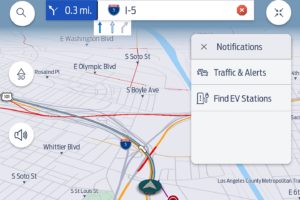 Ford says the vehicles will use TomTom systems to provide real-time traffic information, in order to help drivers reduce their travel time, with TomTom claiming it is able to predict traffic changes such as congestion before they happen by processing more than 70 million driving hours every day, from millions of connected devices, and leveraging Sync's increased computing power to update navigation systems every 30 seconds.