The fourth generation of the Škoda Superb, a prominent member of the ICE range, improves upon its predecessor with enhanced design, increased space and comfort, and advanced technology. First introduced in 2001, the model has seen over 1.6 million units produced, solidifying its position as a flagship in Škoda's ICE line-up.
Innovative features characterize the new Superb, such as a revamped interior concept showcasing a 13in free-standing infotainment screen and Škoda Smart Dials. Customers can opt for either hatch or estate body styles. The vehicle boasts a range of engine options, including three petrol engines with outputs between 110kW and 195kW, and two diesel options with 110kW and 142kW.
Klaus Zellmer, chairman of the Board of Škoda Auto, emphasized the Superb's continued role as the standard-bearer in Škoda's ICE range. The fourth generation aims to maintain this legacy by offering refined design, exceptional spaciousness, and cutting-edge technology. The interior has undergone a significant transformation and features a more ergonomic layout and incorporates sustainable materials, aligning with Škoda's commitment to customer satisfaction.
Noteworthy interior changes include a redesigned center console that enhances storage space, accompanied by new Ergo seats with 10 pneumatically controlled massage cushions. The Superb introduces a novel range structure with seven design selections, offering sustainable solutions, such as textiles made from 100% sustainable materials.
The vehicle adopts the new range structure with design selections, first introduced with the Enyaq. Additions include a phone box with inductive 15W fast charging, simultaneous smartphone cooling, and back-friendly Ergo seats with massage cushions. The Škoda Smart Dials, strategically placed between the infotainment display and center console, combine haptic and digital elements, enabling easy access to various vehicle functions.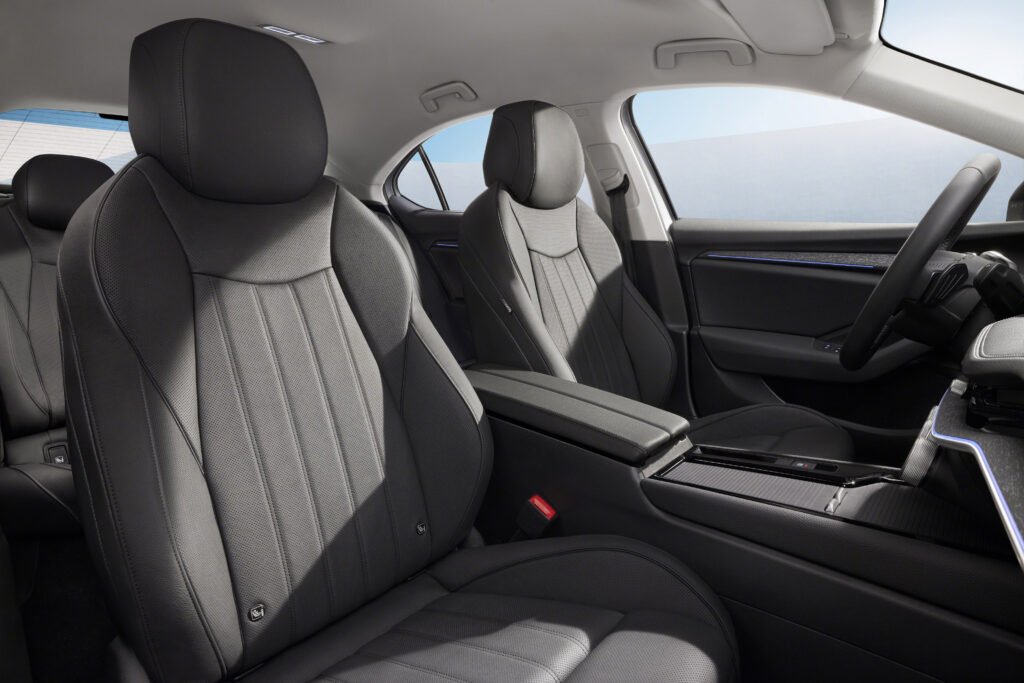 The climate control menu, a recent addition, provides quick access to heating functions for seats, steering wheel, windshield and rear window. From the Selection trim level upwards, the Superb comes equipped with four 45W USB-C ports, two at the front and two at the rear, and an extra 15W USB-C port on the interior mirror, offering versatile charging options.
Furthermore, the all-new Superb prioritizes sustainability with 100% recycled materials used in all textiles, including the headliner. The cognac-colored leather in specific design selections is tanned using wastewater from olive processing. Unique Dark Chrome trim replaces chrome elements in the interior, contributing to a more eco-friendly and stylish design.