Toyota North America is to roll out a new multimedia solution for its vehicles, developed by its in-house Connected Technologies group, which was established in 2018. According to the company, the group aims to unify customer experience, in-vehicle technology, value chain and connected revenue process – functions previously scattered across the organization.
"With the new multimedia system, we focused on the needs and wants of the customer and what would enable a more seamless and enjoyable experience on the road," said Charan Lota, executive chief engineer and vice president at TMNA Connected Technologies. "We brought multiple groups from electrical engineering to software development and business planning together into one team with one common goal: enhancing the in-vehicle experience."
The system features multiple touchscreen options from 8-14in, which share design cues and functionality while retaining features such as a physical volume knob. Toyota says the system also offers five times the processing power of the previous generation, which provides faster and more responsive touch functionality. All screens feature modern designs with optically bonded, glare-reducing technology that enables a customer experience that is claimed to mirror smartphone-like capability.
"The development of this new system represents a fundamental shift in the way we design products," added Daniel Hall, global chief UX designer at TMNA Connected Technologies. "With the adoption of over-the-air (OTA) updates we are able to develop software in smaller, more manageable pieces – with the ability to provide updates to customers even quicker."
The human-machine interface (HMI) has benefitted from improvements in the graphical user interface (GUI) and voice interface. This, says Toyota, delivers a unified feeling and ease of use while balancing accessibility needs. Additionally, the voice interface is designed to use advanced graphics to distinguish between listening and processing states, and the appearance matches the new and improved capability of cloud processing.
Toyota states that it took a customer-first approach with its newly developed virtual assistant (VA), which is intended to be the primary way occupants interact with the multimedia system and is designed to enable a voice-first application. This combines a hybrid structure of in-house Toyota Connected engineered machine learning with a cloud-based platform featuring up-to-date content. The VA features dual microphones, enhanced noise cancellation, speaker location and seat detection capabilities, giving front-seat occupants expanded and interactive functionality to access navigation, media and phone and select vehicle settings.
"With this new system we are jumping into the future. From larger touchscreens up to 14in to having 100% cloud navigation for more accurate and faster directions, we are thrilled to deliver this amazing and connected experience to our Toyota and Lexus guests," concluded Steve Basra, group vice president at TMNA Connected Technologies. "We want all of our customers to experience this in-vehicle advancement and that is why this system will eventually be offered across our vehicle line-up – regardless of screen size or model grade. This is another first in company history."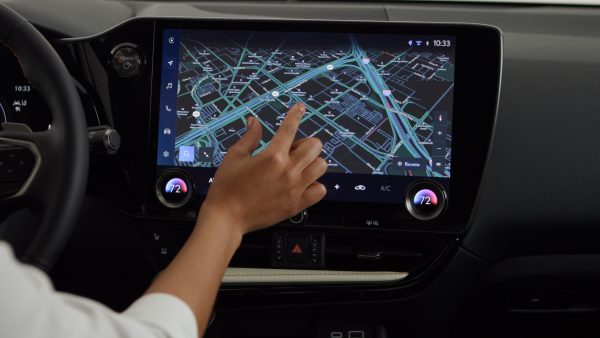 The new system will make its debut as the Lexus Interface multimedia system with the launch of the all-new Lexus NX in the fourth quarter of 2021.