A London-based retailer of high-end cars has started a limited production run of luxurious vehicles based on the new-generation low-emission London taxi, known as a 'black cab'.
Sutton Bespoke, an arm of luxury car dealer Clive Sutton, is basing the cars on the unique electric range-extender LEVC (London Electric Vehicle Company) TX, more commonly seen in its role as a taxi. The firm is embarking upon the build process after receiving a positive response on social media channels to the ultra-luxury taxi and pilot vehicle for the project.
The Sutton VIP Class LEVC taxi features a fully redesigned interior, with rear seats angled for comfort and trimmed in sandalwood leather with Alcantara trim. Replacing the hard-wearing rubber flooring is high-quality thick-pile carpet, and hand-crafted wood veneers adorn the door trims. A panoramic roof provides the cabin with natural light, and after dusk occupants can tailor the ambient lighting system with a color to match their mood.
The company notes that the interior is as high-tech as it is luxurious – occupants have access to haptic climate controls, an upgraded stereo system with Bluetooth connectivity, a TV tuner with Apple TV, and a Sony PS4 games console. Between the rear passengers there is an armrest complete with cupholders, and behind that a refrigerator.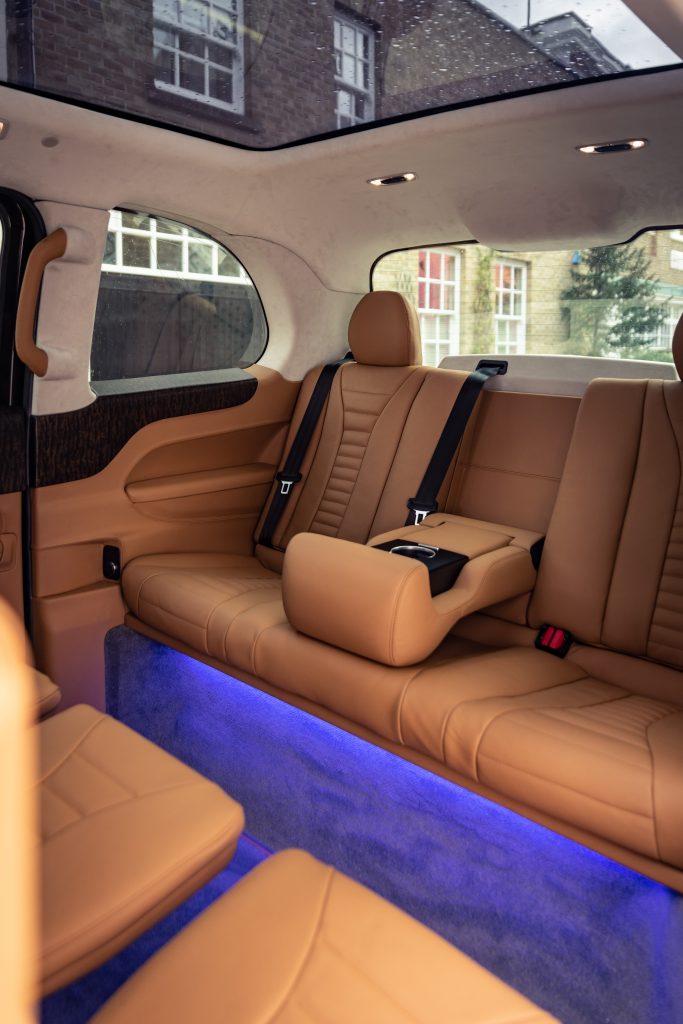 Separating the driver and passenger compartment is a retractable screen, affording privacy as well as making the vehicle more Covid-secure. A fully electrically adjustable leather seat and digital instrument cluster ensure the driver remains comfortable during prolonged stints at the wheel. Soft-close doors can also be specified.