Bridge of Weir Leather, a supplier of leather to luxury car brands, claims that it manufactures the lowest carbon-intensity leather for the automotive sector, following an independent verification by specialists Life Cycle Analysis.
The announcement comes after Scottish Leather Group, Bridge of Weir's parent company, published its 2021 Sustainability Report, outlining how the firm is progressing toward its goal of zero-impact leather manufacturing. The company also announced that it is on target to become carbon neutral by 2025.
Over the last 20 years, the company has made a series of multi-million-pound investments to implement clean and sustainable initiatives such as a thermal energy plant (TEP) and water treatment and recycling plant (WTRP). These have enabled Bridge of Weir to manufacture the world's lowest carbon-intensity leather, measured at 1.1kg of CO2  per hide.
Life Cycle Analysis conducted the study, and through its results, the company is now able to measure the long-term effects of its leather production process, verify supply chains and identify ways to reduce emissions and its carbon footprint.
"We believe that leather is a naturally sustainable product and that it should be produced in a responsible manner too," commented Warren Bowden, sustainability, and innovation director at Scottish Leather Group. "Over the last two decades, our pioneering approach has seen it reduce our CO2  per hide from 10.3kg per hide to 1.1kg per hide – a decrease of 90% – and we are fully committed to lowering this figure even further, with the long-term goal of net zero carbon by 2025."
Bowden continued, "Our lifecycle analysis is a powerful 'carbon accounting' tool for measuring how responsible our consumption of raw materials and our production of leather are, enabling a true and fair comparison against the impact of other products and materials. This rigorous measurement fully supports the strategic approach of the Scottish Leather Group and provides Bridge of Weir's customers, the world's most respected luxury automotive brands, with independently verified sustainability data."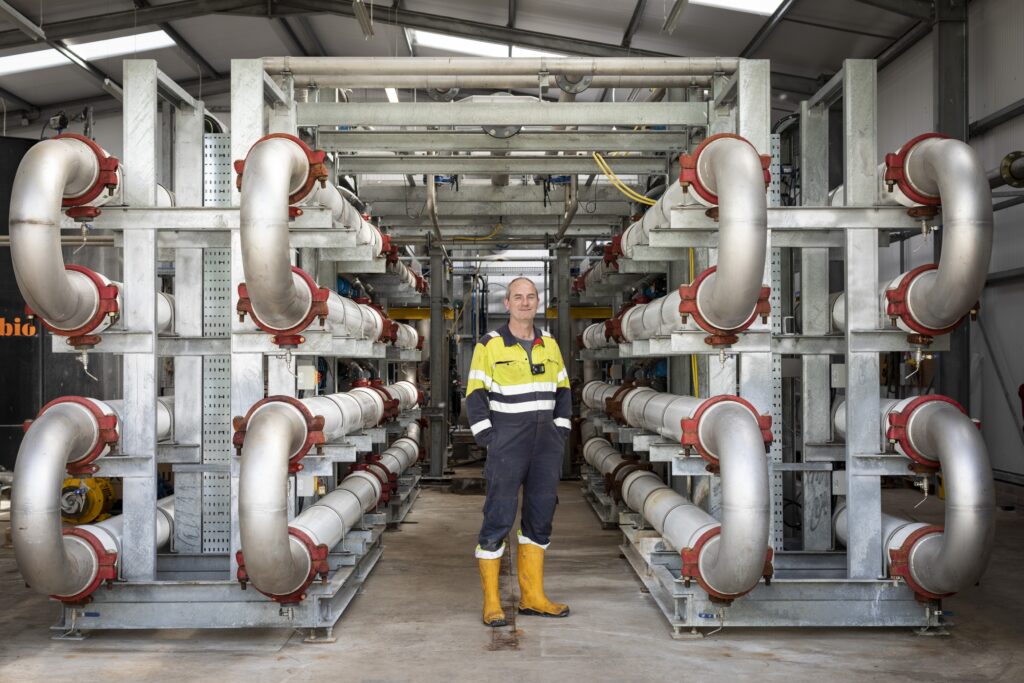 Bridge of Weir has been using its own circular manufacturing processes since 2003 to minimize waste going into landfill and reduce the company's carbon output. The TEP reclaims energy as steam, some of which is utilized to power the tannery.
About 98% of all raw hides used in the leather-making process are sourced from local beef and dairy industries within the UK and Ireland, and this traceability ensures animal welfare, alongside net-zero and low-carbon farming and ethical agroforestry. The responsible sourcing of raw materials and sustainable manufacturing processes enable the company to achieve the lowest carbon footprint of all automotive leather manufacturers.
All water used in the leather process is from the company's own local loch, and the WTRP recycles up to 40% of treated water, which is then reused in production. In total, the tannery uses 50% less water per hide compared with the leather industry standard.
"The current LCA uses generic farming data, not specific 'primary' data that is based on Scottish farming – widely recognized as being net zero – so there is potential for Bridge of Weir's CO2  impact to be even lower once this is factored in," explained Bowden. "Added to this, we are also working on a series of innovations, including biobased alternatives to existing tanning agents and novel tannages that utilize technology and pioneer new techniques.
"Scottish Leather Group is planning to source renewable gas to reduce the carbon impact and continue the increased utilization of self-generated or recovered heat. We believe we can also become net carbon positive if we switch to green gases and continue to export biofuel," concluded Bowden.