After first integrating sustainable materials in the form of bioplastic and sugar cane bio-fiber into its Soul EV in 2014, the Korean auto maker has now outlined the "10 must-have sustainability items" that are to be applied to all future model lineups, and which can be found in this year's EV9.
 The OEM is aiming for carbon neutrality across its operations by 2045, and its Design Sustainability Strategy is key to achieving this. The initiative seeks to achieve sustainability at scale and promotes the use of "the best material solutions for all new model lines".
The first major step taken by the OEM as part of the initiative is to commit to phasing out the use of leather in all its new models, and it has stated that it will continue to invest in testing and development programs to speed up the implementation of bio-fabrication.
Adhering to its "10 must-have sustainability items" checklist, a wide variety of sustainable materials feature on the interior of the EV9, including bioplastics produced using a variety of renewable biomass sources, such as vegetable oils, corn extract, sawdust and sugar cane, which can be found in the dashboard, console, pillars and trim.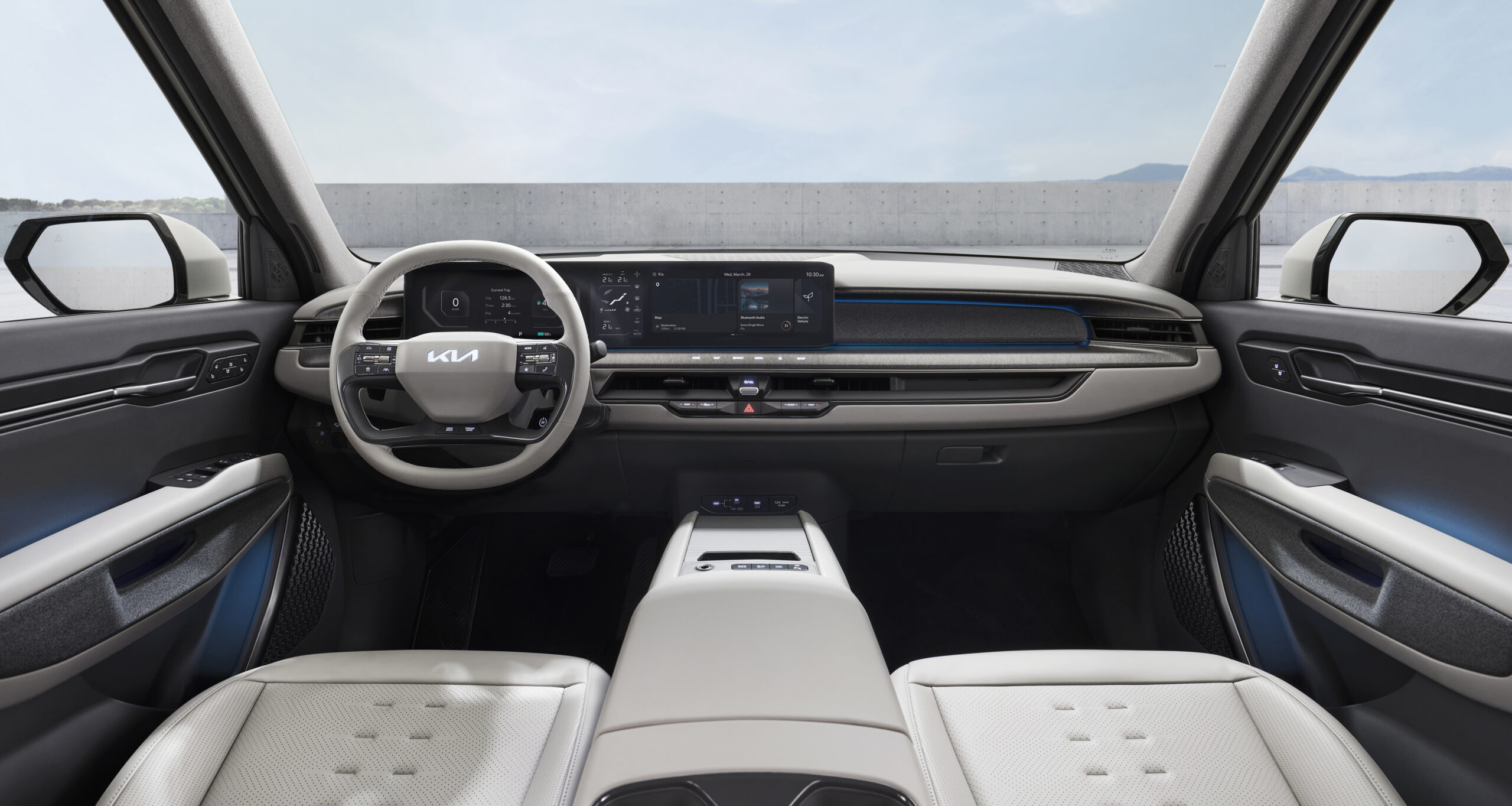 Post-consumer material, a plastic made from recycled products, has been incorporated into the Kia EV9's door garnishes, with bio PU (polyurethane) replacing leather on the seats and other interior coverings and bio PU foam used in the headrests.
Recycled Polyethylene terephthalate (PET) is used extensively throughout the vehicle. Recycled PET fabric is used to cover exposed surfaces such as the seats, headliner, sun visor, garnish and headrests, and 100% recycled PET can be found in the vehicle's carpets, with a portion of this material coming from recycled fishing nets. Recycled PET yarn produced from PET bottles is used for the seat stitching, with PET felt used in the luggage board.
Bio paint and BTX-free (benzene, toluene, and xylene) paint have also been used throughout the vehicle to bolster its sustainability credentials.