Rolls-Royce has presented the Droptail, a coach-built two-seater, super-luxury vehicle. When designing the Droptail, Rolls-Royce Coachbuild sought to create an "intimate and cosseting interior" that would also provide a canvas for the team's engineers to showcase their entirely bespoke wood crafting skills.
The commissioning clients' requirement was a minimalistic approach to an interior, which saw Rolls-Royce designers develop a fascia that "celebrated minimalism and analog tactility" – and has only three visible buttons. The fascia took four years to develop, test and homologate.
To celebrate "woodcraft without interruption", Rolls-Royce carefully considered the orientation and specific placement of wood to highlight its natural effects. The focal point of the interior space is a curved shawl panel, consisting of an uninterrupted section of wood that wraps around the driver and passenger. Nestled between the two seats is a cantilevered plinth-like armrest, and at the touch of a button, the leather-covered plinth can slide backward and forward to gain access to the rotary information and entertainment system controller.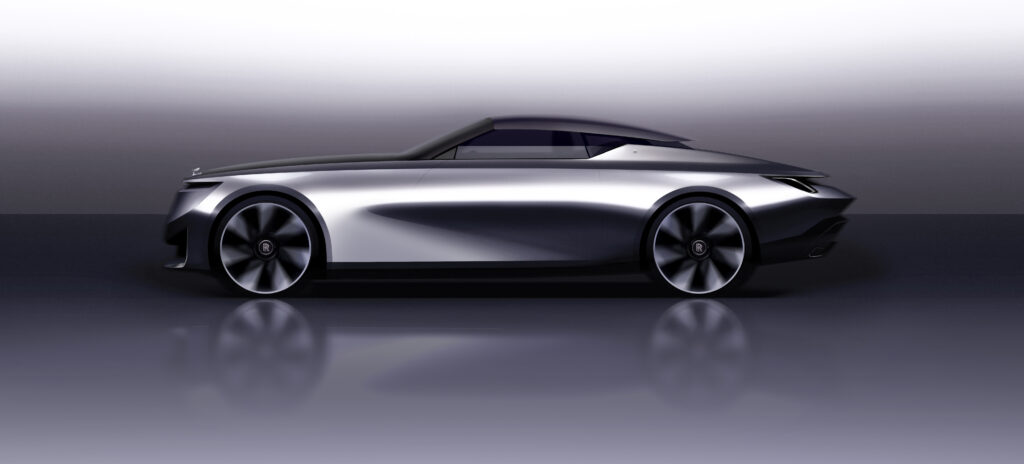 Completely new underpinnings were developed for Rolls-Royce Droptail beyond the marque's existing architecture. The rigid monocoque was developed exclusively for the Droptail's use, built from aluminum, steel and carbon fiber.
"Within Rolls-Royce design, the Coachbuild department is a place without limitation, where the most ambitious ideas can be expressed and a forward-looking vision of what is possible can be realized," said Anders Warming, design director, Rolls-Royce Motor Cars.
"The nature of Coachbuild gives us the latitude to go beyond our existing design strategy and explore bold, new and highly focused creative avenues. These motor cars represent the dreams of our clients and capture a specific moment in time, while also projecting a bold and timeless interpretation of the Rolls-Royce brand."