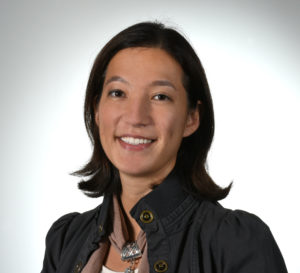 Kimberly Peiler, senior application engineering manager automotive, Osram Opto Semiconductors, USA, will give a presentation titled Interior LEDs make autonomous vehicles a stronger reality at the Future of Automotive Interiors Conference, on October 24. Lighting is incredibly important in design and will become even more important as cars become autonomous – here's why.
Tell us about your presentation.
The right lighting at the right time and place can help passengers in semi- and fully autonomous vehicles feel more comfortable by providing a clear understanding of what their vehicle is encountering on the road at any given moment. Peripheral-vision stimuli can be used to alert passengers when their attention has shifted, to warn them of a hard turn or sudden stop. Thousands of tiny, multicolor LEDs embedded throughout a vehicle offer visual cues and critical warnings, as well as functional and welcoming space lighting for passengers. In addition, the design of LED lighting affects human moods, concentration and performance.
How can lighting help passengers in in semi- and fully autonomous vehicles feel more comfortable?
A recent study by the American Automobile Association (AAA) found that 71% of Americans are afraid to ride in autonomous vehicles. Peripheral-vision communication systems can help passengers feel more comfortable, and even less carsick, by providing a warning of what the vehicles is about to do next, even when passengers are reading, on their mobile devices or watching a movie. Interior LEDs in different colors and intensities can subtly alert passengers that the vehicle is about to turn sharply or brake quickly. So even if a rider is busy playing Candy Crush on their phone, they have enough information in their peripheral vision to brace themselves for a sudden stop, for example.
Can lighting help alleviate motion sickness, which is predicted to be common in autonomous vehicles?
Using LED lighting to produce images in a vehicle's interior that change as the vehicle moves, can help prevent motion sickness. The light patterns could mimic the shadows created when passing by buildings and trees. This impression of movement in a passenger's peripheral vision can actually minimize motion sickness when they are immersed in other activities.
What kind of mood lighting will be important in autonomous vehicles, and how will this type of lighting be incorporated into these vehicles?
Whether they are in an autonomous vehicle or not, people are affected by interior lighting. Light transports emotions and influences the feeling of the space – whether luxurious or sporty, relaxing or safe. Spectral design can make materials and occupants look beautiful by complementing the material properties such as woodgrain, fabric or even lipstick. Spectral design can also impact us biologically. It can improve concentration and reduce symptoms of fatigue. Human Centric Lighting (HCL) uses the latest LEDs and is not only beneficial for the development of indoor environments, such as offices and schools, but has also made its way into the automotive interior as demonstrated with the latest Rinspeed microSNAP concept car. In addition, mood lighting with spectral treatment can be connected to wearables including smartwatches or fitness trackers for even more individual options.
In autonomous vehicles, interior lighting will become even more varied to suit the vehicle's purpose as a functional room on wheels. For example, lighting in your home can be used in vehicles to create a more comforting environment. Need to get some work done in your car? The lighting can be switched to an energizing office environment. Want to read a book and relax? Turn on your reading light that doubles as a relaxation light. If you are heading out for a night on the town, connect lighting to music for a fully integrated light show.
Kimberly Peiler, senior application engineering manager automotive, Osram Opto Semiconductors, will be speaking on Day 3: Thursday, October 24, at 11:00am, at The Future of Automotive Interiors Conference, Novi, Michigan.