Automotive Interiors Expo 2022 kicked off yesterday (Tuesday) in Novi, Michigan and is a must-visit for Tier 1 suppliers as well as for interior design teams from car manufacturers wanting to keep up with the rapidly changing world of materials, finishes and technologies that contribute to 'touch and feel'.
Held at the Suburban Collection Showplace until Thursday, October 27, the show is of equal significance to design teams and those responsible for procurement.
There's a tremendous amount of innovation on show – here are a few highlights…
AGC Glass showcases glass surface enhancement and shaping solutions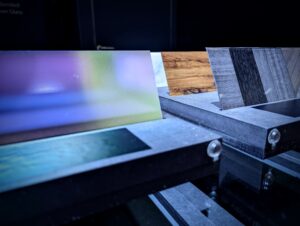 AGC Glass is emphasizing its harmonious combination of aesthetics, functions and ergonomics at this year's Automotive Interiors Expo, presenting its door panel demonstrator.
"Because cockpits are more and more customizable and user-centric, considerations about style and user experience take over the way those are thought about," explained César Colombo, from AGC Glass's marketing and communication department, live at the expo. "However, design constraints are more and more considered by OEMs and Tiers 1s, leading to innovative developments in terms of material usage and ergonomics. That's why designers and engineers are leading the way towards more functionalization over smart surfaces that can adapt easily whether a complex shape or texture is involved. Therefore, the right balance has to be defined to align with current trends and future ones.
"Glass, in its thinnest configuration as Feellnglass allows it to be, is a lightweight and durable material that can adapt easily in terms of shape and design," Columbo continued. "Indeed, it can integrate sensors, lighting and haptic feedback to make it more responsive as well as being versatile and capable of enhancing cockpits through sight and touch. Also, sustainable materials like glass are needed to overcome challenges linked to environmental constraints. We value our glass solutions through their durability and circularity."
FeelInGlass has developed unique glass processing capabilities to rationalize the production and transformation of chemically tempered glass. The whole supply chain is monitored, from the production of the glass to the delivery to the customer. In this, FeellnGlass has been addressing market demand related to custom and innovative design, linked to a growing interest from OEMs and Tier 1s.
Columbo explained, "By combining our expertise in cover glass for displays with an emerging trend in decorative glass for interiors linked to mobility, we realized that we could bridge a gap in integrating more added value in our developments and expand decorative glass in cockpits, firstly though display applications. Since our portfolio is traditionally oriented toward coatings for display cover glass (anti-glare, anti-reflective and anti-fingerprints treatments), we developed more solutions to enhance the glass surface and shape it harmoniously within automotive interiors. We are developing solutions for passive decorative trims as well as to better integrate active functions such as lighting and HMI systems with the idea [of blending] them seamlessly into the passive areas."
As interior designers are seeking more stylish and sustainable materials, FeellnGlass offers color material finish [CMF] designers and design studios a dedicated co-creation service to provide them with its expertise in glass conception. FeellnGlass accompanies them through the different stages of development, assessing the feasibility of their design, testing prototyping series and exploring the possibility of scaling to mass production. Together, these processes are an entry door to breakthrough advances in glass integration within interiors.
"As we exhibited for the first time at the European edition of the show in 2021 in Stuttgart, we wanted to expand our scope to the US and be present at both shows in 2022," Columbo said. "We are exhibiting alongside our colleagues from AGC Americas, who are also present on the booth to support us and to promote a unique collaboration. Through our partnership, we expect to meet key stakeholders of the US automotive market ranging from OEMs to Tier 1 and Tier 2 suppliers, as well as design studios and CMFs to introduce our vision of glass for automotive cockpits."
Booth A416
BASF displays solutions for specialty finishes and plastic compounding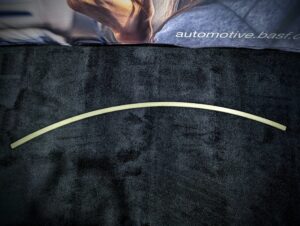 BASF is showcasing several of its solutions at this year's Automotive Interiors Expo: spray transfer molding, Ultramid Deep Gloss and Cellasto Solutions.
In an interview on Day 1, Jeff Hagar, BASF's marketing segment manager for interiors in automotive NA, spoke about the solutions on show: "Spray transfer molding is a fast and efficient process to manufacture lightweight composite materials. The first 60-90 seconds of the process is where the fabric is impregnated outside the mold using a high-pressure spray process and then molded in a compression press. The process is designed to scale from initial ideation and experiments to actual automotive production components. The benefit of this technology is the use of sustainable materials with a high content of bio-renewable content.
"The process has a high throughput – our low demolding times are the best on the market – and we can optimize our design to match OEM specifications. We also offer superior technical support plus an open lab facility for prototype production. Production applications for automotive include door interiors, armrests, load floors, sunshades, hatchbacks and package shelves."
Ultramid Deep Gloss is BASF's specialty polyamide for highly glossy components in automotive interiors. It shows a balanced property profile for components that are high gloss and yet at the same time scratch resistant without any coating, offering a high gloss level, excellent resistance to scratching, high chemical resistance, low emissions and good UV resistance. Ultramid Deep Gloss reproduces structures true to detail, providing designers with new opportunities to combine unusual textures to meet the requirements for automotive interiors. Hagar commented, "It is the ideal material for decorative trims, display edgings, decorative panels around lights, storage racks in headliners, functional components, air vents and inlays in car doors or center consoles."
BASF's third solution, Cellasto, is a components series that delivers superior NVH reduction. Hagar explained, "Lightweight and durable, Cellasto will deliver better NVH performance for the lifetime of your vehicle with less expense. In all environmental conditions, this customizable material offers superior vibration isolation and friction damping in your design solutions and can be widely used in electric motor isolation, passenger seating, armrests, gloveboxes, console dampers and infotainment system displays."
"Automotive Interiors Expo is important for us to present BASF´s innovative solutions in the automotive interior industry for people in procurement, interior designers and Tier 1 or 2 component manufacturers. We are the leader in specialty finishes and plastic compounding for interiors, so it is a great forum."
Booth A112
BASF shows off award-winning composite lightweighting solutions for seating applications
BASF is also displaying its composite seatback design, which won the prestigious Altair Enlighten Award for vehicle weight savings on the 2022 Toyota Tundra.
BASF and L&L products worked together on the project to create an interiors solution for Toyota. It uses L&L Products' Continuous Composite Systems (CCS) technology with BASF's polyurethane pultrusion system, Elastocoat 74850. CCS is a fiber-reinforced composite carrier with highly engineered sealants and adhesives in a two-dimensional profile. It was overmolded with BASF's Ultramid B3ZG7 CR, an impact-modified polyamide 6, to create the 3D shape of the 60% seatback, enabling an all-steel assembly that contained 60 stamped and welded parts to be integrated into four composite parts.
Lightweighting gives OEMs the opportunity to have fewer heavy components and improve speed efficiency in addition to cost efficiency. The Tundra seats solution passed all relevant crash test requirements and showcased pultrusion technology as a clear choice for lightweight, cost-effective solutions and integrated functionality. Pultrusion is a technology in which continuous fibers (of multiple formats and fiber types) are 'pulled' through a bath of reacting chemistry (the matrix), which binds to the fiber and creates a composite that utilizes the strengths of the fiber plus the matrix and is shaped by the end die.
Elastocoat is BASF's engineered polyurethane (PU) resin used in the pultrusion process to coat and bind continuous fibers and provide an end solution with the highest possible strength-to-weight ratio. Hagar commented, "We have developed multiple materials specifically for use with pultrusion to increase performance and output. BASF has spent three years and thousands of hours of testing and correlating to develop a methodology to overcome this hurdle with successful results and we offer expertise in designing parts and tools as well as process optimization. BASF has an increasing list of serial production pultruded components, as well as new products and manufacturing methods in development to increase the value pultrusion can bring to the end user."
Booth A112
Modular digital cutters on display from Zünd America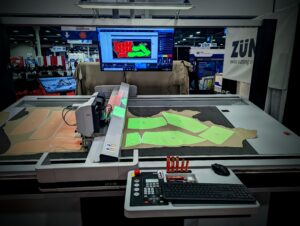 At this year's show, Zünd America's digital cutting experts are looking forward to discussing individual production needs and digital environments with attendees and showing them ways to increase their production efficiencies well beyond cutting.
Beatrice Drury, marketing and communications manager at Zünd America, said, "Modularity is truly the hallmark of the Zünd brand of cutters, enabling customers to purchase the machine configurations and workflow solutions that best meet their needs while keeping in mind they will always be able to upgrade and expand their systems later on, as their needs change and grow."
The same modularity applies to Zünd's hardware components, such as tools, modules and material handling automation, as well as to software and application-specific digital production workflows.
Drury continued, "With the latest Mind and Zünd Cut Center workflow releases, Zünd cutters can be configured as turnkey systems capable of handling all the challenges automotive applications may bring with them – from material/hide capture to interactive/automatic nesting, pattern matching, projection guided picking/sorting, web-based product/process management and more."
Drury concluded, "We are thrilled to be back in Novi for Automotive Interiors Expo. With proximity to so many manufacturers in the automotive industry, we look forward to having an opportunity to meet with customers looking to automate their workflows and benefit from the many customizable solutions Zünd offers."
Booth A124
JBC Technologies exhibits multilayer, targeted protection against unwanted heat and noise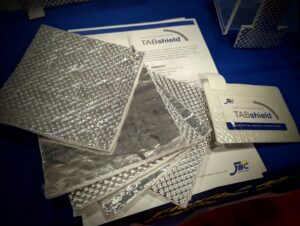 JBC Technologies has come to Novi to showcase TABshield, a lightweight alternative to traditional metal heat shields. According to Kate Gluck, vice president of business development at JBC Technologies, it is easy to install with peel-and-stick backing, is conformable to most shapes, can be cut to shape for various targeted noise and heat suppression applications and is available in sheets and rolls or can be die-cut to your specification. It also meets Ford Specification WSS-M99P32-E6.
"A car heat shield is essential to protect critical components and expensive bodywork from heat damage," explained Gluck. "The heat given off by the engine and exhaust can reduce engine performance, increase the temperature in the passenger car cabin, damage mechanical parts and even reduce the expected life of your paint job. Excess heat can also impact the performance of the HVAC system by causing it to work harder than necessary to cool down a hot cabin."
TABshield is made by laminating various performance materials to form a composite, multilayer final product. If a customer requires embossing or microperforating, these are done in separate steps. JBC can also die-cut custom parts.
Utilizing thin, lightweight materials in its construction, TABshield provides multilayer, targeted protection against unwanted heat and noise while minimizing excess weight (average TAB210E material weight is 44oz/square yard [1,500g/m2]). In addition, it has thin foil facing and a light PET insulation core, reflects heat, absorbs noise, installs with adhesive backing instead of heavy mechanical fasteners such as screws and rivets and can be cut to shape and put where you need it. It also minimizes wasted material.
JBC's TABshield patches can be customized to the customer's noise and heat shielding requirements. Advantages include optional adhesive backing, liner pull tabs for easier removal before installation, foil embossing for better formability, foil microperforating for improved acoustical performance, different metal foil facing thicknesses (up to 10 mil), customizable insulating core, high-temperature PSA backing or low surface energy PSA backing and die-cutting into custom shapes based on customer designs.
Gluck explained, "At JBC Technologies we provide a number of different solutions to the automotive interiors market, from solutions to stop buzz squeak and rattle and eliminate noise, vibration and harshness, to thermal management and bonding of interior electronics – to heat shielding."
Booth A116
Taiyo reveals sustainable, decorative chrome-free plating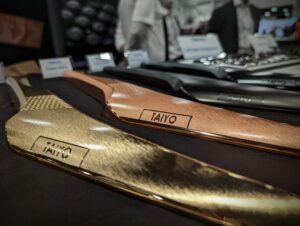 Taiyo Technology is showing Automotive Interiors Expo visitors samples of its latest Chrome VI-free plating technology and talking about the evolving experience of the cars of tomorrow. According to Azeem Hamaradeen, the company's general manager, decorative chrome plating continues to be the coating of choice as there is no substitution for real metal finishing applications. Demand for chrome's bright and lustrous finish continues to grow despite competition from other similar finishes.
"Chromium has withstood the competitive challenges due to its unmatched aesthetics as well as its superior technical capabilities," Azeem explained live at the expo.
Engineering professional Paul Uglum, formerly at Delphi Electronics and Safety, concurred. "The only reason to decorate or modify plastics is to add value. That value can be in the form of function and/or by increasing the desirability of the product to customers."
Taiyo has a history of expertise in electroplating, from initial tool design to production and additional support. Working with its business partners, Taiyo creates beautiful and unique parts mostly found in switches, modules, integrated center panels and decorative trims.
Hamaradeen continued, "As the industry continues to enhance the passenger experience with new technologies, it is only fitting that the aesthetics also continue to evolve. Designers are constantly looking for new inspirations and techniques to manifest their ideas into reality, and Taiyo's newest textured surface and colorized chromes are our latest answers to the future of automotive interiors."
In line with the EU REACH directive, Taiyo has developed its Chrome VI-free plating line to cater to environmental regulations and move toward sustainable development goals.
Booth A528
Enhanced in-mold labeling design options on display from Sanwa Screen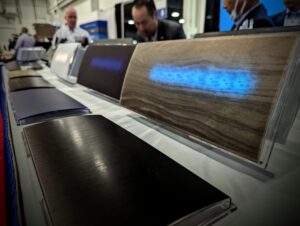 Sanwa Screen is showing expo visitors just some of the infinite in-mold labeling (IML) designs it can print with fine expression screen printing (FESP). IML designs can be unique and will often use shared tooling by only changing the printing specifications, allowing an OEM to use a wide range of different patterns and colors. IML allows for the familiarity of touchscreens in automotive, appliances, entertainment and many other industries.
Alex Toda, sales, Sanwa Screen, revealed at the show, "The options are infinite. If we can print the wood grain/marble/3D design, it can be made with the FESP. Automobiles are becoming lighter to help improve gas mileage so, with FESP wood grain design, the design of the automobile can still have the elegant look of wood. We have two options for FESP, front side or back side printing. Front side can have a texture feel so if the design intent is wood grain or leather, we can achieve this with FESP."
Sanwa Screen prints on films instead of rolls so the setup and minimum order quantity are lower than those offered by film roll suppliers. Many different designs and texts can be printed by changing the stencils, with the only additional tooling being the stencils themselves, so no additional tooling is needed to make the different designs. Light, medium or dark patterns are possible – Sanwa Screen can match any color requested.
Toda commented, "The trend of recent automobiles is to have designed panels around the dash, center stack and door trims. Automotive Interiors Expo is the perfect place to meet OEMs and Tier 1s that are looking for unique design options that will allow their automobile to stand out. We are hoping to meet a wide range of OEMs and Tier 1s that have an interest in enhancing the design opportunities."
Eiichiro Goto, president of Sanwa Screen, said of the company, "Sanwa is a leading company in decoration technology, which is used to screen print and apply paint onto molded material. We are committed to being the bridge that connects new technologies with the people who will use them. We want to accomplish whatever fulfills the customer's desire and respond to 100% of their needs. This 'considerate manufacturing' will create new wonders and allow us to continue contributing to society in the future."
Booth A118