Opel has showcased its future design aesthetics with the Opel Experimental concept, a battery-electric crossover with an ultra-modern interior design. Highlights include a spacious, illuminated interior with lightweight seats and a futuristic head-up display.
Benefitting from D-segment spaciousness, the Opel Experimental features a foldaway steering wheel – made possible by a steer-by-wire system. Lightweight adaptive seats are made using a durable structure with 3D mesh-technology fabrics to deliver both comfort and space.
Through the use of Opel's Pure Experience philosophy, drivers of the Experimental can personalize the information they see on the slim Tech Bridge – an interpretation of the Pure Panel in today's Opel models. Both information and entertainment are delivered via augmented projection technology supported by artificial intelligence and natural voice control.
The Pure Pad, a floating and transparent control pad, is located in front of the arm rest, enabling users to configure controls to match their preferences. The control panel also enables the driver to gain access to their most frequently used controls.
Electrochromic fabrics deliver atmospheric light to foster occupant well-being. The reactive fabrics also enhance functional attributes; for example, when a vehicle enters the Experimental's blind spot, a warning appears in the respective door insert and on the head-up display.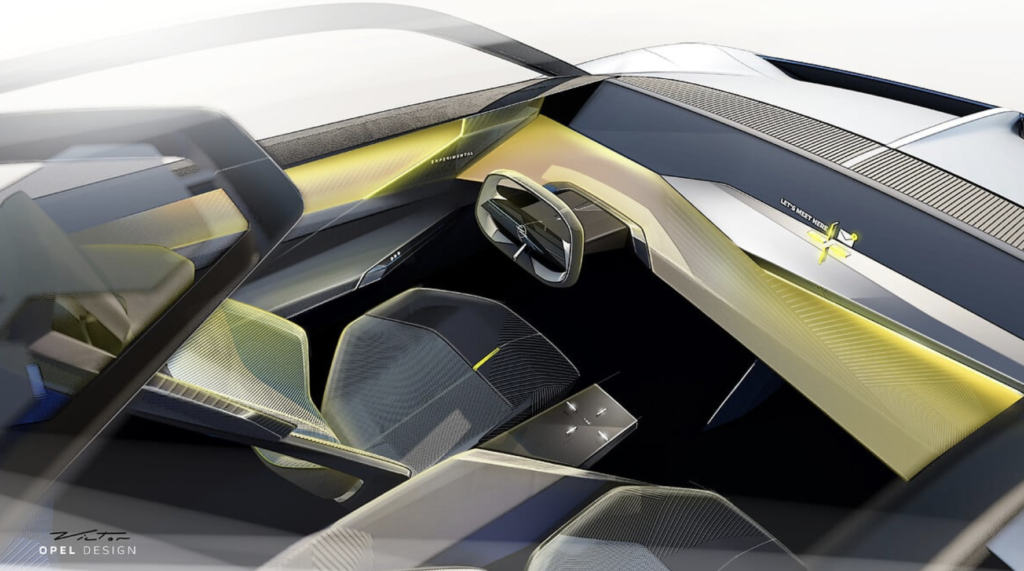 "The Opel Experimental gives an outlook on upcoming models and technologies, on the future design, even on a new era and the future of the brand," said Florian Huettl, CEO, Opel. "This stunning concept car represents a guiding light and showcases once again Opel's pioneering spirit."
"Our new Opel Experimental gives a more extreme interpretation of our Bold and Pure design philosophy. It gives shape to our vision of the future," said Mark Adams, vice president design. "Many of the elements of its design and the mindset behind it will be visible in future production vehicles. The exterior design delivers an optimized aerodynamic performance in combination with a stunning silhouette while the interior offers an immersive and emotional user experience."
The Open Experimental will make its world premiere at the 2023 IAA Mobility in Munich, Germany, on September 5-10.