To showcase its commitment to sustainable motorsport, Alpine has unveiled the A290_β (A290 beta), an all-electric show car designed to "trigger every driver's competitive spirit and recast the notion of sports cars".
The first of three models in the company's future Dream Garage, the new-generation A290_β is a compact B-segment electric sports car and presents a multitude of unique design aesthetics. Inspired by racing cars, the interior is minimalistic and designed to deliver performance and efficiency.
Inside the Alpine A290_β, occupants are met with two outer seats and a center seat for the driver. Each bucket seat structure is 100% raw carbon and comes with Sabelt safety harnesses and seat insert pads for support.
Linking inside to outside is a windshield that flows onto the hood and provides a singular perspective of the arrow-shaped dashboard which drew design inspiration from the nose cones of Formula 1 cars. This design is deliberate, highlighting the driving position and all of the controls which all run down the centerline of the vehicle. The dashboard is upholstered in environmentally friendly-certified vegetable-tanned leather. The door panel leather is laser-machined to create a contrast and to underline the high-tech upholstery.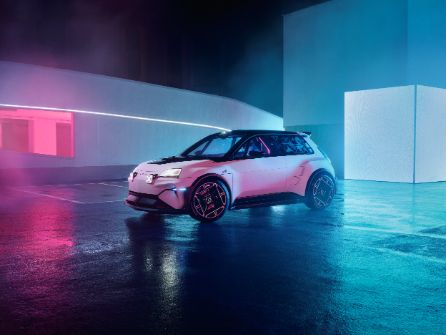 Above the driver is a console built into the roof to provide access to several features including a kill switch, indicators and light settings. Alpine designed the A290_β with no interior screens to ensure the driver can concentrate on the task at hand. A minimalistic head-up display over the steering wheel delivers relevant information such as speed and battery charge.
"The A290_β is the first stage in Alpine's new era, the first step toward the all-electric Dream Garage in 2024," said Laurent Rossi, CEO, Alpine. "This urban show car has rewritten the playbook for electric hot hatches. The A290_β is tapping into its rich legacy and ushering Alpine into the future, with an everyday experience of the motorsport spirit that has inspired the brand since its inception."