Mercedes has released details of its latest MBUX (Mercedes Benz User Experience) Hyperscreen, which will be available in its EQS models and consists of a large, curved screen unit that stretches across almost the entire width of the vehicle. With software capable of self-learning, Mercedes says the display and operating concept adapts to its user and makes personalized suggestions for various infotainment, comfort and vehicle functions.
Thanks to the so-called zero layer, the company notes the user does not have to scroll through sub-menus or give voice commands, with the most important applications offered in a situational and contextual way at the top level in view. "With our MBUX Hyperscreen, a design vision becomes reality," said Gorden Wagener, chief design officer Daimler Group. "We merge technology with design in a fascinating way that offers the customer unprecedented ease of use. We love simplicity; we have reached a new level of MBUX."
Blending several displays into a single surface, the screen is surrounded by a continuous plastic front frame. Mercedes notes that its visible part is painted using a three-layer process, which achieves a particularly high-quality surface impression due to extremely thin intermediate layers. OLED technology is used in both the central and passenger displays.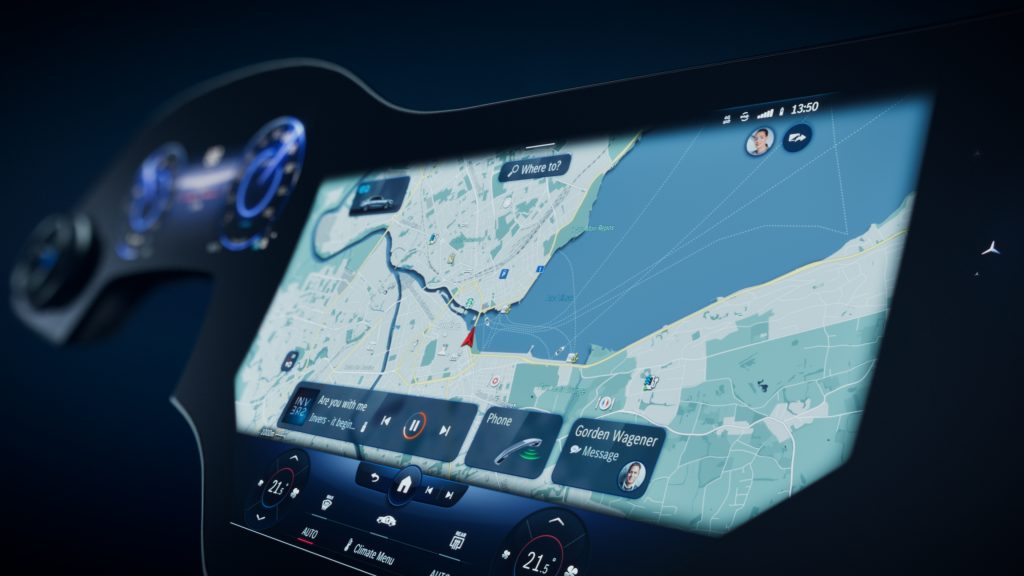 Mercedes states that it has investigated the usage behavior of the first MBUX generation and found that most of the use cases fall in the navigation, radio/media and telephony categories. To this end, in the latest MBUX the navigation application is now always at the center of the screen unit with full functionality. The company also presented four use cases for the predictive functionality of the system when it comes to providing occupants with information and suggested task:
If a user always calls a certain person on the way home on Tuesday evenings, they will be asked to make a corresponding call on that day of the week and at that time of day. A business card with the contact information appears, and – if stored – the person's image appears. All MBUX suggestions are linked to the user's profile. If someone else drives the EQS on a Tuesday night, this recommendation is not made – or there is another, depending on the preferences of the other user;
If the EQS driver regularly uses the massage function according to the hot stone principle in winter, the system learns and automatically suggests the comfort function in cold temperatures;
If the user regularly switches on the heating of the steering wheel and other surfaces for seat heating, for example, this is suggested as soon as they switch on the seat heating;
The chassis of the EQS can be lifted to provide more ground clearance – a useful function for steep garage entrances or speed humps. MBUX remembers the GPS position at which a user made use of the Vehicle Lift-Up function. If the vehicle approaches the GPS position again, MBUX independently proposes to lift the EQS.