The Universe Mobile Office has been launched by the Hyundai Motor Company, a variant of the OEM's Universe luxury passenger bus which was designed for the Korean market. The mobile office enables teams to be productive while moving or when working at remote locations.
The Universe Mobile Office was developed by thinking of the bus as a form of smart mobility, not a transportation solution. The vehicle's interior design features a range of differing curves and lines to deliver an open-air office ambience with three separate seating areas. Several design elements including semi-automatic blinds and light-colored laminated floors also feature.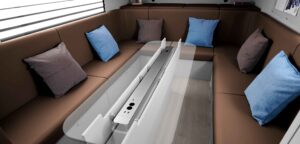 The optimized floorplan of the smart bus enables individuals or groups to work in collaboration spaces located at the front and rear of the vehicle, with personal workspaces in the middle.
The group collaboration spaces benefit from a video conferencing system, folding conference-style tables, sofa seating and additional storage.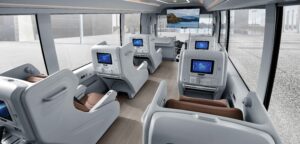 The personal workspaces feature reclining seats, tables, wireless charging pads, entertainment systems for each passenger and personal storage spaces.
Hyundai's Universe Mobile Office comes in several different configurations, consisting of a standard 10-seater, 13-seater (12+1) with a group collaboration space in the front, a 13-seater (12+1) with a larger office space and a 13-seater (11+1+1) with separate seat layouts.