Automotive supplier Bridge of Weir Leather has opened a new Super Tannery as the latest advancement resulting from over £14m (US$17m) of investment by parent company Scottish Leather Group over the past seven years.
The new facility is key to the company's sustainability goals and it will have a central focus on hide processing technology. Tanning, one of the first steps of the leather production process, involves hides undergoing treatment in drums filled with water and tanning agents to provide them with distinctive strong, flexible and durable quality characteristics necessary for the highest quality leather.
"Since 2003, we have continuously invested in strategic initiatives designed to optimize and improve productivity, quality and sustainability," said Nicholas Muirhead, chief executive officer, Scottish Leather Group. "The new Super Tannery is the latest significant milestone on that journey. It's a state-of-the-art facility that builds on the considerable savings we have already made in reduced energy and water use, improving our efficiency, and futureproofing our production. This will provide our customers with further evidence of Bridge of Weir's position as the leader in the supply of sustainable fine automotive leather for the world's luxury car brands."
Compared to previous equipment, the Super Tannery reduces the total number of hide drums from 30 to 14, while at the same time enabling the company to process greater batches. The new facility brings about a further step change in energy and water use with a reduction versus previous equipment of 82% and 42% respectively. In addition, and as part of its commitment to complete circularity, the outgoing wooden drums from the tannery have also been stripped down and repurposed.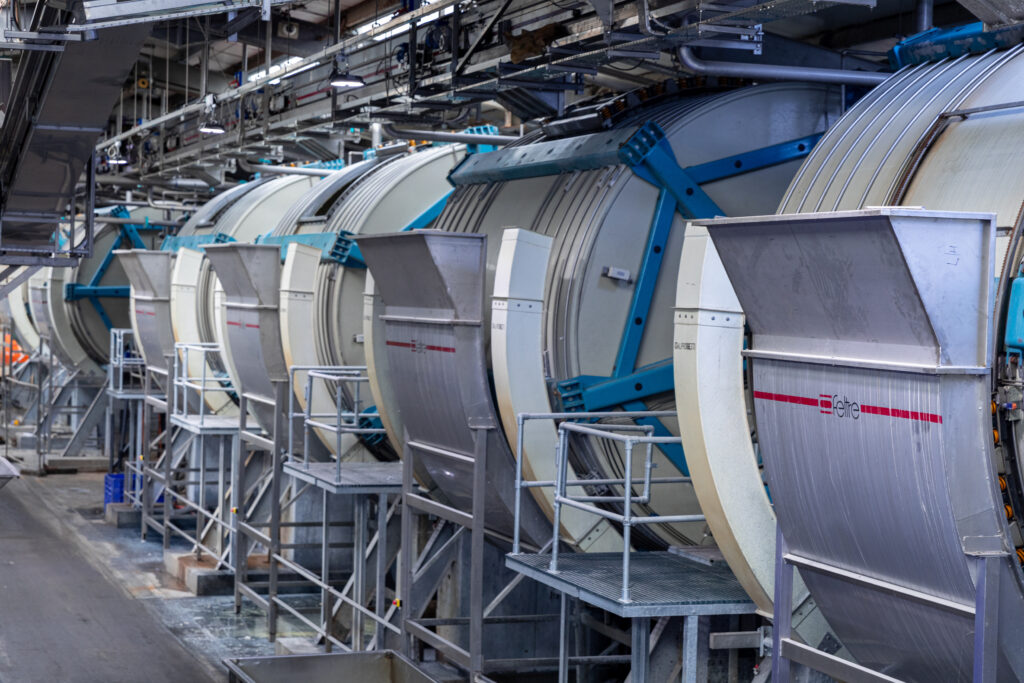 Improvements in efficiency and sustainability from the new Super Tannery, which is now fully operational, feed into Bridge of Weir's Life Cycle Analysis, currently at 8kg CO2e/m2 on average, which provides car makers with an independently verified and quantifiable contribution to their Scope 3 reduction targets.
"Over the last 20 years, we have pioneered and patented circular manufacturing processes that minimize waste to landfill and radically reduce our carbon footprint, with initiatives such as our Thermal Energy Plant [TEP} and Ultrafiltration plant," said Warren Bowden, head of innovation and sustainability at the company.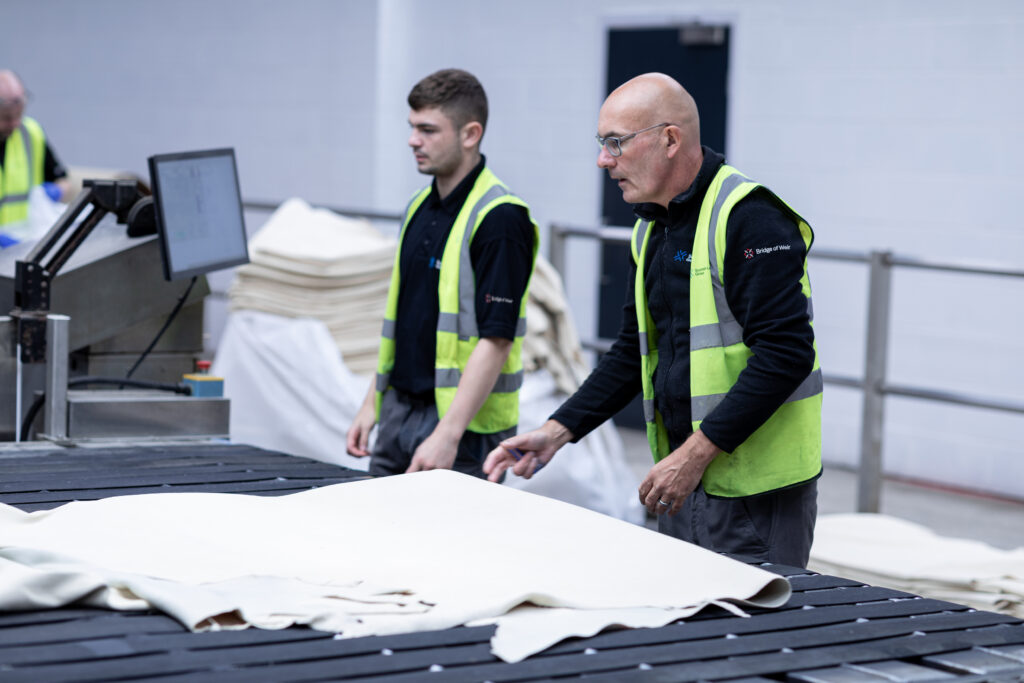 "The Super Tannery builds on these sector-leading actions, providing a step change in productivity and environmental savings," he said. "Our sustainability journey is continuous, and this new facility will play a vital role in enabling us to achieve zero impact leather manufacturing. We are committed to net-zero for our own operations (Scope 1 and 2) by 2025 – ahead of Scotland's net-zero ambitions – and delivering zero waste to landfill by the same year, further fortifying our sustainability pledges."
The Group's recent 2023 ESG (environmental, social and governance) report details its progress toward its ambition of achieving net-zero leather production by 2025 and how the business can directly support its customers' sustainability targets. Among the key achievements it highlights are a 90% reduction in the carbon intensity of its leather over the last 20 years, 100% traceability of raw materials and 77% of waste recycled in 2022.
It also provides details of the group's latest industry accolades including a sought-after 'Gold' award from the Leather Working Group global standards organization, in recognition of its accomplishments in operations of key areas including staff performance, business structure, business resilience, and health and safety.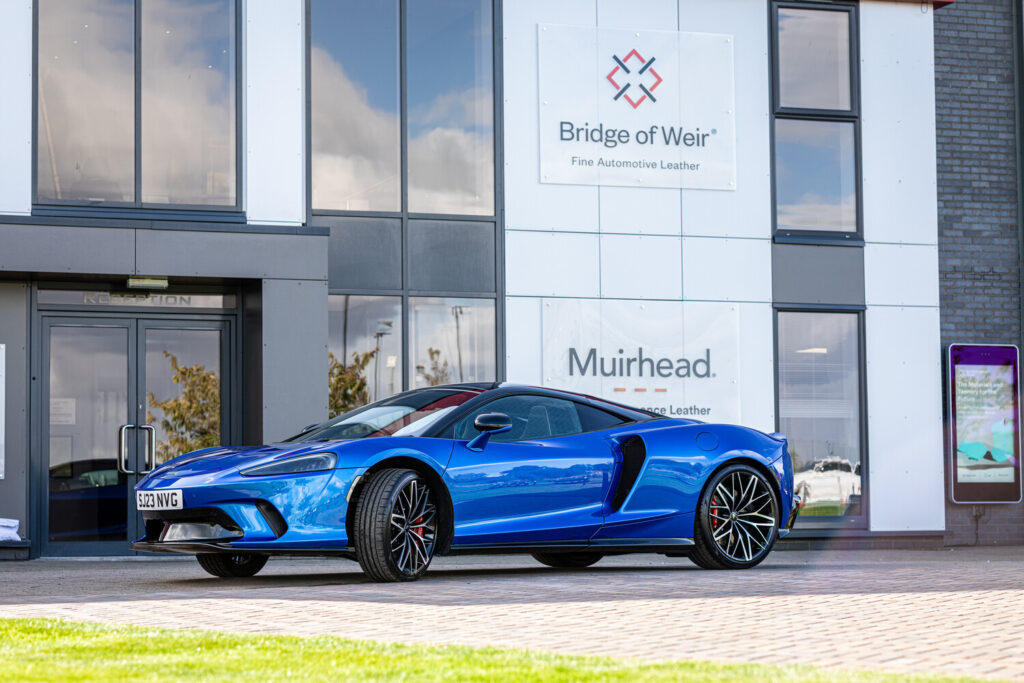 "The continuing expansion of our product offering through innovation and improvement of operational performance across the ESG agenda, in line with all the United Nations Sustainable Development Goals (UN SDGs), reflects the passion we have for our products and the responsibility we hold as sustainable manufacturers." said Bowden.
As part of its sustainable leather production process, Bridge of Weir sources natural, clean, local water from its own loch. Its Water Treatment and Recycling Plant (WTRP) plant enables the recycling of up to 40% of treated water back into use within production while its tannery uses 50% less water per hide than the industry standard.
The company says it is the only automotive leather manufacturer to publish an independent Life Cycle Analysis (LCA) of the product and it makes the lowest carbon leather for the sector, helping customers to reduce their carbon impact without offsetting. It says its LCA will be revised as further improvements or reductions to direct product impact are made.