Korean automotive switches supplier Mobase Electronics has announced a strategic partnership with UltraSense Systems, manufacturer of automotive touch experience solutions using HMI controllers and in-plane sensing modules. Mobase says it will adopt the UltraSense TouchPoint Q TapForce HMI controller in its latest solid-surface infotainment button bars entering production later this year, with further collaboration using UltraSense CapForce HMI controllers.
UltraSense's QuadForce architecture uses force-sensing technology for automotive by using a MEMS piezo-electric process to etch four microscopic strain sensors into each touchpoint controller. This provides a number of benefits, including immunity to low and high temperature sensitivities, resilience against mechanical and ageing stresses, instant robustness to capacitive touch systems and calibratable force thresholds that may be tuned for the requirements of each use case.
"As a supplier of superior touch systems to automotive makers, Mobase is delighted to partner with UltraSense to integrate their innovative HMI controllers into our next generation products," said Son Byeong-Jun, chairman and co-CEO of Mobase. "With UltraSense's partnership, we are confident that our solid-surface infotainment systems and other next generation touch products will stand out with our customers to deliver exceptional touch user experiences."
Those customers include Korean manufacturers such as Hyundai Kia Motor Corporation, as well as other auto makers around the world.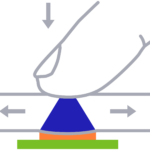 "Our collaboration with Mobase is an important milestone for UltraSense, as well as a testament to our technology's role in the automotive industry's rapid transformation from mechanical to solid-surface digital touch interfaces," said Mo Maghsoudnia, founder and CEO of UltraSense Systems.
"We're excited to partner with Mobase as they use the UltraSense TouchPoint Q HMI Controller to bring force sensing to their capacitive touch systems."