Continental has shown off its Ambienc3 concept at IAA Mobility (Munich), a vehicle with an interior that the company says revolves around driving, working and relaxing. The manufacturer predicts that these three activities will merge in vehicles of the future, leading it to try and design the 'perfect' interior.
The concept makes use of a range of new materials and sustainable vehicle solutions, and the very vehicle that the interior sits within, a classic VW T2 microvan, is in keeping with the upcycling and environmentally friendly theme of the concept.
"With the Ambienc3 we are connecting a globally renowned icon of the automotive world with new, intriguing surfaces and future-focused technologies, whose attributes assist driving, working and relaxing as effectively as possible and distinguish them through color, design and material," commented Ralf Imbery, global director innovation, transformation and design, Continental's surface experts.
"We are demonstrating our expertise in terms of sustainability, design, functionality, 'third space' development and customer centricity. It sees us bringing together key drivers for the future of the mobile interior."
Throughout the project, Continental utilized an array of both recycled and reclaimed materials that it states still retain a high-quality, clean aesthetic, but which were also chosen for their functional aspects. "Passengers can breathe freely thanks to low-emission, low-pollutant materials. Light surfaces also help to lower the vehicle weight," explained Imbery. "This reduces energy consumption – and, by extension, CO2 emissions – and therefore also increases the driving range of electric vehicles."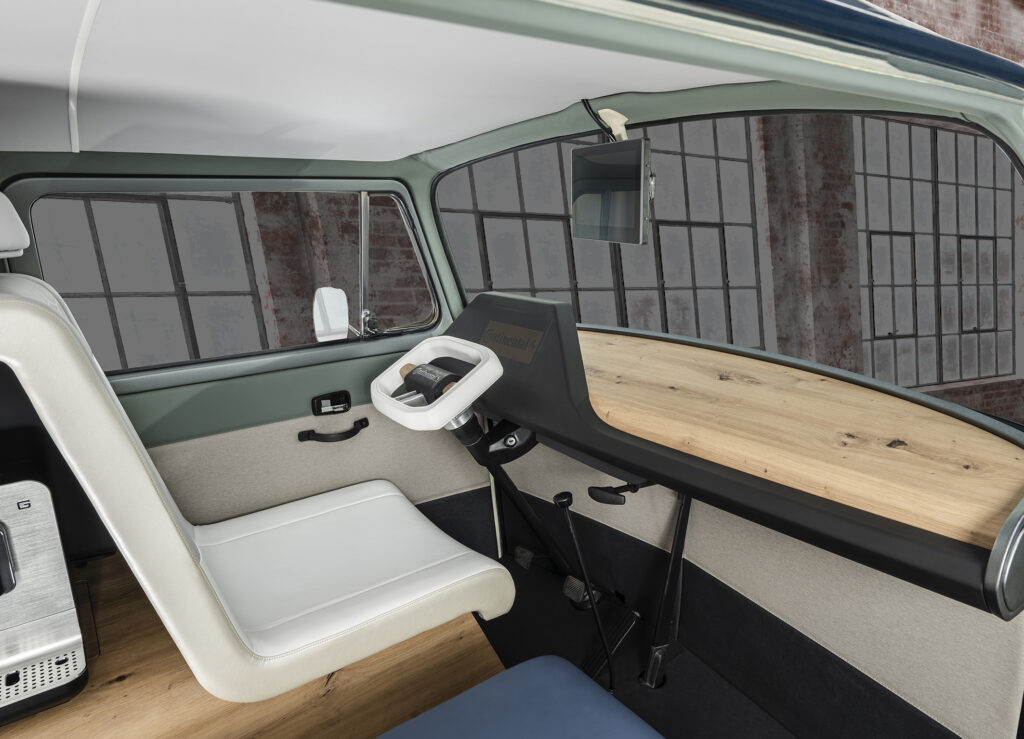 Bright colors and flowing forms have been used to give the interior an inviting, modern feel, that is said to promote passengers to either work or relax. In the 'off' mode, the company's 'Shy' hides the buttons within the interior.
Other interior concepts include light and sound functions to create different moods, and surfaces that have self-healing properties and a better resistance to abrasion. Continental's Staynu (stay new) technology enables surfaces to be more resistant to dirt, and as a result is said to keep them looking newer for longer. The driver's seat makes use of this technology, meaning staining of the environmentally friendly seat material will be reduced.
A breathable leather alternative, called Laif, is also utilized on the interior space and allows air and water vapor to pass through it. A benefit of this is that drivers and passengers can benefit from passive temperature control. Customers can even customize the vehicle using digital printing techniques, enabling owners to upgrade or tailor interiors to their specific requirements.
"There is impressive teamwork behind the new concept vehicle," added Imbery. "Taking their place alongside the futuristic surfaces in the concept vehicle are innovative technologies and solutions, such as the speaker-less audio system Ac2ated Sound, the ProViu 360 camera system enhancing safety on the road, the photovoltaic charger on the vehicle roof for sustainable energy generation, Intelligent Glass Control, the eTravel.Companion and DAB radio with USB and Bluetooth connectivity."