The electric vehicle tipping point is not far off. And while the biggest selling point of these next-generation EVs is their high-tech, emissions-free powertrains, just as important will be the calmness, clarity and well-being one gets from being inside these silent-running operators.
Jaguar Land Rover has become the latest car maker to join a growing list of manufacturers that have announced bold and exciting all-electric product plans. Jaguar intends for every new car it sells from 2030 to be powered by a battery-electric powertrain, while Land Rover, with its more off-road and agricultural customer usage, will make the same switch six years later.
Jaguar's battery-electric strategy and timeframe follow similar ambitions outlined by Volvo, Bentley and Ford Europe.
The tipping point from ICE to BEV is finally approaching. That list of car makers going all-electric will grow – that's for certain – and we've not yet even mentioned the brands that already operate within this arena, including Tesla, NIO, Rivian, Lucid, BYD and XPeng.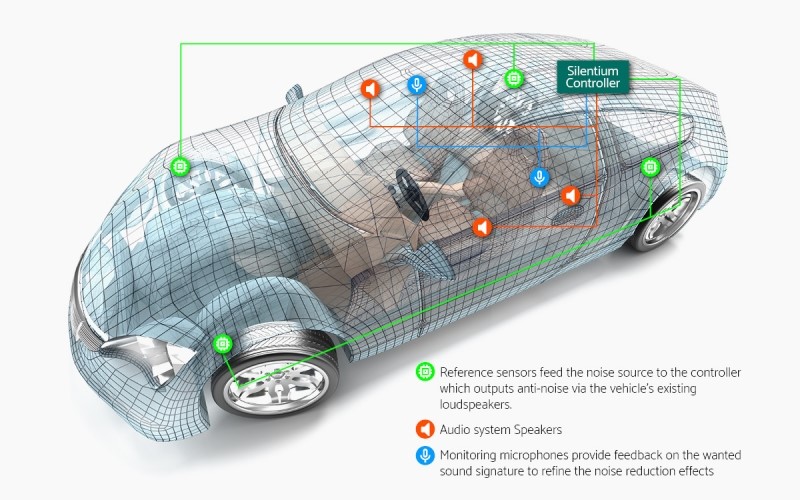 Focus on tomorrow
For me, there's far greater importance to be placed on the near-future, all-electric plans of the automotive industry as a collective, rather than counting today just how many BEVs have sold in comparison to ICEs.
From an engineering and technology perspective – including focusing on further development and implementing critical product programs and projects – what really matters is planning for and meeting the requirements of tomorrow. In this automotive context, Silentium has a tremendous opportunity to help car makers with the transition to full electric.
Our focus is on developing truly world-leading, proprietary broadband wind and road noise cancellation technology. Our tech, which can already be experienced on cars on sale today, including Jaguar Land Rover vehicles, can cut 90% of unwanted noise across a broader band of frequencies than any other technology on the market – from 20Hz up to 1kHz. In addition to many other benefits, this hugely helps to prevent driver fatigue on longer journeys and to increase the real-world driving range of BEVs.
Just as importantly, our active acoustics and Quiet Bubble tech solutions will play a critical role as cars transition into silent-running, all-electric modes of transport.
Sound of silence
Within the cabin of a BEV – where there are no ICE noises – the driver can clearly hear sounds across the full hearing-range spectrum; this covers a raft of things, from squeaky window wipers through to the tires pounding the highway. Canceling out such noises and controlling the noise spectrum in the cabin adds to the well-being of everyone inside the car. Just like in the current Jaguar Land Rover applications, our Active Acoustics solutions for electric vehicles can reduce up to 90% of unwanted noise across a market-leading broad band of frequencies.
The 'silence' of a BEV for those inside the car, bringing about well-being, clarity, focus and calmness, can be just as revolutionary as the emissions-free powertrain that powers it. That opportunity mustn't be lost as the industry heads toward the 2030 all-electric switchover.