FCA's color and trim unit is developing diverse solutions for an increasingly varied portfolio of products, helped by an innovative approach to matching high-street trends, as department head Rossella Guasco explains
If the original Fiat 500 kick-started Italian automotive culture, then its 2007 successor made it global. This was the catalyst of rapidly changing fortunes for a brand now available worldwide and the spearhead of a model range that's sold three million units since launch. That enduring desirability owes a lot to the influence of the Colour and Materials unit at FCA's Centro Stile in Turin, Italy, and a streamlined development process that's now benefiting the entire group.
Innovation in materials has become an important process since Rossella Guasco, head of the unit since its inception just over a decade ago, joined the company in the mid-1990s, and the 500 has been a recurring theme. Not only because she was part of the team behind the 2004 Trepiùno concept that previewed it, but because her team has delivered more than 30 special editions of the city car since, including high-fashion, classic Cordura fabrics and even hand-varnished mahogany from yachts.
Her affection for the Cinquecento is clear: "The 500 is incredible, because it has no limits," she smiles. "It sometimes surprises us, because we change one color, or material, and it will do something new. Cars get older with time, but this one could be forever young. That's exactly what we think when we work on this car."
Integrated approach
A product of FCA's increasingly closer-knit group structure, the Colour and Materials unit replaced individual, and geographically separated, departments within each brand with a single team of 19 based in Turin. From here, the unit collaboratively identifies trends then filters them into brand-appropriate solutions via their still-separate design teams. Guasco typically assigns team members to a brand for three to five years, which instills a deep-rooted sense of what's appropriate for its products and helps with continuity.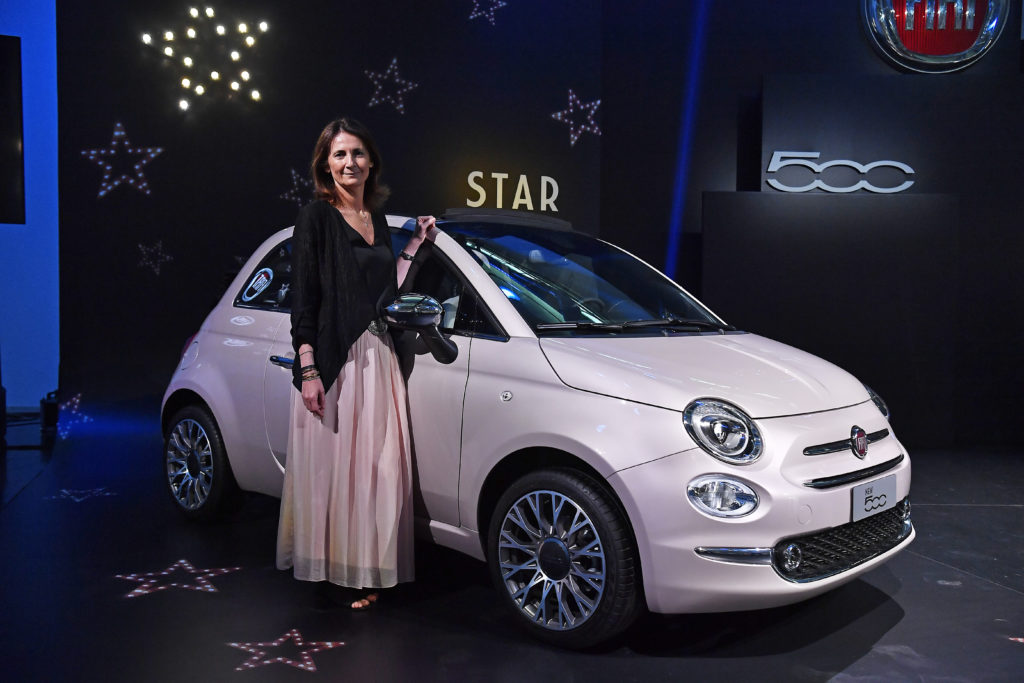 "We speak a lot inside the team, but don't interpret the same materials the same way for two different brands. If I give a color to the Fiat, Maserati or Alfa Romeo teams, they will have completely different interpretations. At the end of a 10-year path you can work on every brand," she explains.
Fashion trends change faster than traditional development cycles could keep pace with, so the unit introduced a pre-approval process, which offers the flexibility to take special editions to market as fashions reach the high street. "For special versions we have a process comparable with a new product, so it will take 16-17 months and it's quite impossible to be up to date with the trends," Guasco explains.
"Because of the research that we do daily, we start to select some features, colors and materials in advance of a new car receiving approval. Not the 3D components, but the flat components, which reduces the development time," she continues, adding that the gap between identifying a trend and having it in showrooms is now around eight months. Patterns from pinstriped suits and three-dimensional Matelassé fabric are new this year, according to Guasco.
A sustainable future
Despite the Colour and Materials unit's group-wide role, different brands within it offer unique opportunities. Guasco cites the "blank sheet" Centoventi concept as a recent highlight; it has a vivid, modular interior featuring trainer-inspired low-waste 3D knit material and lightweight polyolefin resin for the seats that enable UV-resistant pearlescent, metallic and saturated pigments to be injected into the batch process, removing the need for fabric covers.
It's also responding to new challenges; Fiat uses 'eco-leather' in high-grade 500s, for example. Sustainability is a rising concern for the company, especially as an electric version nears production. "Sustainable materials are an important aspect of our lives, it's not just a trend. When we talk about sustainability we don't just talk about materials; it's a different process to design the components. When you design a new program, you can consider this aspect, but when you work on an existing program it's a little different," she explains.
"But as a car producer, we need the sustainability behind the materials; it's no less important than the aesthetic approach. So we are working on that."
At the other end of the FCA portfolio, Guasco sees Maserati offering a chance to experiment with the most tactile and luxurious materials. The car maker recently presented a bespoke Levante SUV featuring Pieno Fiore premium leather trim, colored using aniline and oils but with no surface finish, to allow it to develop its own character in use. Its carbon-fiber inlays and center console were woven with copper wire.
"The vision of a new Maserati, and how to interpret traditional materials in contemporary ways using different techniques, is a very stimulating project we have internally," says Guasco. "'Made in Italy' and the value of its history is very important, but it's important for EMEA design [as a whole]. Even if we share research with other [global FCA] design teams, to better know the tastes of the different regions, it's important to keep a very European, Italian design DNA."