Automotive Interiors World speaks with Heather Nelson, director of ESI Automotive's new displays and in-mold electronics (IME) division, about the latest trends in the market, the purpose of the new business and how it will help meet customers' needs.
Why has ESI Automotive developed an offering in displays and in-mold electronic structures?
We work with OEMs, Tier 1s and applicators across the whole automotive supply chain, continually innovating to provide materials for cutting-edge technology development. Displays and IME will be a major focus for the next generation of vehicles and fit well with the product lines traditionally available through ESI Automotive. Currently, this might be the materials to make a printed circuit board (PCB) for a touchscreen in a car, as well as the hardcoated film that covers that screen. The combination of expertise in automotive decorative films and electronics within the company makes displays and IME a natural fit for future product development.
In addition to the range of materials offered by ESI Automotive for decorative and electronic applications, we also use our expertise to provide support to the automotive industry throughout the entire product development process – from design and planning, to the finished end result. This relationship with different levels of the automotive supply chain allows us to stay at the forefront of the industry and navigate future potential challenges together with our customers.
Why is now a good time to launch the division?
The automotive industry is continually looking for ways to improve vehicle users' experience, whether it is through the introduction of autonomous driving technology or cutting-edge display interfaces. With more people using in-vehicle apps, the number of displays – as well as their size – is also increasing, which provides a huge opportunity for OEMs and Tier 1s. Plus, with the rise of electric vehicles, the use of IME is helping to reduce the weight and complexity of parts, allowing manufacturers to extend the battery range even further. With both the displays and IME markets growing rapidly, it is a great time to use our expertise to help companies develop their own offerings.
Although the basic technology for IME has been around for a while, serious consideration of its application in the automotive manufacturing process is still relatively new. With a long history of working in the automotive sector, ESI Automotive understands the additional constraints automotive specifications bring to a product development process. These specifications are more complex and stringent than those for general industrial use so, by leveraging our expertise, ESI Automotive believes it can help the automotive industry formulate new specifications for producing parts that are functional and meet safety requirements, while achieving low yield loss in production.
What makes ESI Automotive unique in this space?
The ability to understand customer requirements is at the very heart of our business. Equipped with the knowledge of how customers use our products, we can also discover the other properties they are looking for, as well as their requirements for combinations of different properties, allowing us to tailor our recommendations and product advice to ensure customer needs are met. This expertise has allowed us to work on developing and extending our displays and IME range to meet growing demands, as technology in this area goes above and beyond traditional films and electronic materials. By bringing these sectors/product ranges together through ESI Automotive, we hope to simplify the process for customers, allowing them access to a single information point for both sectors/product ranges.
We are proud to be the market leaders for hardcoated films and have a reputation for selling high-quality electronics products for printed circuit board fabrication and assembly. One of the things that sets us apart is a collection of industry-leading quality performance systems (QPS) that are extremely specialized. Our in-depth product knowledge, the associated process skills, and the technical support offered to customers helps us stand apart from our competitors. For example, this unique skill set has paved the way for the development of XMAPP – our process improvement system for XtraForm FIM (film insert molding) applicators, which forms part of our QPS program. By continuing and expanding this breadth and application of knowledge, we aim to become a 'go to' source for all levels of the automotive supply chain seeking to develop or manufacture a display or IME part.
Why is it so important to understand the value chain when working with displays and IME technologies?
It is crucial, as we can support customers from the initial idea to the final execution. We're more than just a product supplier; we provide the support and expertise to help them achieve their business goals, across the entire automotive supply chain. For example, at the top level, we can assist OEMs with preliminary designs, collaborating on the potential strategies and products. Plus, we can help Tier 1s with more detailed design support, as well as provide them with the confidence to choose applicators through our QPS system.
What are the greatest challenges in the displays and IME structures market?
Currently, one of the biggest challenges for the market is that there are no established standards for displays and IME. For example, there are already very stringent test regulations and specifications in place for automotive decorative parts and electronic components, but not for parts that combine decorative and electronic functionality. With our new division, we are bringing these elements together, which also means merging these two, often contradictory specifications. We are therefore partnering with our customers to develop standards that meet and exceed the performance and reliability needs of the automotive industry.
The process development for displays and IME is also a growing challenge, as it is a new area for many manufacturers. Despite much of the equipment being similar to that used in a traditional FIM process, there may be additional tolerance requirements, and quality processes may need to be expanded from traditional FIM parts to achieve a good yield. Extra electronics assembly steps may be required and as such will also be subjected to quality control.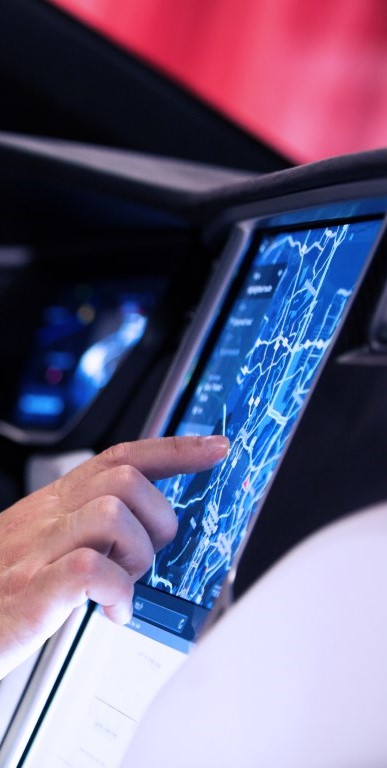 What are some of the key trends in the market, and how does ESI Automotive address them?
Lightweighting is a key trend for the displays and the IME market, particularly (but not exclusively) in the manufacture of electric vehicles. The advantage of IME is that they can reduce the complexity of designs and make them thinner and more lightweight – helping to enhance the aesthetic look of the vehicle.
Although previously, flat touchscreens in vehicles have been an important feature for users, safety information now indicates that they can sometimes pose risks for interaction during driving. As such, more textured effects, such as raised buttons, are increasingly being incorporated into displays, allowing users to distinguish between different features without compromising safety. Thanks to the new division, we can create these features using IME, something that was not previously possible with glass.
What trends are you expecting to see in the near future?
We have already seen a wide range of display configurations, such as individual displays in different areas of the cockpit, as well as a single display that runs from pillar to pillar in the cockpit to provide varied functionalities. Currently many of these use glass and are predominately rectangular and flat, or with a very gentle curve. As film technology advances, we anticipate that the design freedom afforded by 3D forming capabilities will result in more freeform displays. There is also discussion across the industry about the possibility of bringing the wing mirrors inside the car as part of a wraparound display, to help with aerodynamics. This could hold great potential for displays and, in turn, lightweighting.
At the same time, we are starting to see a rise in the use of capacitive touch switches, 'secret-till-lits' and touchpads across the automotive range, particularly in smaller, B-class cars, indicating that these are no longer just associated with premium, higher end vehicles. Applications for IME are not just constrained to the HMI interface in the cockpit though – it has a wide range of uses across the interior and exterior of vehicles. These applications span everything from touch controls and connectivity, (e.g. antennae) to heater elements such as headlamp covers.
Is sustainability a prime concern for the industry, products and processes?
We are continually looking at how we can improve the sustainability of our products and processes. For instance, by minimizing raw material wastage and yield loss in our production lines, we are trying to be as efficient as possible. Our vast knowledge and experience in this area also means we can advise our customers on how to minimize wastage, in line with their sustainability efforts. Sustainability forms a large part of our QPS programs, as we look to improve yield loss, which in turn, helps to save costs and minimize waste. In addition, we are proactive in keeping up to date with regulations, such as RoHS and REACH, ensuring we are one step ahead of the industry and helping to future-proof any technology.