With an investment of approximately €40m (US$41m), Continental has expanded the production area of its automotive plant in Timisoara, Romania, by over 7,000m2  to 18,000m2 – an increase of more than 60%.
With this expansion, Continental intends to bundle production capacities and competencies at a selected central location – just as the occupants' interaction with the vehicle merges from various small and decentral screens into large integrated display solutions spanning from pillar to pillar. With this factory strategy, the technology company can bundle production volumes of large display solutions such as c-shape, L-shape or pillar-to-pillar displays to increase in quality and speed. According to Continental, this will create economic and technological advantages.
The company plans for this expansion to create competitive advantages in the production of complex display solutions. Virtual reality (VR) line planning, simulation and optimization will enable Continental to produce large display solutions at speed with high quality and low investments. Augmented reality (AR) is used for maintenance and product development leading to cost savings and higher quality. Artificial intelligence (AI) and robotics support employees.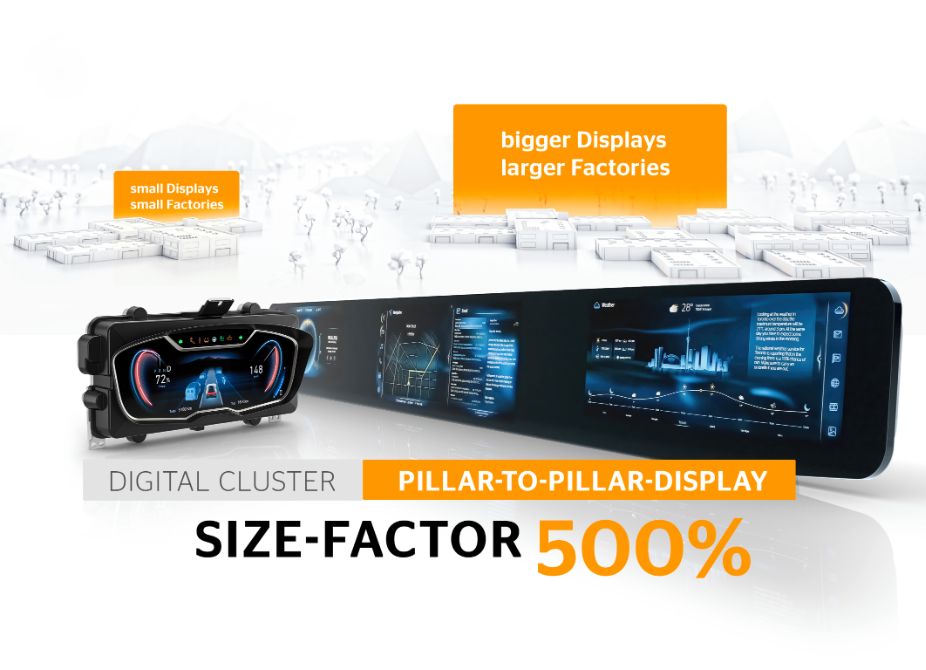 Overall, Continental's automotive plant was designed to be a highly automated, digitally connected and sustainable facility for future mobility solutions that focus on people, standardization, automation and digitalization – to future-proof the technology company's display production. The expansion is also intended to support the company's recent €2bn (US$2bn) order from vehicle manufacturers for its display solutions.
Thomas Ebenhöch, vice president, operations, user experience business area at Continental, said, "The demand for integrated display solutions is growing enormously. With this plant extension and our mega factory strategy, we strengthen our global manufacturing footprint to further enhance our capabilities to develop solutions for a digital future. By connecting our manufacturing process digitally, we enable production concepts of [the] highest speed and quality. As a modern industrial region with excellent infrastructures and highly qualified employees, Timisoara is the ideal location for us to manufacture automotive high-tech electronics."
Philipp von Hirschheydt, head of user experience at Continental, said, "What used to be the horsepower under the hood is now the user experience. The way the occupants interact with the vehicle, connect, communicate, relax, are informed or entertained, is becoming the key criterion in the purchase decision. In order to satisfy our customer's growing demand, we need to aim for the highest possible digitalization, standardization and automatization – and that is exactly what we are doing with our new mega factory in Timisoara. We bundle our competencies of products and technologies in this plant to put ourselves at the forefront of modern display production, driving the future of mobility."