This year's Automotive Interiors Expo North America was packed with groundbreaking trends in materials, finishes and technologies on display, alongside sustainable solutions for brand differentiation and improving production quality. Held at the Suburban Collection Showplace in Novi, Michigan, on October 24, 25 & 26, the expo featured 80 specialist suppliers showcasing new, cutting-edge interiors manufacturing and production systems, parts and concepts to improve quality, durability, performance and manufacturing processes and enhance aesthetic appeal.
Read on to see what exhibitors Continental, Aspina, Felton, Kimoto Tech, Oribay Group Automotive, Argent International, ZSK, American Flock Association (AFA), Cool Clean Technologies, Lectra, Liquid X, Owosso and Mankiewicz displayed in terms of developments and advances in sustainability, thermal management, electric vehicles and autonomous vehicles, among others.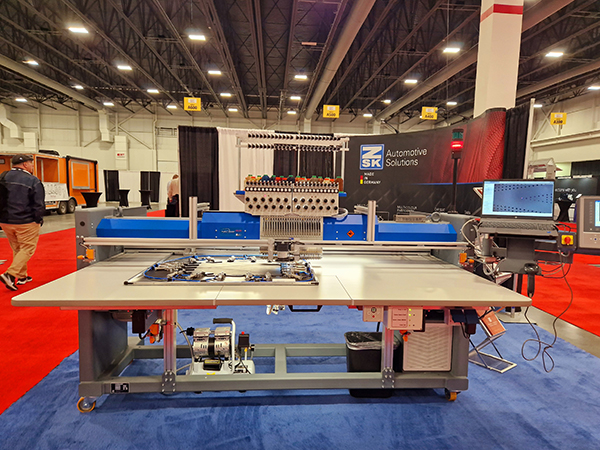 ZSK Stickmaschinen demonstrated machines for high-quality seams in combination with a camera system. The company was excited to be at Automotive Interiors Expo North America in Novi after a five-year absence due to the pandemic. During this time, ZSK improved its automotive machines and equipment, particularly the camera system, which enables precise placement of sewing lines within perforation gaps. Claudia Moeckel, head of department of leather and interior applications department, said, "We are very happy to be back at this show to present the latest technology and finally meet our existing customers after such a long time … Besides Automotive Interiors Expo Europe, the show in Novi is one of our most important throughout the year. We can reach out to nearly all of our US customers as well as to new ones. We have had a lot of visitors from the OEMs and suppliers – and a lot of leads."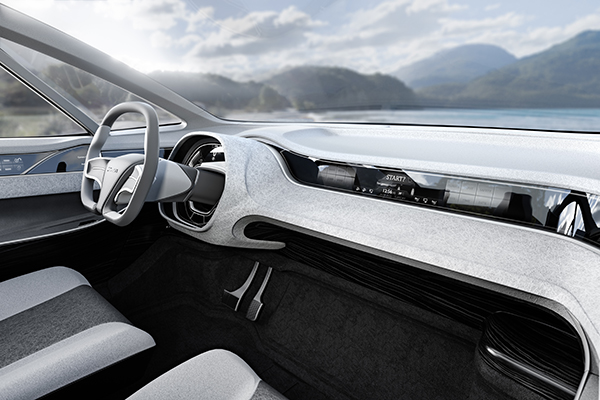 Continental talked to visitors about its Benova Eco Protect surface material that redefines sustainable and durable interior designs, specially developed for demanding premium applications. The material was recently PETA-certified and a finalist for the Automotive News PACE Award. "Benova Eco Protect meets demands for the future of automotive interior design," said Christoph Seeger, head of segment automotive interior at Continental. "It combines sustainability with high quality as well as top-performing attributes such as excellent heat and UV resistance, making the material extremely long lasting. Now even lighter colors can be used for high-profile applications."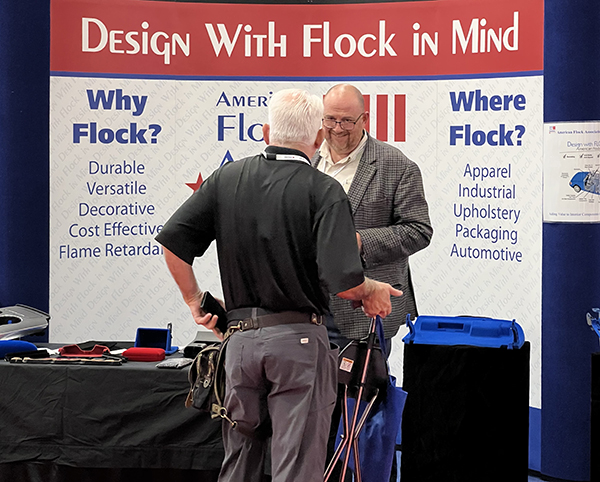 As the use of flocking expands rapidly throughout the US auto industry, especially in the design of the latest generation of electric vehicles, advances in flocking technology were on display from the American Flock Association (AFA). "Flocking reduces buzz, squeaks and rattles, and improves the appearance of many surfaces," said Steve Rosenthal, managing director of the American Flock Association. "It provides a luxurious feel on any substrate and can be applied to surfaces of nearly any size or configuration. It has become nearly impossible to find a new vehicle that isn't designed with flocking in some capacity. Flock absorbs sound, which helps increase the value. It also absorbs light – with the display (HMI), a small frame of flock projects out from the edges of the screen to reduce glare.
"We come to this show because many people don't know what flocking is. There are numerous new flocking developments, and if we're not here to show these to the industry, then people may miss them. The traffic from the Big Three and those doing design work for them is critical and we have seen quite a bit."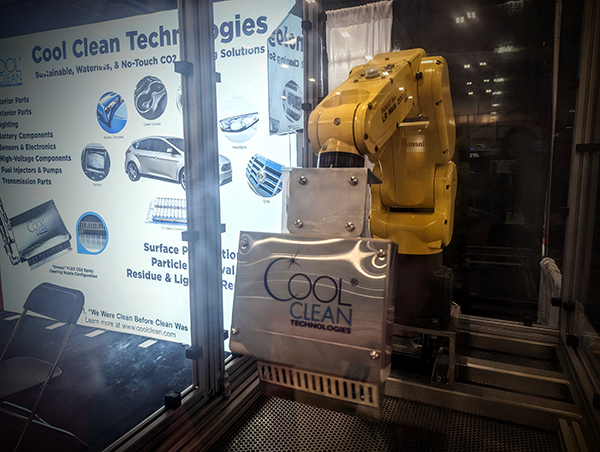 With tightening specifications in the automotive industry and the proliferation of electric and autonomous vehicles, Cool Clean Technologies said there is increased demand for a more robust cleaning process for automotive parts. The company highlighted its waterless, touchless automated cleaning for electronics using dry, clean, sustainable CO2; it is easily automated and accepted by many OEMs and suppliers as an effective and economical alternative to wet cleaning, effectively cleaning particulate and residue from multiple automotive parts, including electronics and coated parts.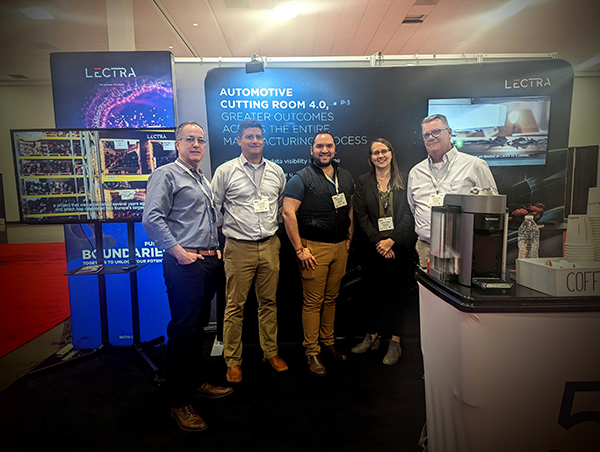 Lectra highlighted its suite of industry 4.0 solutions geared toward interior design teams and car manufacturers wanting to keep up with the rapidly changing world of materials, finishes and technologies. Jim Collins, VP sales, said at the show, "Lectra has three main segments: automotive, furniture and fashion. The company is celebrating its 50th anniversary this year and is releasing Automotive Cutting Room 4.0 as a revolutionary solution that connects machines via a secure internet connection."
Luis Magana, technical sales director of manufacturing, said, "Cutting Room 4.0 uses cloud computing, IoT, big data, integration and automation to connect machines to cloud applications used in planning and preparation before they go into the cutting room."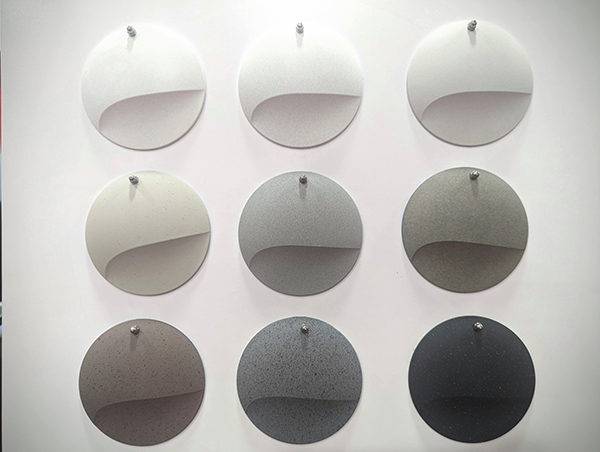 Sustainable solutions in coating trends were discussed by Mankiewicz, including replacement options for Hexavalent chrome, and new design trends were showcased. "We are experiencing a high demand in our alternatives to chrome plating, and we are pleased to help inform the market about options and developments in this field," said Elenor Ekman, sales director at Mankiewicz. Anti-glare is also a big topic for the ADAS segment and engineers. Traditional methods to achieve the properties are challenged by new technology that may even offer cost savings.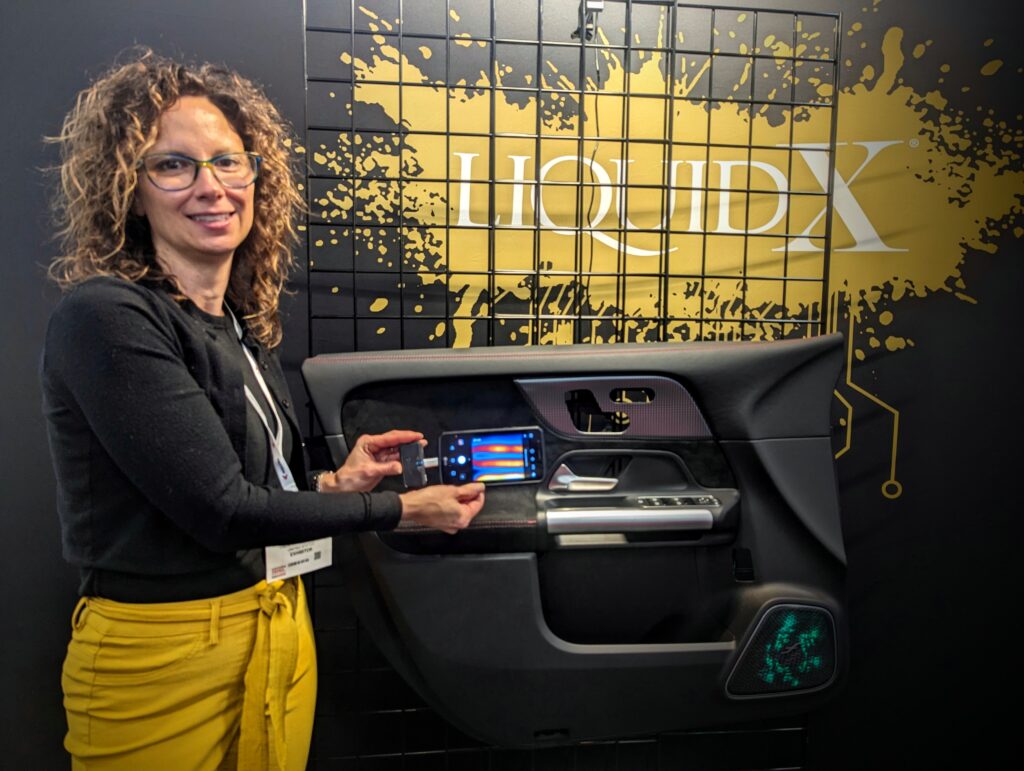 Liquid X debuted its printed heated panels that are integrated directly into the manufacturing process. According to president and CEO Greg Babe, drivers and passengers feel the warmth and comfort of the cabin much faster with surface heaters. A report from the Connected Electric Vehicle Optimized for Life, Value, Efficiency and Range (CEVOLVER) – an EU-funded consortium involving research, service and industry partners such as Ford, FCA and Bosch, with the goal to optimize the development and operation of electric vehicles by taking a user-centric approach – showed that heated surfaces reduce energy consumption by 13%. Another key finding on thermal management was that heated surfaces such as door panels and headrests are more efficient than heated air and heat up much faster.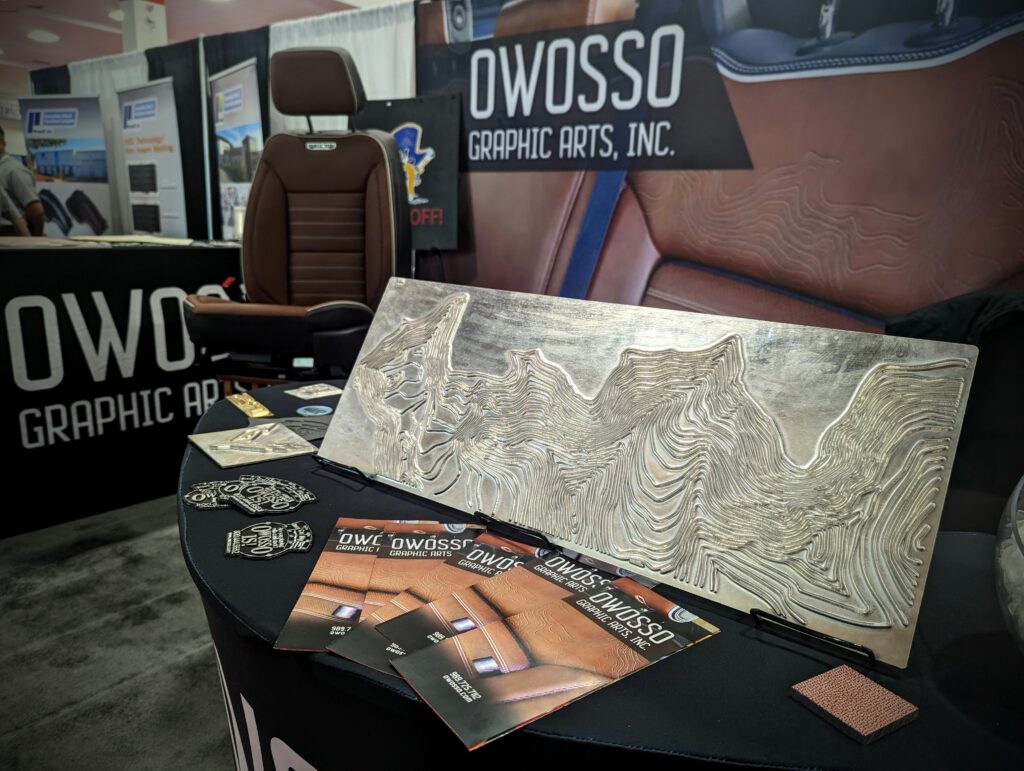 Creating a tactile feel, aesthetically pleasing look and something that works where durability is key can be tricky when designing seats. Michigan-based Owosso demonstrated how it addressed the difficulties of seat design by using magnesium for automotive interior prototyping tools. Doug Pendergast, national account director, said, "These tools are produced by chemically etching the metal extremely quickly and at prices that are a fraction of what a machined tool costs … Debossing leather and vinyl is a trend in auto interiors that continues to grow, and the use of perforation dyes that are chemically etched is also trending."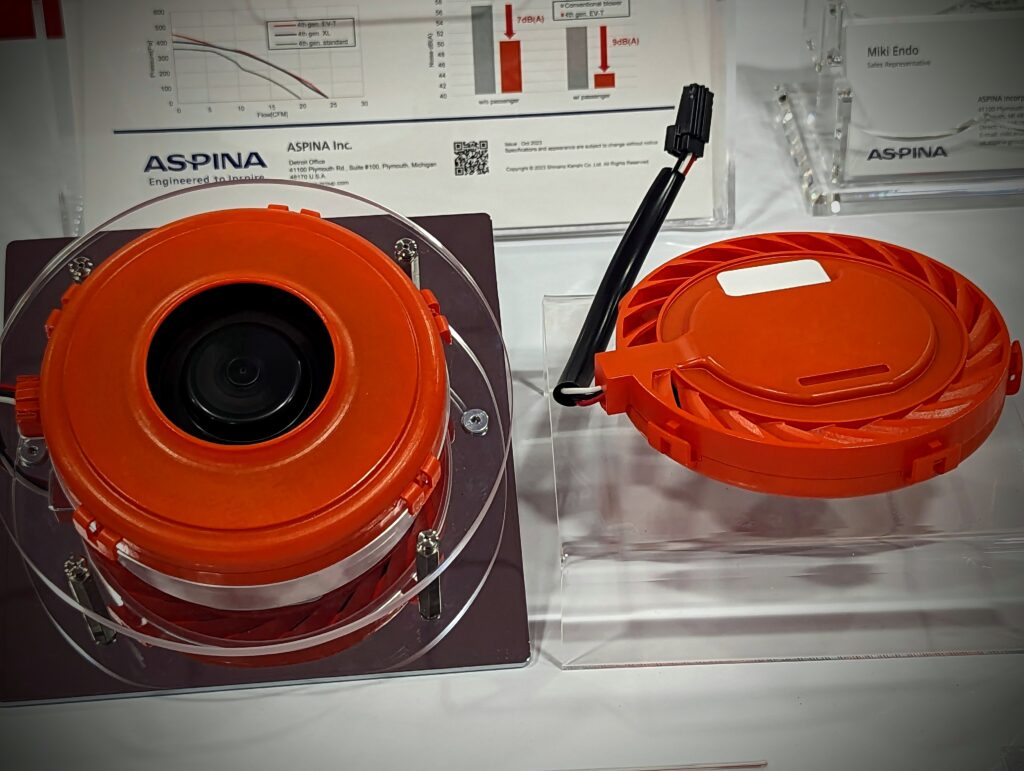 Aspina was in Novi to showcase multiple products including its HVAC BLDC seat ventilation blower motors for electric vehicles, and motion control actuators. Marcel Azary, senior vice president at Aspina America, talked about how electric vehicles have transformed car seats and seat ventilation systems: "With vehicle electrification, the need for extended battery life/range is very important. This has challenged us to evaluate current designs and innovate on efficiency while not losing performance.
"As an active partner and supplier to the automotive industry, we are excited to participate in this year's show. With the electrification revolution, we expect the industry to face many new challenges, such as efficiency, noise and weight, which we are confident that our 105+ years of innovative experience and vast R&D resources will be able to overcome."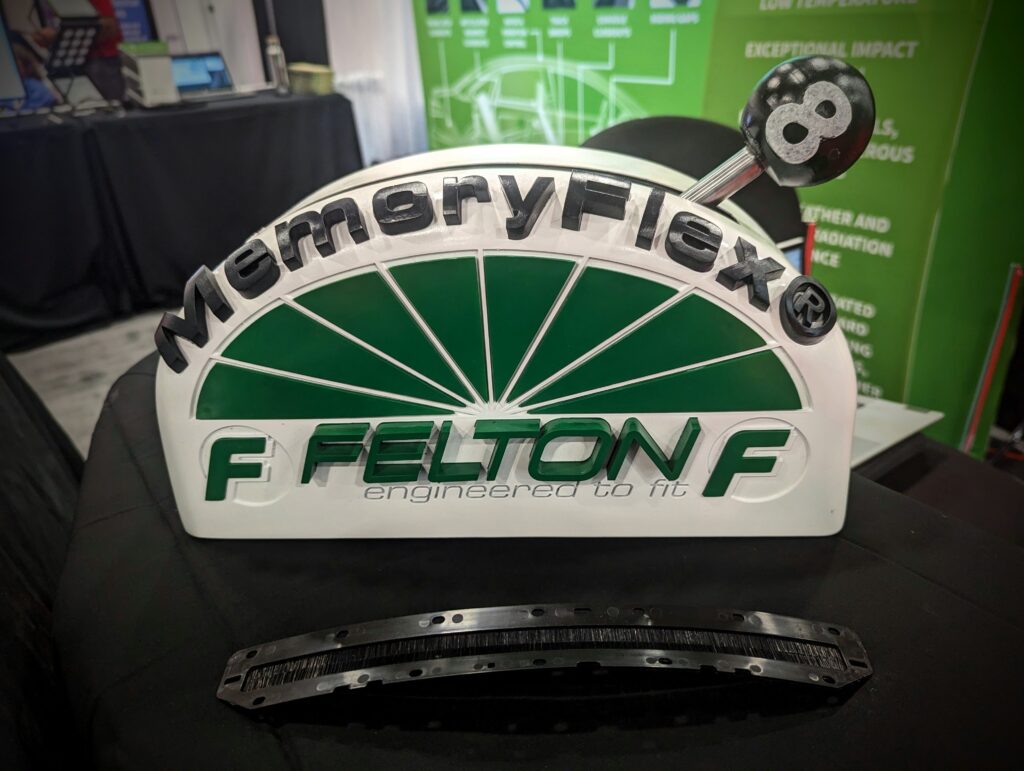 Meanwhile, Felton showcased MemoryFlex, its multipurpose, set-resistant and extremely versatile proprietary filament that can be incorporated into various assembly and end-use product designs. According to vice president Jim Marler, "Felton has a 30+ year history of designing and manufacturing interior closeouts for the automotive industry. We are passionate about pioneering new technologies, and Automotive Interiors Expo provides the best opportunities for us to connect with companies to help them develop revolutionary new products."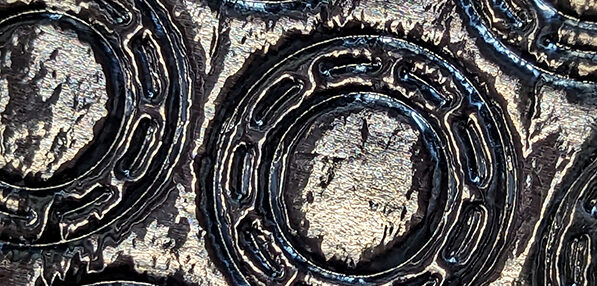 Products designed to reduce costs and energy loss were unveiled by Argent International, including laser-cutting capabilities, dispenser-compatible parts, alternative mechanical fasteners and thermal management products. The thermal dissipating heat shield (TDS) is designed to provide a lower-cost option to the traditional stamped heat shield. Chris Gariepy, account manager at Argent International, commented, "Our heat shields do not require mechanical attachments and they can prevent rattling and vibration. This removes the need for additional clearance where thermal barriers would be needed. "We have exhibited at the Automotive Interiors show for several years now. This show not only provides us with the opportunity to meet new potential customers, but it also allows us to meet with current customers and suppliers."
Oribay Group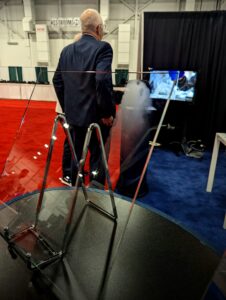 told visitors that custom-designed, multifunctional and intelligent electronic systems are key to success.In an interview during the show, Lander Fraga, head of communications at Oribay, said, "The number of electrical components in vehicles has increased exponentially over the last few years; including a circuit and cabling system for each of these functions is not practical nor economical. Custom-designed, multifunctional and intelligent electronic systems are imperative nowadays.
"Our Ori-Fog coating is applied during the windshield production process. Its anti-fog properties reduce the need for HVAC windshield defog systems in electric vehicles, helping to improve EVs' overall efficiency."
Kimoto Tech launched functional films for HMI interfaces, such as touch displays and other touch-activated surfaces, and include hard-coated and formable LevSurf films, light diffusion films, Optsaver and Lightup for display backlight and interior lighting, and protective adhesive films used in the production of automotive display solutions.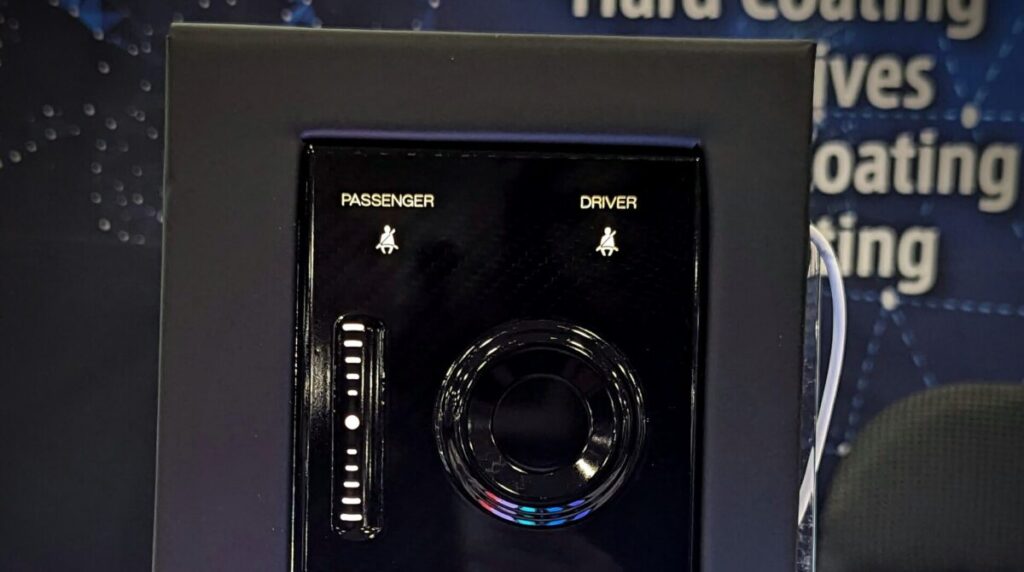 Automotive interiors expo was held alongside Automotive Testing Expo North America, featuring more than 310 exhibitors specializing in automotive test, development and validation technologies, including infotainment testing.
Save the date for next year – Automotive Interiors Expo returns to Novi on October 22, 23 and 24, 2024. The team looks forward to welcoming you.