At CES 2023, BMW has showcased the futuristic mid-size BMW i Vision Dee (Dee denotes Digital Emotional Experience) sedan, which features an advanced, digital interior to create a "stronger bond between people and their cars". The German OEM states that the digital functions found within the i Vision Dee's interior will surpass present day voice control and ADAS.
Inside the i Vision Dee, information is displayed via projection across the entire width of the windshield, only becoming recognizable as a display once turned on. Through the advanced head-up display, BMW aims to demonstrate the potential of projection technology. Starting in 2025, the standard-production version of the full width head-up display will be available in BMW's Neue Klasse of vehicles.
Inside, simplified materials, operating controls and displays have been selected to ensure nothing distracts from the i Vision Dee's digital experience. The steering wheel, with its central vertical spoke, features touchpoints which light up when approached or touched, with functions operated by moving a thumb. These physical touchpoints control which content is projected onto the windshield.
In addition to the head-up display is BMW's Mixed Reality Slider, the digital highlight and central operating control of the BMW i Vision Dee. Using shy-tech sensors on the instrument panel, drivers can choose how much digital content they want to see on the head-up display. The selection of content ranges from analog to driving-related information, to the contents of the communications system, to augmented-reality projection, and to "virtual worlds".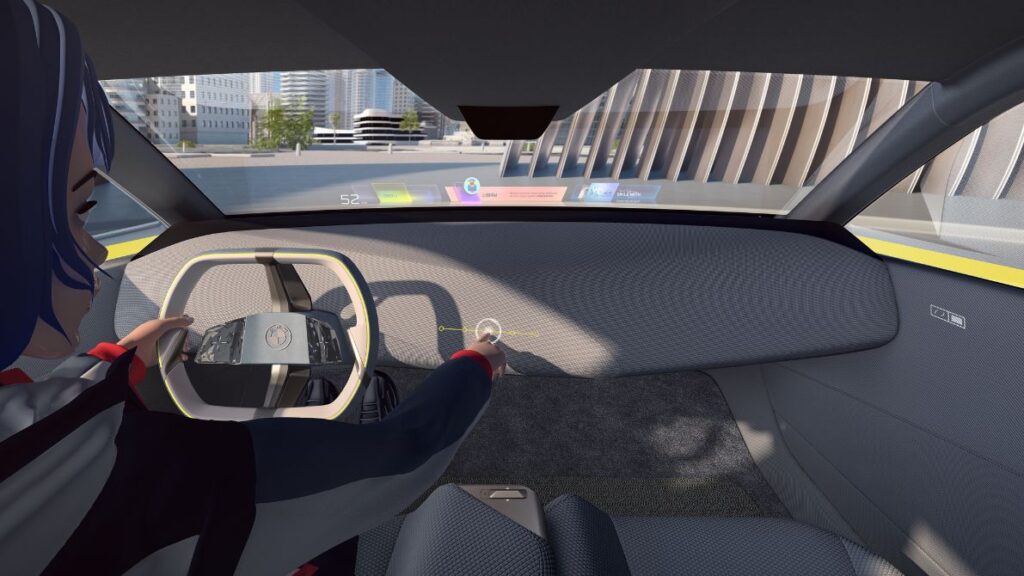 "With the BMW i Vision Dee, we are showcasing what is possible when hardware and software merge," explained Oliver Zipse, chairman of the board of management, BMW. "In this way, we are able to exploit the full potential of digitalization to transform the car into an intelligent companion. That is the future for automotive manufacturers – and, also, for BMW: the fusion of the virtual experience with genuine driving pleasure. At the same time, BMW i Vision Dee is another step on the road to the Neue Klasse. With this vision, we are looking far into the future and underlining the tremendous importance of digitalization for our upcoming product generations."
"A BMW lives by its unparalleled digital performance. BMW i Vision Dee is about perfect integration of virtual and physical experiences," said Frank Weber, member of the Board of Management of BMW, responsible for development. "Whoever excels at integrating the customer's everyday digital worlds into the vehicle at all levels will succeed in mastering the future of car-building."