Swedish EV startup Uniti has unveiled the pricing and specifications for its debut vehicle, the Uniti One. Designed in Sweden and engineered in the UK, the Uniti One has been created to be an urban electric vehicle, fully optimized for efficiency, sustainability and affordability, while maximizing interior space for three adults.
Offered with a choice of two battery sizes, the Uniti One has a range of up to 300km (186 miles), which can be charged from 20% to 80% in just 17 minutes with a 50kW CCS charger.
With prices starting from just £15,100 (US$19,125) (after £3,500 (US$4,433) UK government subsidy), the Uniti One aims to offer a revolutionary new platform for affordable and sustainable mobility. The first deliveries are planned for Sweden and the UK for mid-2020.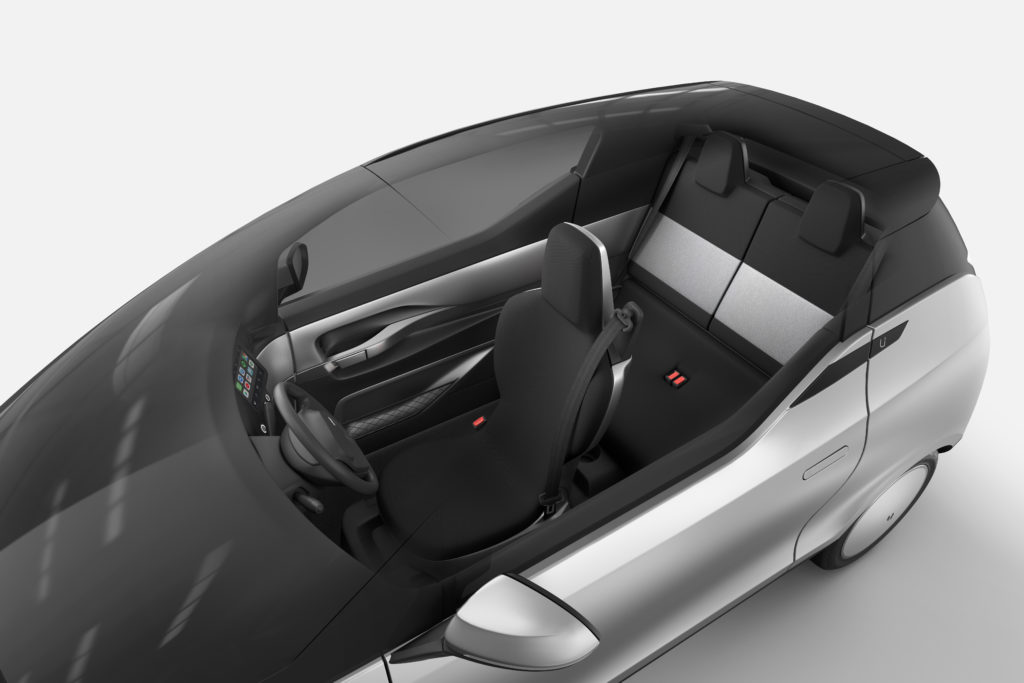 Innovative interior design
The Uniti One's intelligent packaging can accommodate up to three adults within its ultra-compact footprint. Its unique one-plus-two seating configuration offers both ergonomic and visibility benefits for the driver, with ample space for two adult passengers to sit behind, as well as generous load-carrying potential.
The central driving position gives rear passengers quick and easy access into and out of the cabin, while minimizing driver disruption. With the rear bench folded flat, the Uniti One turns into a single-seater, providing the driver with 760 liters of usable cargo space.
The canopy-style windscreen stretches over the cabin space to create an airy environment for occupants. With an electrochromic panoramic roof as standard, cabin brightness can be controlled as desired, ranging from transparent through to fully opaque, and all within a few seconds.
The roof automatically darkens to prevent the vehicle heating up when parked, which also helps reduce the amount of energy needed to cool the cabin again. The electrochromic glass also acts as virtual sun visor, tinting the top of the windscreen to reduce brightness and glare for the driver.
Soft-touch materials and high-quality engineered textiles cover the flowing shapes and lines of the cabin, with machined aluminum used for the door handles and interior trim accents, as well as the circular dashboard button surrounds.
The Uniti One can be specified with either a light or dark upholstery theme and can also be personalized with fully configurable RGB mood lighting, which subtly accents the roof, dashboard and doors.
A digital-first approach has been taken to the Uniti One's controls, keeping the number of physical switches to a minimum and creating a smartphone-like feel. A signature horizon panel arcs around the driver, housing three configurable screens and integrating all information and command channels in a cohesive element.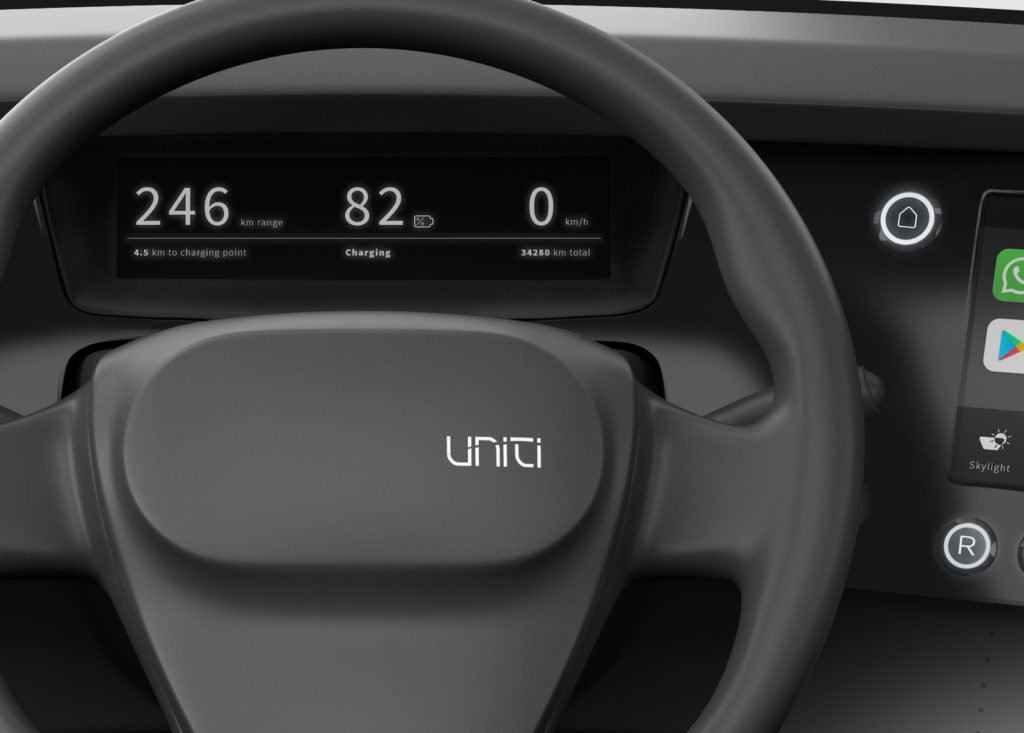 Fully connected
The Uniti One leverages the benefits of Android Automotive OS, an integrated system that brings access to Google Maps, Waze, Spotify and dozens of other Play Store apps and services without requiring a dedicated or connected smartphone.
Beyond infotainment, the interface also provides easy access to key vehicle functions, such as lighting, heating and ventilation, all controlled via a familiar touchscreen or hands-free, voice-activated interface.