With a view to delivering sustainable audio solutions for the automotive sector, Warwick Acoustics has revealed details of its ElectroAcoustic Panels (EAP).
The EAPs are made using environmentally friendly manufacturing techniques and are produced from 100% upcycled and recyclable materials which feature no rare-earth metals, enabling OEMs to decarbonize supply chains as they strive to become carbon neutral. Advanced polymer constructions and waste materials from the IT industry are also used to manufacture the components.
Compared to traditional in-car audio systems, the company's ultra-thin panels are up to 75% lighter, creating additional benefits for electric vehicles where each kilogram has a knock-on effect on the range and driving performance. Additionally, because of the ultra-low mass of the EAP's transducer and capacitive nature of the load, the power consumption required by the electronic drive module is extremely low, resulting in a system which uses up to 90% less power. This enables the systems to contribute to increased electric vehicle (EV) range and lower battery requirements, resulting in CO2 reductions.
According to research published by independent engineering service provider EDAG, car audio systems are used for an estimated 260 hours per year. Due to this, a 1W reduction in the audio system power consumption of an EV would save approximately 80g of CO2 emissions each year through reductions in electricity generation.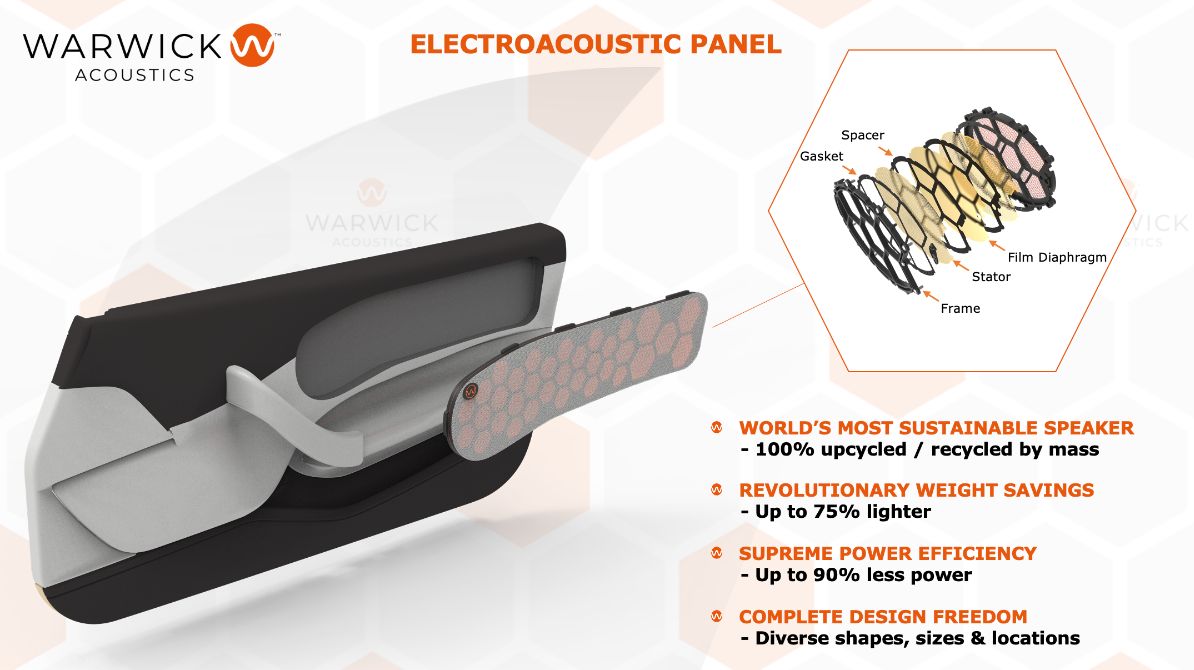 By utilizing Warwick Acoustics' EAP audio system, an average of 50W of power consumption can be saved, with 10 times the savings made possible when a higher specification system is installed. This equates to an average CO2 emissions saving of up to 4kg per vehicle per year in primary power consumption savings.
"As automotive manufacturers undertake the rapid transition to electric mobility and a circular economy, every element of their supply chain and manufacturing process falls under close scrutiny," said Mike Grant, CEO, Warwick Acoustics. "As the noise of the internal combustion engine is lost in the transition to EV, shaping the acoustic environment within a vehicle is a fundamental opportunity for manufacturers to redefine their competitive positioning in the market, and where only sustainable innovation will enable them to succeed.
"Warwick Acoustics' commitment to making a positive contribution to the automotive industry meeting its environmental goals, including the decarbonization of supply bases and the onboarding of new, sustainability-focused partners, is reflected in the technological solutions we provide. Our ElectroAcoustic Panels provide the ideal green solution to automotive OEMs seeking to implement a highly sustainable, recyclable, power and weight efficient and brand-defining solution into their products."