Rolls-Royce is renowned for its one-off vehicles – bespoke creations for usually anonymous customers that take the firm's already opulent designs to new levels.
The latest of these to roll out of the company's Goodwood, UK, factory and destined for a client in Singapore, is the Phantom Orchid. The company says it is the first vehicle concept it has crafted around the flower (a coveted ornamental plant), with the project taking two years to complete.
"Phantom Extended, our pinnacle motor car, was chosen to be the blank canvas for this commission," explained Michael Bryden, lead designer at Rolls-Royce Bespoke. "Our concept envisaged a balanced yet progressive design, which echoes the values of the Singapore region. The orchid is seen in many facets of Asian life, a reminder that the resilient adapt and thrive regardless of the evolving environment. Phantom is the only motor car in the world to feature the Gallery, a space that enables one to exhibit art, sculptures or objects of self-expression in the sanctuary of Phantom's interior. For Phantom Orchid, we collaborated with award-winning artist Helen Amy Murray to create a unique, hand-sculpted silk artwork. The delicate materials and techniques that were deployed in the creation of this piece are protected behind an application of pure glass that runs uninterrupted across the fascia of Phantom. Finished in an elegant blend of Grace White, Havana and Smoke Gray with Dark Olive stitching, the interior evokes the calm and serene nature that is inherent to the character of Phantom."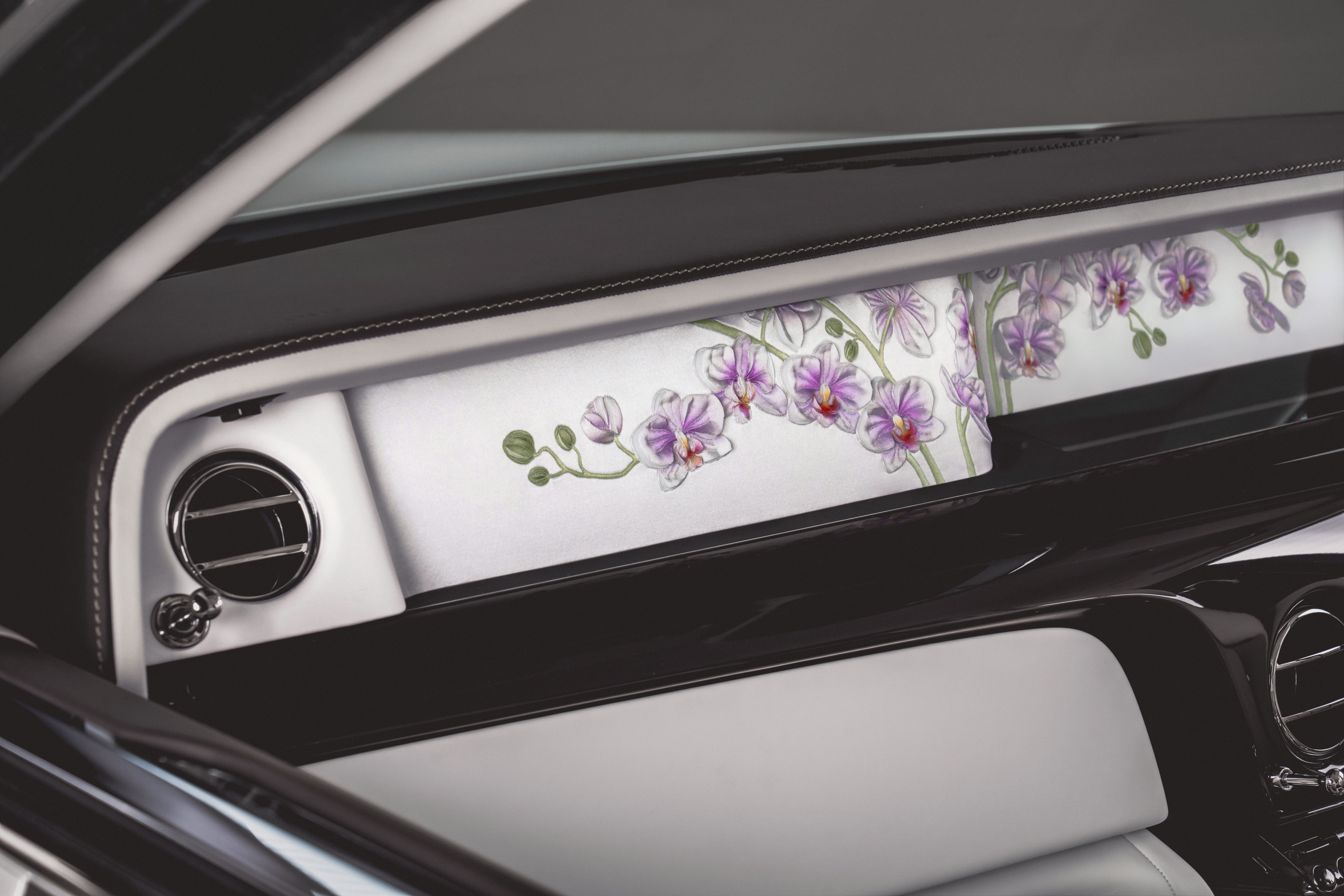 Murray, an artist and textile designer, worked with a team of six other craftspeople, drawing inspiration for the designs that bedeck the interior from a variety of orchid species including, fittingly, the Singapore Orchid.
"I started by focusing on the actual orchids, which promptly led me to realize that color was key to capturing the essence of the species," said Murray. "I have created artworks featuring orchids in the past, but my idea for the Gallery was to create something in realistic full color, which pushed us to refine our digital printing skills." She explained that her work is usually more neutral and tone-on-tone: "This more recent return to color was exciting!"
Murray drew the design by hand before creating a digital version that she could print directly onto the silk crepe satin. The final part of the process involved meticulous hand-sculpting of the flowers, releasing layers of fabric to create a 3D effect.
In addition to Murray's work, Rolls-Royce bespoke designer Yohan Benchetrit also applied his talent to the bespoke orchid-inspired picnic table inlays in the rear of the suite, which, when opened, reveal a layer of orchids set into piano-black veneer. He also added treadplates with a similar theme to welcome the owner and passengers into the vehicle.