Virtual reality was one of the prime tools applied in the development of the new Dacia Jogger, enabling engineers to see and gain a feel for the model before physical prototyping had begun. The company's Cave Automatic Virtual Environment (CAVE), based at Renault Group's Titu Technical Center in Romania, provides an environment for specialists to move around the vehicle as they assess elements of its design. In the case of the Jogger, it was used to refine interior practicality and spaciousness.
A group of 13 consumers from different backgrounds tested the third row of seats in the new seven-seater on a journey inside CAVE. The virtual environment was configured to test all sensations, including passive driving (outdoor scenery scrolls past the tester, as if they were physically driving even though the pedals are not active); static confirmation (visibility, ergonomics and design); and physical perception (comfort and safety).
Following feedback based on this immersive experience, engineers changed the Jogger's second row of seats by bringing them forward by 20mm and interior modularity was improved. All this could be done in real time without pushing back the project's schedule.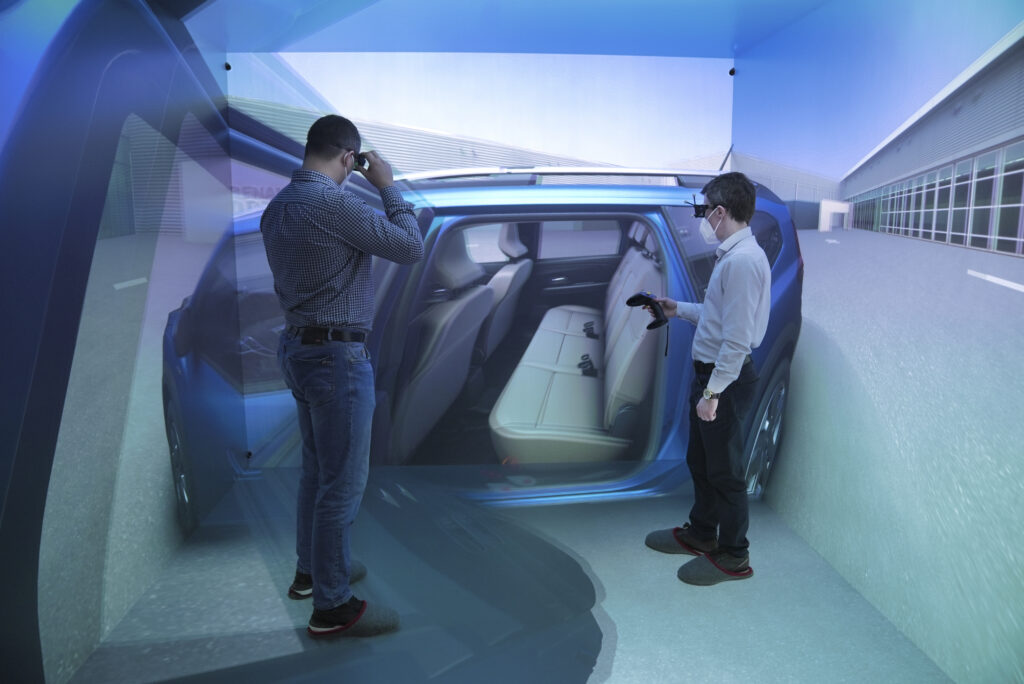 The treasures within
According to the OEM, CAVE saves more than €2m (US$2.1m) per year. With stereoscopic videos projected along five walls, the user is surrounded and can even climb on board as if it were a real scale model. After a thorough inspection using 3D glasses and multiple interactions between testers, a few clicks are all that is needed to alter the vehicle's design. The images have a six-million-pixel resolution, facilitating analysis of elements such as the ergonomics of the dashboard controls, visibility around the vehicle, accessibility, comfort and the overall design.
Andras Kemeny, expert leader of immersive simulation and virtual reality, Renault, added, "CAVE goes hand in hand with immersive helmets with its superior image quality and interactive capabilities, enabling multiple designers to observe and work on the same vehicle, even in a driving situation. The pixel resolution is the same as that of the human eye; the user sees the vehicle as if it were indeed real.
"In the future, several users will be able to interact with a single object, each with their own point of view. Mini LED technology will soon make it possible to build CAVE systems with video projected on walls, in regular project review rooms."