According to Julia Lemke, the engineering lead on development of the Bugatti Chiron's climate control system, ensuring comfortable conditions for the occupants regardless of weather or speed is a complex task. As the overall technical coordinator for Bugatti air-conditioning systems, Lemke has led the design of new systems for Bugatti's Chiron Pur Sport, Divo and all other Chiron models.
Like the rest of the impressive vehicle architecture, the system is complex: two air-conditioning condensers ensure heat dissipation from the vehicle, a central air-conditioning unit is responsible for control, and a compressor drives the entire system, which features around 9.5m of hose due to the car's mid-engine layout. Ensuring these components run in perfect harmony required a thorough development and test program, which harnessed both physical and virtual testing methods.
One major challenge when adjusting the air-conditioning system is that every person has their own individual sensation of temperature. Europeans usually feel comfortable between 21°C and 22°C (70-72°F), while most Americans prefer it a few degrees cooler.
"For us, it's important to ensure that the selected temperature is quickly established," explains Lemke. "The air-conditioning system is working best when occupants don't notice it. We have to make sure there are no drafts or noise – only then does it make you feel comfortable."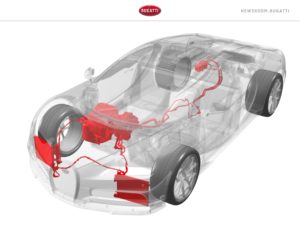 The entire air-conditioning system includes the cooling circuit for the interior, airflow, electrical system, electronics and the air-conditioning unit as the system's central control unit.
"Our vehicles travel very fast. In order for the air supply to work properly at maximum speed, we need to ensure the ventilation and air-conditioning are particularly well controlled," she notes.
For this reason, the air-conditioning system adjusts the inlet airflow at high speed. In conventional vehicles, air is forced into the interior at the lower end of the windscreen, but in a Bugatti this only happens up to about 250km/h (155mph). From this point onward, there is a switch to negative pressure: a sophisticated control system with an additional ram air flap and an optimized blower ensures that air continues to enter the interior.
The Chiron also has other unique features, including its low drag aerodynamic design – necessary because of the high speeds it can reach (well over 400km/h [250mph]). This requires a flat windscreen with an inclination of just 21.5°. This increases the surface area of the glass to 1.31m2 (14ft2) – a conventional compact car has a glass area of around 0.7m2 (7.5ft2) and an angle of inclination of around 30°. As a result, the interior of a Bugatti heats up more due to the higher solar radiation or solar load.
Sky View – the glass roof option popular among Bugatti customers – further increases the level of interior heat when the sun is shining. To counteract this, the Chiron models and the Divo all have a powerful air-conditioning compressor with a cooling capacity of up to 10kW and two air-conditioning condensers – enough to cool an apartment in Europe measuring approximately 80m2 (860ft2). Approximately 3kg (6.6 lb) of coolant per minute can be compressed from a pressure of about 2 bar up to a high pressure of 30 bar.
In addition, the compressor mounted on the engine is exposed to very high ambient temperatures due to its proximity to the exhaust system, so this is cooled by another sophisticated system.
"At first glance, our air-conditioning system appears to function like a conventional system," says Lemke. "But it's a real challenge to perfectly harmonize the highly complex system of a small-series hyper sports car so that it works impeccably even at maximum speed and engine load."
She therefore conducts research and development with regard to maximum cooling capacity as well as efficiency, system acoustics and draft reduction. This includes optimizing the refrigerant circuit to minimize the use of refrigerants and energy.
As the coordinator for the interior, she is in charge of all matters relating to the passenger compartment of the new Chiron Pur Sport. According to Lemke, the various departments collaborate very closely and all employees are involved in driving forward product development. As an exclusive luxury manufacturer, Bugatti also gives its employees the opportunity to develop and implement ideas quickly.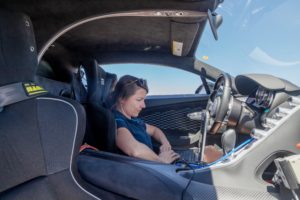 "Due to the increased engine speed in the Chiron Pur Sport of up to 6,900rpm, the main focus is on the proper functioning of the air-conditioning compressor as an engine peripheral. This is why I take part in a lot of test drives – to ensure the functionality of my system in all climatic conditions," she says.
Despite the small series of only 500 planned vehicles, the testing process is as – if not more –extensive than a mass-production automobile. Two test vehicles were available for climate trials during development of the Chiron. To make drafts more visible, the development team used many tools, including CFD simulation, smoke lances and even wool tuft tests – showing that even in a vehicle as advanced as the Chiron, classic methods still have their place.
In summary, Lemke notes, "The result is perfect only if the occupants don't notice anything at all."