Over 300 exhibitors will present their latest solutions in a week's time, at this year's free-to-attend Automotive Interiors Expo and Automotive Testing Expo in Novi, Michigan. The international automotive interiors industry exhibition takes place October 26-28, in Novi, Michigan, where visitors will be able to see and experience the best and most exciting innovations and technologies set to shape the future of the industry – all under one roof.
Held for the first time since 2019, this year's show is particularly anticipated, providing a much-needed opportunity for automotive interiors companies to source and trial the new solutions they need to keep up with the swiftly changing industry.
Find new solutions
A host of new technologies are expected to make their debut in Novi. Bruno Associates (booth A312) has created a new electric press. The new EP is power driven by a servo ball screw actuator and linkage/toggle system. This machine can 'kiss cut', runs quietly, has no hydraulic power unit, is energy efficient and low maintenance, and is great for cleanroom environments. The EP machine has the capability to die-cut non-metallic materials, servicing many different industries. The machine's capacity ranges from 10 tons up to 1,500 tons of force for the electric press.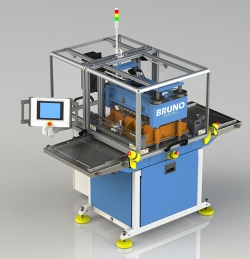 Need a new perforating machine? ABM International (booth A105) will debut its brand-new technology, the CNC Perforating Machine. The CNC Perforating Machine perfectly aligns the perf hole placement in a stitched design, creating an ultra-luxurious look. The customer can use the Quilting Machine and then place the quilted insert into the perf machine. The machine can perf through the leather/vinyl and foam at the same time, giving much better airflow for heated and cooled seats.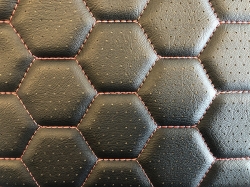 Automobile interiors continue to evolve at a rate that has not been seen for decades; the introduction of cut-and-sew products in virtually every area of the vehicle has accelerated the evolution within the cockpit. 3CON (booth A506) has introduced a robotic finishing cell that duplicates human hands and finishes those corners that are not possible in a traditional lamination process. The total solution is a smart cell that sews the jacket, laminates and edge-folds the part and completes the corners – all with one operator.
Even the strongest branding can't take full effect if it isn't presented appropriately. But don't worry: DT Metronic's solutions (booth A212) bring the passion of a brand to the road and help achieve optimal visibility. An illuminated logo could attract attention during the day and at night.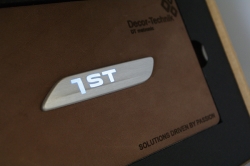 The company produces individually customized, high-quality, luminous aluminum elements with diverse ranges of application – dashboards, door panels, loudspeakers, etc. A brushed matt look is just as possible as a shiny surface.
Macauto USA (booth A422) is excited to introduce automotive fabrics incorporating various levels of post-consumer recycled content. These sunshade fabrics exceed the requirements of the Global Recycle Standard (GRS) certification for recycled content. Macauto can offer up to and just over 50% post-consumer content for its expanding line of fabrics. Innovation means these fabrics can be produced in the company's current sites, utilizing proven production lines that are capable of high-volume output.
The modular, versatile and productive Zünd G3 on display at Automotive Interiors Expo is a great digital cutter for any company with a need to cut, trim, punch or route automotive materials of all kinds for prototyping, custom fabrication or fully automated digital production. Paired with the latest Mind and Zünd Cut Center workflow solutions, Zünd America's cutters (booth A526) can be configured as turnkey systems capable of handling all the challenges these automotive applications may bring with them – from material/hide capture to interactive/automatic nesting, pattern matching, projection-guided picking/sorting, product/process management, etc.
Click here to read all the latest exhibitor news from the show.
Join us at the industry event of the year – if you haven't already, register for your free fast-track entry code, now!