Car interior component supplier Grupo Antolin has unveiled its latest solution – the Smart Sliding Floor Console.
With the ever-growing number of electric and autonomous vehicles on the road, Grupo Antolin believes the interior spaces of such vehicles can be updated with new layouts that enable moveable and adjustable components to be installed, thus removing physical barriers from the cabin space.
The power-sliding center console concept can move backward and forward between the front and rear passengers, enabling it to be operated by every interior occupant during autonomous driving, for example.
Designed to deliver a comfortable space, the Smart Sliding Floor Console provides occupants with a range of convenience features. Hot and cold drinks can be enjoyed: two smart cupholders in the front section enable drinks to be heated or cooled, and there is a hot-water dispenser at the back.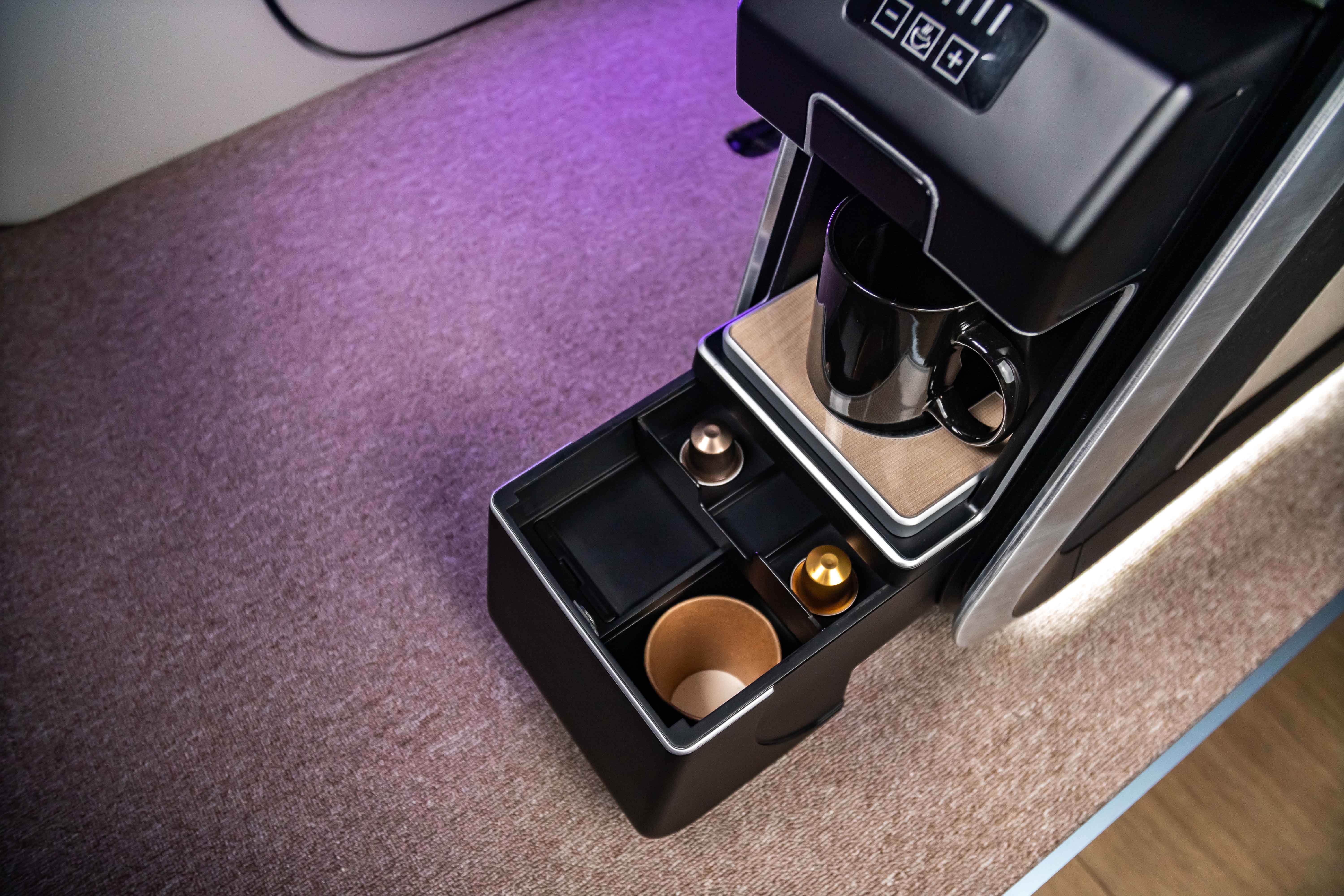 The main infotainment display features a holographic assistant that can be controlled by voice commands or by a kinematic and nomad knob set into the console's surface. A secondary rear screen projector has been also integrated.
Due to the flexibility of modern vehicle interiors, the center console has been designed similarly. If a front seat is turned to face the rear seats and passengers, the device can be synced and become a third infotainment display. Alternatively, the passengers can relax or take the fully integrated removeable table and attach it to the rear slot for use.
The console's functions light up when used or when they need to communicate with interior occupants. A light that is activated by capacitive detection brightens the lower front part of the console to reveal the wireless charger, multilocation and multidevice on a flexible wooden surface that shows a backlit charging indicator. Furthermore, a dynamic light behind the upper aluminum section changes color according to vehicle driving modes or vehicle status.
Several storage compartments are also found within the concept, such as a box under the armrest, a purse space, a paper bin and a rear drawer cabinet. For a clean, purified interior, Grupo Antolin's component offers an air purifying system. This is partnered with an essence diffuser and a closed compartment for disinfecting objects with ozone.
To ensure the console meets automotive standards and is sustainable, bamboo fabric has been used for the padded lid of the armrest and black cork for the sides.