During the development of the new electric Volkswagen ID 7, the auto maker focused on interior comfort, so much so that it worked with the German Campaign for Healthier Backs (AGR) to develop new seats. The result is the ErgoActive front seat that has massage programs, automatic air-conditioning and a function for muscle groups in the spine and pelvic regions.
VW collaborated with orthopaedic specialists, physiotherapists and sports scientists from AGR to create its first front seats that activate the pelvis and spine. In addition to 10 air cushions used for pressure point massage in the backrests, this is primarily achieved by two air cushions in the seat. These cushions work alternately or in combination with the massage function to relieve tension and help the occupant refrain from sitting in the same position for too long.
"Lifting up the sit bones tilts the pelvis. This then produces a slight rotation of the spine, which is additionally supported by the air cushions in the back," said Ulrich Kuhnt, consultant to AGR and chairperson of the German Association of Back Schools. "These small movements extend all the way up to the cervical spine. They prevent tension from building up and can even increase concentration."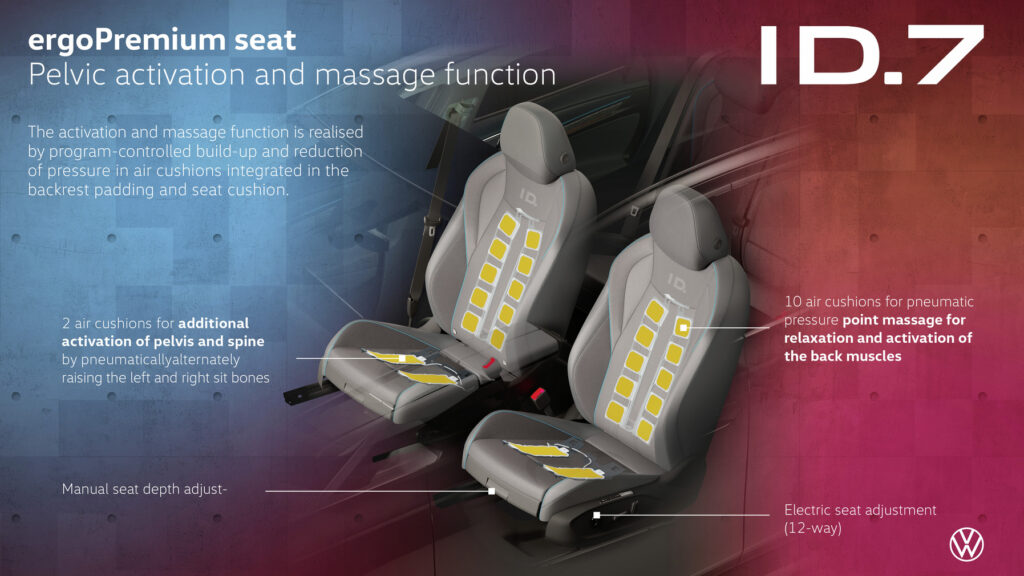 He says this can also benefit occupants in the long term: "Torsion of the spine stimulates metabolic processes in the spinal discs. In combination with the stochastically controlled massage programs, this encourages back-friendly, dynamic sitting."
In addition to the pelvic activation function, the new seats also offer pneumatic pressure point massage to help relax and activate the back muscles. Two rows of five air cushions are used with specific program sequences lasting between 10 mins and 30 mins. Electric 12-way seat adjustment and manual two-way seat depth adjustment with thigh support help front seat occupants to find their own preferred seat positions.
The ErgoActive premium seats also offer dynamic air-conditioning, which controls the seat cushion and backrest separately from one another, enabling the seat to be heated and ventilated individually. The interaction between these functions means that each user's ideal seat temperature can be created independently in automatic mode. To achieve this, the temperature and moisture levels are measured in the contact zone between the seat and the passenger and compared with other elements of the smart air-conditioning and preferred settings. This information is then used to calculate an individual optimum climate. In addition to automatic mode, users can also choose between three smart climates: warm, dry or cool. A heating and cooling function located close to the body like this can help to increase occupants' well-being.