Bentley Motors has revealed details of the new sound system created by Mulliner for the Bentley Batur, following 10,000 hours of development work. The £25,000 (US$31,600) system, called Naim for Mulliner, consists of new hardware and a complete system recalibration.
The new system uses Naim for Bentley as a foundation for further audio development, with the aim of delivering more power and immersion for vehicle occupants by utilizing efficient technologies.
Working with Naim and Focal, the group came up with more than 56 requirements for the new 20-speaker system. Focal speaker drivers are fitted within Bentley's speaker baskets, produced using additive manufacturing. The entire system consists of six tweeters, nine mid-range speakers, two woofers, two active bass transducers and one sub-woofer. All mid-range speakers and tweeters have new speaker drivers for Naim for Mulliner, while the woofers and sub-woofer have been customized to enhance linearity and dynamics.
The speakers used within the new system are derived from Focal's Grand Utopia speakers, and the mid-range and tweeters feature patented 'M' cones. The 'M'-profile is manufactured from a single piece to provide rigidity, lightness and damping. This results in a linear frequency response with a low distortion rate and better sound dispersion.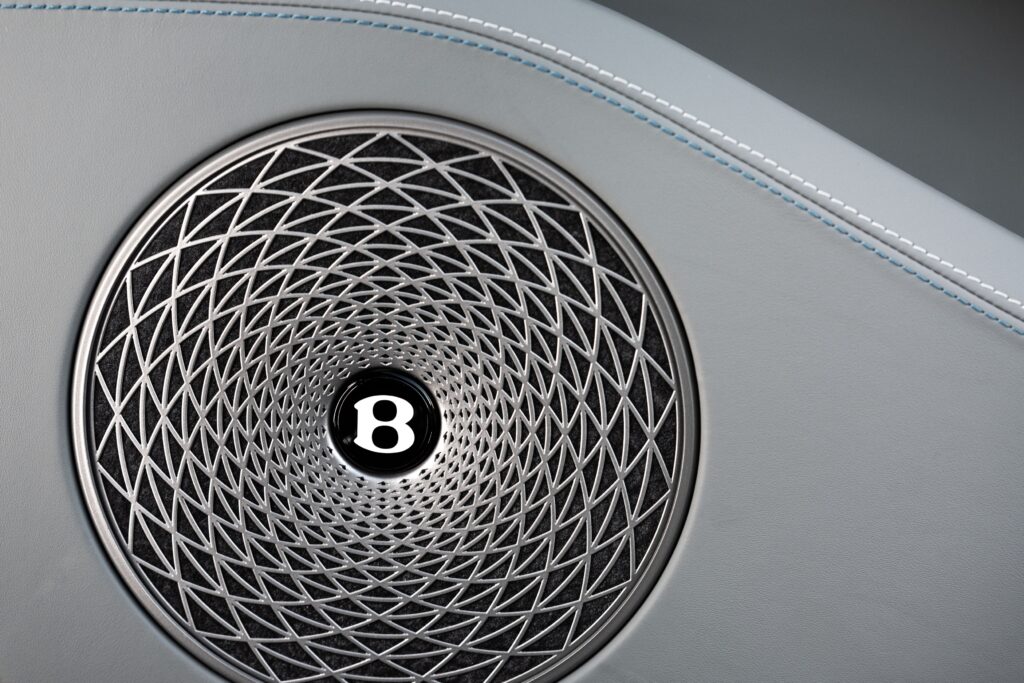 Each of the companies worked to ensure the speakers are positioned optimally to deliver the best audio experience, with further strengthening and stiffening having been carried out in the cabin – most notably around the doors and rear cabin areas – to reduce distortion and improve isolation.
Sound settings are accessed via a 12.3in touchscreen in the center of the dashboard. The screen can be configured as a single display, split 2:1 or show three different functions at the same time.
For more on sound systems, please click here.