Established in Cornwall in 2008, The Tuning Shop is a small family-run business specializing in automotive interior products such as gear/handbrake gaiters, seatbelt pads, armrest covers and gear knobs made from natural leather, Alcantara, suede and other materials.
The company was founded by Gregor Radzik, a self-proclaimed petrolhead who always wanted to work within the automotive industry. Having started his company with the support of his wife from their home 12 years ago, the business has now evolved into a dedicated production site in Cornwall that employs 10 people.
"Originally we started as a reseller of interior products. Then we decided that to move the business forward and be able to meet customer expectations, we needed to start manufacturing these products ourselves," explains Radzik. "This led to the decision to invest in our business with a range of industrial sewing machines, embroidery machines and 3D printers. Over the years this allowed us to extend our range of products and offer bespoke, customized, one-off projects too."
As the business evolved and streamlined, it was important for The Tuning Shop to make its production process more efficient and optimize its use of expensive materials such as leather. To achieve this, new technology was required within the production process: "We couldn't possibly achieve this without new technology investment," explains Radzik. "As a business, we are driven by a passion for the automotive industry and we strive to be the best company in our sector. We love to make our products and we always want them to be manufactured to the highest standard. Also, our customers expect to receive their orders as quickly as possible, hence we needed a solution that would speed up our production process and give us even better product quality. Our choice could be only one: to invest in the Zünd cutter."
The company came across Zünd cutters at an international leather fair in Milan, Italy back in 2017. Having watched a presentation and live demonstration, Gregor was impressed by the Zünd machine's technical capabilities: "After we watched a presentation of the cutter, we knew the Zünd would be a perfect addition to our business, but it took over three years before we could fulfill our company dream," he reveals.
The Tuning Shop purchased its L3 C-56 Zünd digital cutter in July 2020 and was so confident in its choice that it didn't even request a product demonstration.
"Since we purchased our Zünd cutter, the company processes have been completely transformed. We can now cut all our orders more quickly and much more accurately, which has massively helped with our production output. Our cutter is equipped with a sophisticated nesting software called Mind from Zünd, which has made a significant impact on the amount of material we use for production. We are now more efficient and environmentally friendly thanks to the Zünd technology."
The purchase of the Zünd cutter has led to new business opportunities for The Tuning Shop. The company is now offering customized upholstery for cars, vans and boats, and the results are very promising.
Reflecting on the purchase of the Zünd cutter, Radzik notes, "Our overall experience with the team at Zünd has been very positive. From first contacting Zünd, through to the ordering process, site visits to make sure the machine could fit into a dedicated room, installation, training and aftersale service, we have received a very professional and efficient service from everyone at the company. They were a pleasure to deal with. The experience was second to none and we know that we have got the best cutter for our business.
"Just knowing that a small company like ours uses the same equipment and technology as the big automotive manufacturers like Bentley is something to be so proud of for me. It goes to show, if you have the ambition to one day become one of the best in the industry and work very hard, you can purchase the best technology too. The team at Zünd have definitely helped me fulfill my dream."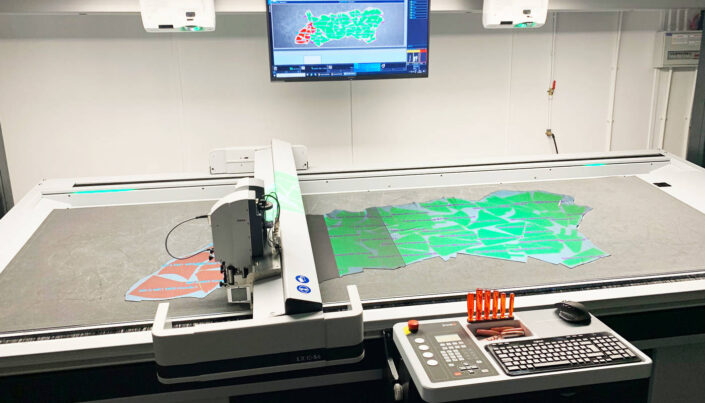 Further info: Discover how Zünd can support your business – infouk@zund.com – +44 172 783 3003